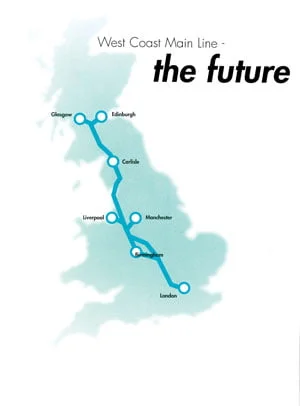 Returning publicly owned enterprises to the private sector is a process known as privatisation. The effects of privatisation are highly significant as organisations, which have previously enjoyed monopoly control of their industry, have to respond to customer needs, market forces and competitive pressures.
Privatisation of the railway industry created the opportunity for organisations seeking growth to operate proactively in order to meet increasingly high customer expectations. Managers were able to make completely different decisions from those of the past in order to develop new products and construct deals to meet different criteria. At the heart of this process is strategic planning. This involves deciding on objectives and priorities for an organisation, in order to realise a vision. In this case, the aim is to construct and finance a project which produces the right combination of new products and technologies to satisfy rail users and which, at the same time, meets the expectations of shareholders.
This case study focuses on the largest post-privatisation challenge – the West Coast Main Line (WCML). It describes how risk management has helped ALSTOM, the global transport group, to supply a fleet of high speed tilting trains, maintenance and associated services for this route.
ALSTOM provides a comprehensive range of design, manufacturing, operating and maintenance services for the rail transport industry. Within the ALSTOM Group, ALSTOM Transport Ltd (formerly Metro-Cammell) and ALSTOM Train Services are UK based specialist train manufacturers and maintainers, and ALSTOM's Signalling Business is Europe's leading railway signalling company, with operational centres along the West Coast Main Line.
Working under British Rail
Before privatisation, the Government dictated contracts for new rail projects and British Rail would design the complex technical specifications for trains that determined all performance features. The two main specialist train manufacturers in the UK shared investment for new trains. As British Rail was the only operator, new vehicles were engineering-led based on product orientation. A key feature of production orientation is monopoly power – when monopolies exist, there is less need to improve products.
After taking delivery of a train, British Rail would specify a short period of warranty from the supplier of approximately two years. British Rail would then maintain and overhaul the trains, in addition to providing rail and transport services, such as station facilities, ticketing for passengers and railway infrastructure maintenance. ALSTOM was therefore denied the opportunity of developing business in the aftermarket. As a result, train manufacturers, such as ALSTOM, relied solely on large contracts for building trains and suffered from either feast or famine, i.e. they were either snowed under with orders or had to cut back as orders declined. Building trains was a stop/start industry and because each order was different, there were high capital costs and no retained technology.