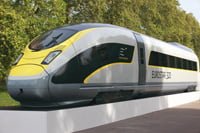 Eurostar is the high-speed rail service directly linking the UK to France and Belgium via the Channel Tunnel. It started operating in 1994, providing city centre to city centre services. The fastest London-Paris Eurostar journey time is just 2 hours 15 minutes. In 2007 the second section of the new UK high-speed rail line was completed. St Pancras International became the new Eurostar home and created a high-speed link to the continent from the heart of London.
Eurostar runs up to 17 services to Paris and nine to Brussels daily. In addition, some trains stop at Lille in northern France and Calais Fréthun en route. There are also direct services from St Pancras International and Ashford International to the gates of Disneyland Resort Paris. During the winter holiday season, Eurostar operates services to Moutiers and Bourg St Maurice in the French Alps. This all means that customers get a fast and frequent choice of transport direct to the heart of Europe.
The importance of managing risk
Transport is never far from the headlines, particularly when services suffer severe delays or cancellations. Apart from the obvious annoyance and inconvenience suffered by the passengers, the reputation of the company can be affected by adverse publicity. In many cases, the cause of the problems could be outside that company's control.
However, particularly in the transport world, and understandably so from the customers' viewpoint, that may not matter. For this reason, Eurostar proactively manages risk and potential risk to ensure that customers receive the services they expect and demand.
This case study examines how Eurostar proactively manages risk through its business continuity programmes.
Business continuity
Eurostar exists solely for its customers. The culture of putting the customer first is embedded into everything it does. Therefore, Eurostar is very aware of the need to provide a safe, reliable, convenient and comfortable service.
In order to ensure that this is the case, the company has established a business and service continuity department. The department 'sets the pace' and the policy framework. However, the responsibility for implementing and maintaining actions designed to improve business continuity and service resilience is firmly the responsibility of line management. This ensures internal clarity and accountability.