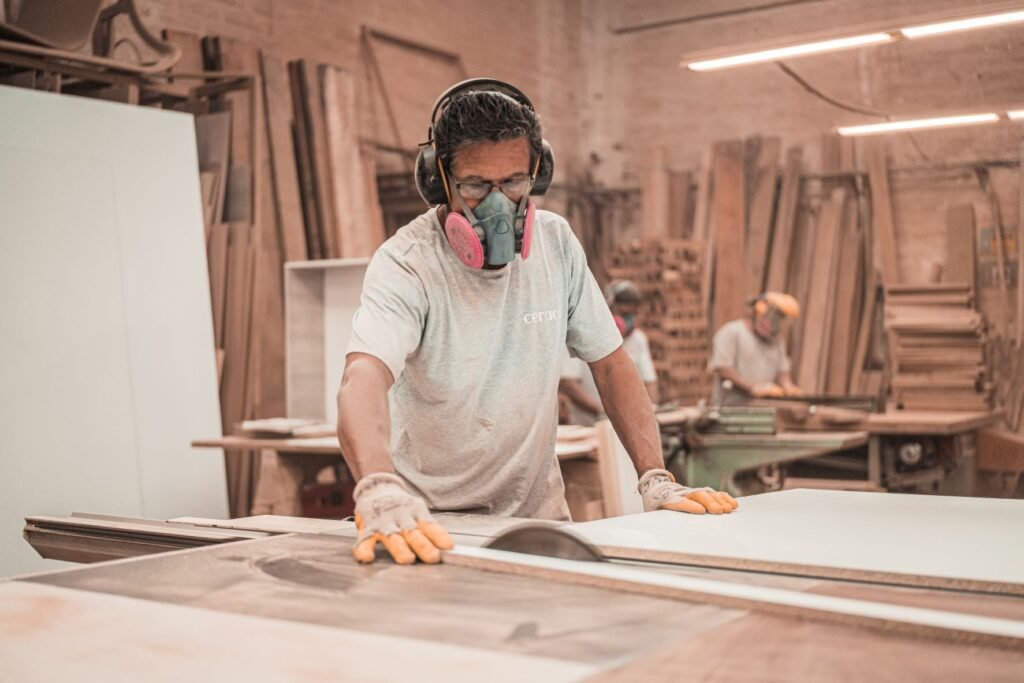 Whether you are looking to start a small wood workshop at home in your garage or outbuilding as a hobby or set up a business, you will want to ensure that you plan and get it right from the outset.
Here are a few tips that could help you start your own woodworking business or information you might find helpful as a beginner start working in a woodshop for the first time.
Safety first
The first thing to remember is that you should always work safely and ensure that if you are starting work in a woodshop or setting up your own woodworking business, you are wearing suitable clothing and equipment. Clothing that is not loose around the wrist or too long in the legs or sleeves so that it doesn't get caught in machinery or you trip easily when moving around. Dust masks, safety glasses, ear defenders and safety boots are a must, especially where powered equipment is in use, and you may want to consider a small respirator.
Keep your workshop well organised and maintain machinery well too. Falling stock or contact with moving machine parts are significant causes of accidents in the woodworking industry, and around 25% of accidents are classed as major each year according to the Health and Safety Executive. Being vigilant is key to being safe. Ensure that you store all your supplies safely and that you do not put yourself at risk. Always use machine guards, protect yourself from falling timber, kickbacks and ejected cutters, and only use machinery you feel adequately trained to do so.
Buy the best tools you can
The good news is your budget doesn't need to stretch to all new equipment. Leading suppliers of woodworking machinery such as Calderbrook Woodworking Machinery are on hand to offer new, second hand and refurbished models from many leading brands with advice and support to ensure you make the right choices. Their help could be invaluable. Buying a second-hand or refurbished model is a great way to get a better machine whilst spending less. The money you save will allow you to buy even more equipment.
Layout your workshop effectively
Plan your layout to maximise the use of space safely. Minimise the number of movements you need to move from machine to machine to produce your goods. A smooth workflow will increase safety and production. Choose freestanding or benchtop versions of the equipment to make the best and safest use of the area at your disposal. Also, consider light and airflow areas to help reduce dust and dirt build-up.
Plan for downtimes
It may seem like a chore and wasted hours, but it is essential to keep on top of routine maintenance, servicing and part replacement, and cleaning your machines appropriately according to to use. Dirt and dust build-up are significant causes of a machine breakdown, and this could not only hinder your timeframe for getting the job done but could also be a hazard to your health and safety. The time spent cleaning up after a job or at the end of the day is not wasted time at all.
Keep it clean
All woodworking creates dust, so you should ensure adequate ventilation, which may require dust extractors fitting to ensure the area is safe to work within. Also, using adhesives, paints and stains can cause an explosive atmosphere when ventilation is inadequate.
Noise concerns
You may need to consider or have restrictions on noisy activities during the day, so before setting up, it's worth checking whether you should invest in soundproofing the area.
Know your market
Finally, if you are setting up a business, consider your target market, and set up your business name and brand to appeal to your target audience to give yourself the best chance of success.