Research
Market and product research lie at the heart of any successful business. Market research involves talking to customers to find out what they want and then supporting these findings with product research which involves supplying products with the benefits that customers want.

Philips is a global company so the research that it carried out took place on a global scale. Philips involved more than 1650 consumers and 180 customer companies around the world to make sure that it repositioned its brand in an appropriate way. Philips also undertook BEAT (Brand Equity Assessment Tool) research involving 26,000 respondents.
Qualitative research involves working with relatively small focus groups which in this case consisted of Philips' consumers and professionals (trade and opinion leaders, e.g. hospital surgeons who use its scanning equipment). Using qualitative research makes it possible to find out a lot of detailed information e.g. current perceptions of the company and its products, the types of new products and the image that consumers would like to see Philips develop.
Quantitative research typically involves questionnaires and surveys to bigger samples of consumers enabling statistical analysis of the results. The research was designed to:
enable Philips to have a better understanding of its existing position in the market
identify and test new routes for moving the brand forward
check the effectiveness of the chosen route.
Philips' market research was designed to help the organisation to define appropriate brand positioning. A combination of qualitative and quantitative research was carried out in:
UK
Germany
France
Netherlands
Brazil
Hong Kong
China
USA.
The research examined Philips' performance versus average performance in the market. The results showed that, for example:
consumers believe that they can 'rely on Philips products'
that Philips' products 'make my life better'.
The characteristics that professionals most valued about Philips was the company's 'development of new and exciting products', that 'Philips products are reliable' and that Philips produces 'high quality products/services'. Currently, 80% of the company's total sales are made to a core target group aged 35-55, which consists of affluent, well educated decision makers.
Findings
The results of Philips' market research was to show that the core target group typically disliked the unnecessary hassle created by technology. The research showed that simplicity is what people expect of technology. This is applicable to a doctor working under pressure in a hospital with advanced medical equipment as well as to a consumer operating a DVD recorder. Simplicity is equally relevant to Philips' customers, be it in Healthcare, Lifestyle or enabling Technologies.
The findings indicated that the company had substantial strengths based on the reliability of its products and the belief that the company develops new and exciting products. Research also indicated a clear gap in the market. The only company with a positioning close to 'sense and simplicity' is Apple, who only have a limited product range.
However, the research findings also indicated some weaknesses, in particular:
consumers felt that Philips does not lead on innovation
professionals felt that Philips did not have as clear a sense of direction as some of its rivals.
The findings therefore presented Philips with the challenge of developing a clear and focused position for its brand.
Brand positioning
A vision is a clear picture of what you want to achieve. Philips' vision is to produce products that always put the customer first. The challenge facing Philips, therefore, is to better understand what people really need.
Philips' new brand positioning is all about promising customers a more comfortable and more straightforward relationship with technology and with Philips. It believes that somewhere along the way the promise of the Technology Revolution to make our lives easier, simpler and better is not being delivered. In many respects the technology industry has made things more complex. Philips is, therefore, offering a solution.
Research showed that people are asking for greater simplicity in their lives and in their dealings with technology. They want technology that gets the job done without drawing attention to itself. Most users are put off by the need to read and understand a complicated manual before they can try out their new purchase.
v
With this in mind, Philips is continually bringing new and exciting products into its portfolio, which at the same time are simple to use. Philips' new position 'sense and simplicity' is based on three essential pillars, that:
'Products are designed around you'.
'Products are easy to experience'.
'Products are advanced'.
All its activities must now be driven by insights into how consumers/customers seek to experience the benefits of technology. Philips is becoming more market led, driven by the needs of the customer.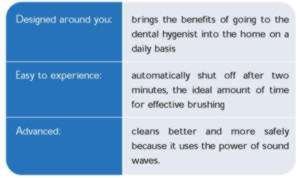 Philips is undergoing a change process to make sure that products and services are convenient and easy to experience, in order to remove the hassles often associated with technology. At the same time, however, products must continue to deliver the benefits associated with innovation. These principles can be illustrated by considering the widely used Sonicare electric toothbrush as shown in the chart.
Communicating the brand positioning
Clear communication is essential in business if appropriate messages are to reach the relevant target audience. Philips needs to communicate its new position to relevant customers/ consumers and to the market as a whole.

Advertising campaigns designed to communicate its repositioning exercise focused on a core target group, consisting of the 20% of people doing 80% of the buying. The affluent decision makers in the 35-55 age group identified earlier.
The campaign was designed to be true to the concept of Simplicity. To get the message across, Philips sought to use a different language than the ones we have come to expect from a technology company - fresher, cleaner, more human. Every advertisement and insert that is used in the campaign tells part of a story. One advertisement reinforces another, so for example multiple insertions are used in consecutive TV commercial breaks.
The advertising campaign is a global one and features existing Philips products that fit the new brand positioning. The campaign cost around EUR80m and was run via broadcast, print and online in the Netherlands, Germany, France, Italy the United Kingdom, the USA and China.
Communication has been to a range of audiences in addition to consumers, including Philips' employees, the media and the marketing community, through integrated PR activities and an advertising campaign. As well as the television advertising campaign, Philips has used a variety of media including the Internet, face-to-face launches and poster campaigns.
Conclusion
Philips has always been associated with value for money high-tech products. However, in the past it would have benefited from having a stronger brand image.
The repositioning exercise based on 'sense and simplicity' helps the wider public to better understand Philips as a consumer focused organisation that is continually providing appropriate simple-to-use solutions for everyday needs through the application of the latest technology.

Philips | Brand repositioning and communications