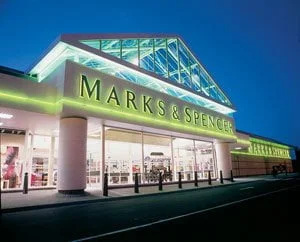 Over recent years, the changing political, social and economic environment has created a different type of competitive situation for European companies. The pace of change has created many new challenges for nearly every business organisation. The net result has been an increasing interest in Europe and the marketing opportunities it represents. Europe has become one of the most important trading areas of the world, accounting for over 40% of world trade.
Organisations cannot ignore the potential opportunities offered through such developments in Europe. They must monitor their competitors' actions constantly and be aware of changes in demographics and buying patterns. Europe now has great strategic importance. The challenge is to develop an understanding of the key axes of development and the changing competitive patterns and include this data into the organisation's corporate strategies.
Unlike many other organisations, growth for Marks & Spencer has been largely organic rather than through acquisition. This means that, rather than increase market share quickly by buying other businesses, Marks & Spencer has developed internally, capitalising on core competences to provide a 'fit' with its activities and the positioning of the organisation. For a company committed to high standards, this has become a critical element of its business strategy.
Strategists at Marks and Spencer have been aware of the potential of the European Market for some time. Many thousands of European visitors have associated shopping at Marks & Spencer as one of the main ingredients of visiting the UK. In 1975, Marks & Spencer first entered continental Europe in Paris, where it now has 10 of its 20 French stores. Today, it has stores and activities in many other countries within the European Union.
This case study focuses on one of Marks & Spencer's current business objectives - to accelerate the growth of its international business. It examines how Marks & Spencer has increased the momentum of its European expansion and focuses on the opening of the first store in Germany.
Turning points in Europe
By the mid-1970s, as the European Community developed and some trading barriers started to disappear, a new framework was created for relationships between businesses in member countries. Marks & Spencer was able to learn about European markets through its suppliers in foods, clothing and raw materials. Increased international competition forced Marks & Spencer strategists to look to the future - in terms of trade, the world was getting smaller and many markets were becoming global. National trading policies would no longer suffice. At the same time, many overseas trading opportunities emerged for Marks & Spencer, with clear scope to develop the business further.
In any industry, superior performance depends upon an organisation's ability to deploy its resources to develop competences. Successful strategies rely upon an organisation's strategic capability to undertake demanding activities at a high level. Marks & Spencer had a fast-developing technological base and a well developed organisational infrastructure which dealt cost-efficiently with large-scale logistical activities. European markets were within reach, providing the company with opportunities for market development and to gain economies of scale e.g. from increased buying power.
Marks & Spencer has many unique qualities which enable it to outperform competitors. For example, Marks & Spencer is a brand house with a single brand name - St. Michael. This helps to create perceptions which appeal to a particular market niche and also helps to develop a global business. The cornerstones of Marks & Spencer are quality, value and service. Experience has shown that these qualities are universally transportable to other markets where they can be adapted for local needs and requirements.
Customer focus
The key to market development is market-orientation. Few organisations operate in a static environment. In a global marketplace, tastes, demographics and purchasing power are just a few of the constantly changing factors which influence the goods and services required. In the past, goods were relatively similar and there was an unsatisfied thirst for niche products. Successful organisations today have to monitor customer needs constantly.
Marks & Spencer operates in markets in which many retailers provide a wide variety of offerings for customers. As Marks & Spencer moved into these different marketplaces, the need to develop high-quality customer relationships similar to those in the UK, soon became apparent. It was vital to place the customer at the centre of developmental activities, ensuring that Marks & Spencer not only responded to different competitors and business conditions, but also remained focused on customers' current and future needs.
Strategy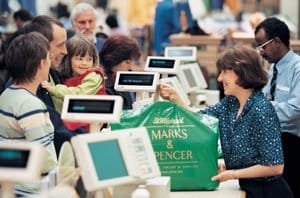 Marks & Spencer's entry into the German market had been carefully considered for some time. With re-unification, the population of Germany expanded from 65 million to more than 80 million and, as the world's second largest exporter following the USA, Germany is a highly industrialised country with a strong service sector and high population density. Germany is also the world's largest import market. Timing is a key element in any strategy. In 1990, an entry strategy was considered but high property costs and intense competition between retailers suggested it would be prudent to wait and monitor the market. A period of recession for the German economy then followed.
The recession saw a change in the structure of German retailing with the merger of a number of major department store chains. There was also an apparent lack of differentiation between many of the retailers. By the mid 1990s, however, prospects looked much more attractive - market and entry costs were falling and the 'new Germany' was gradually reborn. Marks & Spencer's good value and consistent high quality products, combined with clarity of display and customer service package would provide a clear market position.
Opportunities in the German market
Gross Domestic Product, GDP, is a measure of national wealth. Germany's GDP is a staggering £1,500 billion, nearly three times that of the UK economy. German consumer expenditure is 50% more than the UK and 22% higher than France. With economic indices such as inflation under 2% and retail sales in Germany of £331 billion, even a very small share of such a vast market represented a sizeable opportunity for Marks & Spencer.
Germany has more major towns and cities than any other European country (16 with a population of over 400,000). Following re-unification, a large proportion of goods that would have been exported were diverted to the former East Germany. There was also a strong rise in imports from elsewhere in the European Economic Community.
Germany is the largest clothing and food market in Europe. Research showed that:
German consumers have a clear appreciation of consistent high quality. Marks & Spencer products would be very good value if products were sold at competitive prices.
As well as Marks & Spencer's known market strength in Lingerie, there was considerable potential in a wider range of clothing, such as men and women's tailoring and natural fibre knitwear. There was also added value through technical innovation of clothing and raw materials e.g. tactel, tencel, cotton, teflon finishes, fibres and stretch.
Marks & Spencer's 'added value' approach to Foods would be quite unique and offer a prime differentiation factor. For example,Marks & Spencer's 'chilled offer' was far more than local retailers could offer and standards of quality, freshness and hygiene would stand out against the lower standards in supermarkets and discount stores.
Marks & Spencer had examined customer requirements and catered for the preferences of the German market.
There was a huge snack lunch market with good potential.
Layout and presentation techniques, shop keeping standards, customer service package, IT based ordering systems and product information would all compare favourably against the established stores.
Facing the challenges
Although clear opportunities existed in Germany, Marks & Spencer, in entering the most price-orientated food and quality conscious clothing market in Europe, faced many new challenges. For example:
The Marks & Spencer brand was virtually unknown in Germany. It would be a major challenge to create customer awareness against the background of well established, highly competitive retailers.
Marks & Spencer needed to compete against the variety and choice already provided by these established retailers.
Many issues needed to be communicated to customers, such as food shelf life, packaging, policies, labelling and ticketing.
The recruitment and development of high quality staff would be a key priority.
Developing an entry strategy
The starting point when entering a new market is to learn as much as possible about the market and its customers. In 1994, Marks & Spencer carried out extensive market and location research. In order to maximise efficiencies of scale, plans to locate stores in the northern and western regions of Germany, around the conurbations of the Rhine and Ruhr, were drawn up. This region has 17.5 million inhabitants, almost 22% of the German population. The population density is 1,360 people per square mile and it is the richest German state. Opening a store in Cologne, a city at the centre of a major conurbation of 960,000 people, became the focus for Marks & Spencer's entry into Germany.
Marks & Spencer's entry strategy was to: focus on similarities BUT recognise the differences. It included a range of key elements - the five Ps:
PEOPLE
PRODUCT
PROPERTY
PR/PUBLICITY
PROCEDURES AND SYSTEMS.
People
In order to understand customer requirements fully, Marks & Spencer needed German nationals to join its managerial team. In January 1996, 17 German managers were recruited and taken to the UK for training, in preparation for the opening of the Cologne store in October of that year. By recruiting staff early, it was possible to obtain critical feedback about differences in operating in Germany, particularly relating to issues such as cultural diversity.
It was soon identified that most German retailers did not strive to offer the high levels of customer service found in the UK. This was one area in which Marks & Spencer could differentiate itself from other retailers.
Product
Marks & Spencer's activities attracted country-wide publicity. It was not simply Marks & Spencer going to Cologne, it was a British retailer going into Germany. Marks & Spencer aimed to price its products competitively. Over a two year period, the entry strategy into Germany was developed by 'walking the market.' This entailed customer surveys and close product examination.
Feedback from customer surveys helped Marks & Spencer 'shape its catalogue' for the Cologne market. This involved recognising the specific needs of the German market and putting goods on sale which closely met these requirements. It involved making specific decisions about.
environmental considerations
products with man-made fibres
sizes and length of clothes
investment in packaging and labelling
natural ingredients.
Although Marks & Spencer products might not be the cheapest, they would certainly be good value and of a consistent quality which would be appreciated by German customers over a period of time.
Property
The German retail marketplace and particularly the food sector, is dominated by large organisations which lead the European 'discount market.' Germany has the second biggest retail organisation in the world and seven out of its top twenty companies are in retailing. To make an impact in Germany, Marks & Spencer required a prime location of around 50,000 sq. ft, communicating quality and reliability to German shoppers.
The Cologne site offered a prime pitch, next to a flagship German retailer, in a landmark building, with wooden floors and natural lighting.
PR and publicity
Internal marketing helped focus the attention of Marks & Spencer's employees on the entry strategy into the German market. Marks & Spencer appointed agencies for advertising and public relations well before the opening of the Cologne store.
The building itself was the biggest single promotional tool. Decorations were used to enhance its character and this was supported with the strapline, 'not a department store, a philosophy!' The purpose of the campaign was to target the middle of the market and raise consumer perceptions of Marks & Spencer's product positioning and communicate the company's values. Marks & Spencer also invested heavily in advertising using newspapers and magazine inserts for pre-opening announcements.
Procedures and systems
It was important to integrate the procedures and systems for the German operation with those in the UK. State-of-the-art IT systems and logistics were needed to allow Marks & Spencer to surpass the major German competitors.
Conclusion
Overseas markets provide the opportunity for Marks & Spencer to bring something different to marketplaces which are receptive to new products and added value. As a successful UK business, Marks & Spencer has focused much of its efforts upon developing into a successful international business in the long-term. The key to this has been appreciating the individual nature of each market. Another feature has been the close co-ordination between overseas and domestic operations.
Marks & Spencer's business strategy for Germany has enabled it to enter a sophisticated retailing market in the face of strong local competition. The move into Germany consolidates Marks & Spencer's development as a truly global business.