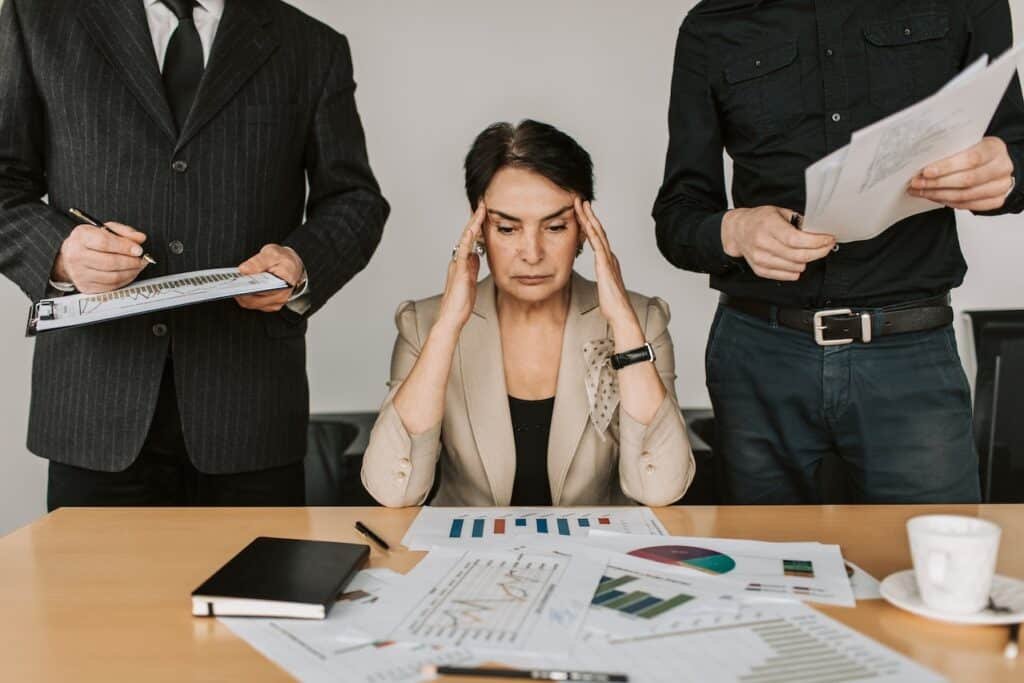 Burnout assessment tool for HR
A Burnout Assessment Tool is a means of assessing an employee's risk of burnout by identifying burnout symptoms. It considers how common the responses associated with burnout are. The questions are divided into the four core dimensions of burnout: exhaustion, mental distancing, and cognitive and emotional overload. After the test, HR professionals receive the results immediately.
Is your organization burned out?
We offer a low-cost, science-based burnout assessment tool that you can share with your team to understand if they are on the brink of burnout.  It's straightforward! Fill in the required fields, receive an email within 30 minutes with a link to the burnout assessment tool and share it with your team. Receive the results immediately, which you can then discuss with a TestGroup consultant if necessary.
TestGroup's burnout assessment tool gives instant insight into whether your organization is "burned out" or whether your employees are fit and happy.
Burnout and work happiness in one assessment tool
Preventing is better than curing, and that also applies to burnout. If the work gives energy, the employee enjoys going to work and there is a good balance between work and private life, the chance of burnout is much smaller.
Using the handy online tool, you can find out how happy the employee is in their current job and how the workload is experienced. Is there a lot of stress, is the workload high and is the employee still in the right job? These are all questions that are addressed in our online test.
Target group burnout test online
The target audience of the professional burnout test online consists of professional users, such as HR advisors, employees and coaches. The tool provides insight into possible burnout symptoms, as well as a general picture of the employee(s)' job satisfaction. Our burnout test online is a unique tool that forms the basis of a burnout prevention policy.
HRM professionals, therefore, choose this test because of its flexible deployment (online tool) advantageous price, scientific foundation and completeness. With TestGroup's burnout assessment tool, scores are measured based on work happiness, mental fitness and stress. Burnout symptoms are immediately visible through this tool. You also get a good picture of the involvement and job satisfaction of the employee concerned.
How does the burnout assessment tool work
TestGroup's burnout assessment tool is simple to use and also has a low threshold.
The questionnaire consists of four sections, where a score is attached to each answer.
General tiredness (exhaustion)
Mental detachment
Cognitive disruption
Emotional overload
In addition, four factors related to job satisfaction are measured:
Commitment to work
Proactive vitality
Work satisfaction
Involvement with the organization
The burnout test does not diagnose burnout, as that requires the examination of a professional. The tool measures burnout symptoms. However, it is an accessible first step in the right direction. And it gives a first indication of the risk of burnout.
Order the burnout assessment tool
Order the burnout assessment tool for staff easily and online from TestGroup:
Complete the application for the online burnout test.
Within 30 minutes the participant can be up and running.
Only available for companies and organizations.
After completing the test, the report is immediately available.
If desired, you can review the report with a TestGroup consultant afterwards.
<h2>More information about burn-out assessment tool</h2>
Would you like to receive more information about the burnout assessment tool? Then be sure to contact us. Online tests are available for companies and organizations. Prevent staff stress and promote job satisfaction by using our burnout assessment tool.
As an HR advisor, you will know exactly how the workload is perceived by your staff and whether they are at risk of burnout. You can then adjust this by offering resources that prevent burnout.
Order the burnout assessment tool from TestGroup today.