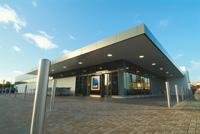 The food retail industry is a highly competitive market. More so than ever, organisations need to offer customers value for money. Customers want the best quality products at the lowest possible prices. With such tough competition, it is vital for organisations to understand what their customers want. Aldi understands that its customers want value for money but do not want to compromise on quality. This case study will demonstrate how Aldi uses a lean approach to its business operations to offer its customers quality products at competitive prices.
Since opening its first store in 1913, Aldi has established itself as a reputable retailer operating in international markets including Germany, Australia and the U.S. Aldi has over 7,000 stores worldwide. What distinguishes Aldi from its competitors is its competitive pricing strategy without reducing the quality of its products. In fact, in some cases, Aldi's products are 30% cheaper than those offered by its competitors. Aldi can do this because the business operates so efficiently.
Efficiency
Efficiency is the relationship between inputs and corresponding outputs. For Aldi operating efficiently involves reducing costs in all areas of the business. Some of the key areas where Aldi is able to minimise costs are by saving time, space, effort and energy. Aldi's approach to doing this is to run its business around the principles of lean thinking.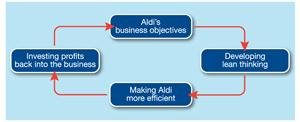 Aldi has a no-nonsense approach to running its business. Whereas other food retailers have elaborate displays, additional services and promotions that draw customers into the business, Aldi's core purpose is to 'provide value and quality to our customers by being fair and efficient in all we do'. Everything Aldi does is focused around giving its customers value for money. Through being efficient and cutting costs Aldi can then invest profits back into the business. They can then be used to further meet its business objectives for growth.