Introduction
One of the most critical times for young people is when they have their first opportunity to leave school. Although leaving school at 16 offers the chance to get a job or start a career, nearly 10of that age group become socially excluded after doing so because they remain outside education, training and work for long periods of time. Less people continue their education in the UK than in many other European countries. Recent government statistics show that those who stay in learning can boost their average earnings by up to 40over those that leave at 16.
The Government's Social Exclusion Unit's report 'Bridging the Gap' highlighted the financial barriers that prevent many young people from staying on in learning. The report recommended that a 'smart' youth card should be introduced to reduce some of the financial barriers that prevent young people from continuing to study after the age of 16. This has resulted in the introduction of the Connexions Card for all 16-19 year olds in England. Other key elements in the Government's strategy to provide incentives for young people to stay on in education include the development of Education Maintenance Allowances and Learner Support Funds. All of which provide a range of benefits for young people.
The Connexions Card offers young people exclusive rewards for their attendance and application, such as:
work experience at top firms
VIP tickets to concerts and sporting events
opportunities to cut a CD in a professional studio.
The cost of remaining in learning is also reduced by the provision of discounts and special offers.
The success of the Connexions Card relies upon the co-operation of a wide range of groups including:
private sector
education sector
local authorities
a number of Government departments.
This case study focuses on the Connexions Card, and discusses how the Department for Education & Skills (DfES) has joined forces with Capita, a private sector service business to form a public private partnership (PPP).
Partnerships between the private and public sector
The UK is a mixed economy, in which most goods and services are produced by the private sector, with the Government responsible for the public sector. In the past, major decisions concerning the public sector (e.g. building and maintaining a motorway) were always supported from individuals by capital that was publicly owned and raised through taxation like income tax and corporation tax (from companies). However, in recent years successive governments (the public sector) have increasingly involved the private sector in the delivery of public services. They have taken the view that the knowledge and expertise of both sectors could be shared to deliver high quality, cost-effective public services, while reducing the burden on taxation.

PPPs allow the public sector to obtain or 'procure' significant services from the private sector and share risks across both parties.
There are a number of different types of PPPs where the government body sets up a contract with a private company which uses a separate funding vehicle to buy, build and service the asset (e.g. a new hospital). The Government enjoys the asset or service for the period of the contact, and at the end of the period the government owns the asset in return for a payment. In this study the PPP is funded directly by the private sector partner and supplies services.
The partnership
The Connexions Card project is being delivered through a PPP between the DfES and Capita. Capita is a private sector professional services organisation. It provides a range of support services for local and central government as well as the UK private sector. Capita has expertise in project delivery, the use of technology and product promotion. It was one of several companies that submitted bids to deliver the Connexions Card service. On the basis of its submission, Capita was selected as the preferred bidder and was awarded an initial 7 year contract.

Aims of the card

The Connexions Card is a smart card. It aims to encourage and motivate young people to continue in learning beyond the age of 16 by:
providing a range of discounts to help reduce the cost of learning, covering local transport, learning materials and leisure
motivating young people to fulfil their potential by rewarding attendance and application through incentives and further discounts within leisure facilities and on the high street
improving the career and life choices that young people make by providing them with better information through a website (http://www.connexionscard.com)
In addition, the Card will:
secure access to personal information using a password and PIN number
help with enrolment processes in schools and colleges
help in validating payment when applying for a post-16 Education Maintenance Allowance.
Branding
Branding has a key role to play in the development of any product. The Connexions Card brand must engage young people and appeal to brand partners, rewards and discount providers while being acceptable to learning centres and fit with the overall Connexions brand. The name Connexions was carefully chosen. In today's fast-changing employment market, people in search of work need to make connections. They need to talk to people, listen to others and make contact with potential employers. Making connections and networking is not easy, particularly if you are new to the employment market.

Connexions is also the name for the Government's new support and advice service for 13-19 year olds. The Connexions Service aims to provide young people with integrated advice, guidance, support and access to personal development opportunities in order to help them make a smooth transition to adulthood and working life. It also includes Connexions Direct which provides high quality information, advice and guidance to young people via the telephone, Internet and other interactive media such as 'webchat' and text messaging.
The Card has to meet the needs of various different groups including:
young people - for whom the Card encourages ongoing learning
learning providers - such as schools, colleges and training providers who are looking to tailor their courses to meet the requirements of their young clients
the Connexions Service - with a duty to provide individual support for all young people
DfES - looking to fulfil the recommendations of the Social Exclusion Unit
sponsors - looking to support this initiative with additional funding while appealing to the youth market they are targeting.
Developing a clear and easily recognisable brand image is essential to engaging and meeting the needs of all those groups.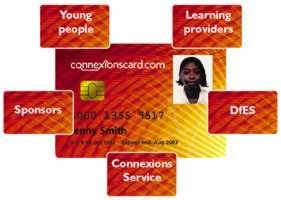 The product concept
New product development (NPD) involves finding ideas for new goods and services and then turning them into marketable products targeted at one or more audiences, such as the five identified above. For a product to succeed in the marketplace, it should offer a range of benefits that appeal to several different audiences, often in subtly different ways. The provider needs to make clear what is on offer. Users will then identify for themselves the bits of the bundle that most appeal to them and make it a 'must have'.
In the case of the Connexions Card, the key user is the young person, so it has to be clear to him/her how the Card works and what benefits it can provide. The Card is free to all 16-19 year olds in England. It is a 'smart Card' with a chip that stores basic information supplied by the young person, thus ensuring security and providing protection against fraudulent use. The Cardholder's date of birth and photograph appear on the front of the Card and can therefore be used as proof of age.
Connexions Cardholders are awarded points for attendance at learning centres whether at school, college or work based training providers. Users can access a private and personalised area on the Connexions Card website at www.connexionscard.com where they can browse through their online rewards catalogue and exchange their points for free branded goods, special offers, entries to competitions and various rewards, including 'exciting new experiences' such as working with a football club or interviewing a celebrity.
The website also offers a range of other benefits designed for young people such as information about specific careers and courses as well as a curriculum vitae (CV) 'builder'.
In the future, the chip on the smart card may also help the Cardholder to use the Card in a number of different ways e.g. as an 'e-purse' providing a cashless way of paying for food or travel, or as a security pass for swiping before entering a building.

Conclusion
The Connexions Card is the result of successful co-operation between the Government and the private sector. The initiative has clear aims and a defined target market. As its name suggests, the Connexions Card not only provides a range of incentives for young people to stay on in learning, it also links young people with organisations, helps them to improve their long term job prospects, and gives them opportunities that reflect their position within a commercial environment.
Opportunities for offering sponsorship, direct marketing materials (which Cardholders can opt out of), discounts, competitions and other commercial ventures provide a real incentive for the private sector to become involved in educational initiatives targeted at a particular group of consumers. At the same time, these developments help to reduce some of the financial barriers that prevent young people from staying in learning beyond 16.

Capita/DfES | Developing a partnership to support the interests of young people