Whether you are in the office full-time or are working from the comfort of your own home, the chances are that you feel sluggish and stiff after a day hunched over a computer. Even if you are sitting for most of your day, by the time 5 pm rolls around, you may feel exhausted and unmotivated to exercise or get moving in the way your body needs.
However, when stressed, strained or downright lethargic, several things can help. Starting with gentle desk yoga, these simple suggestions can be done at any time of the day and are broken down into optional timings.
Once you understand your limitations and physical aspirations, you can go further and mould consistent exercises into your work days. Whether it's ballet blast or massive mountain-biking sessions, be sure to find something you enjoy to help stay motivated.
For starters, here are five suggestions for getting moving.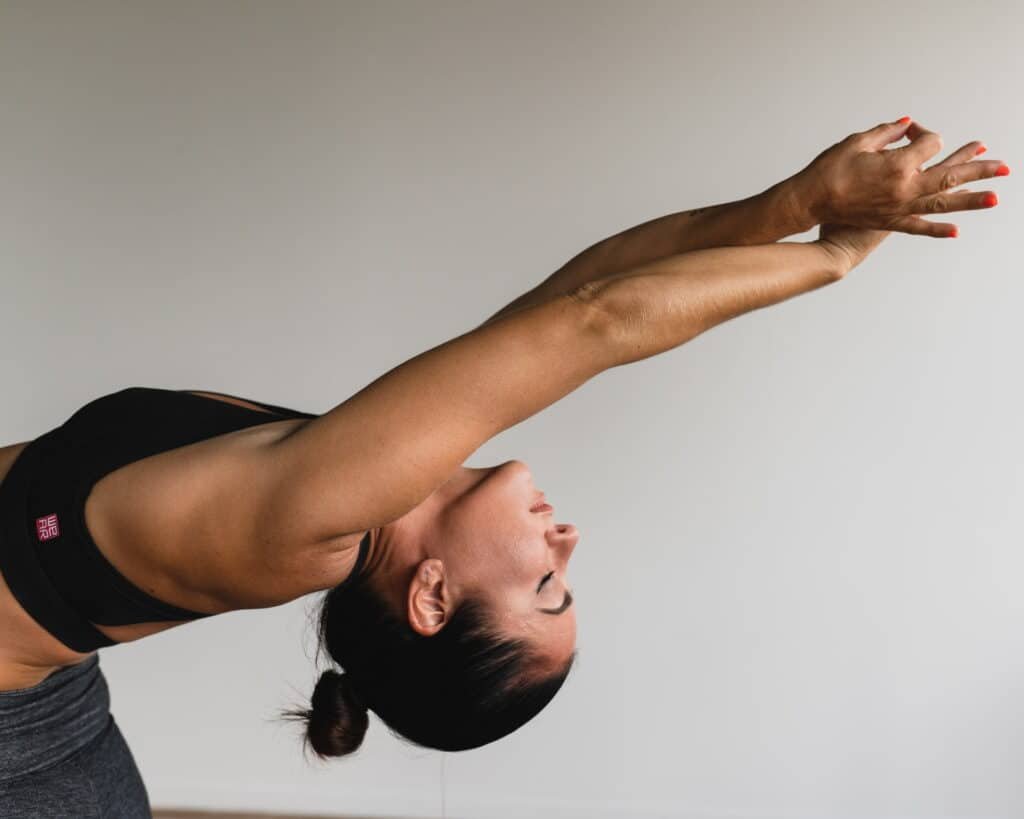 1. If you have 5 minutes: Do desk yoga
For a short and simple exercise, try desk yoga throughout the day. It's as simple as it sounds. Focusing chiefly on the neck, shoulders and upper back, desk yoga allows you to stretch away any stubborn aches and pains — on the spot.
These exercises can be beneficial if you are busy at your desk or tend (like many of us do) to pop a paracetamol and hope it goes away. Consisting of gentle stretches and rotations to improve mobility, desk yoga is also an opportunity to focus on timed breathing exercises as you move.
Take a look at this poster you can save to your Pinterest account, illustrating many of the stretches you can do, all in approximately five minutes. Or, to follow along with an instructor, try Desk Yoga on YouTube. Note that these exercises are not recommended during Zoom sessions unless you want to be that person in the office!
2. 15 Minutes: Try a disco dance workout
Try a dance workout if you have a little longer and are ready to get on your feet. A great collection of online dances are available on YouTube, all around the 15-minute mark. Many of them are cheesy pop-based routines but are utterly addictive. A dance workout can leave you sweating, smiling and feeling pretty darn smug about using your time so productively.
For gym-based classes or more diverse dance workouts, a quick Google will likely find you many beginner classes in your area. More motivated working out in a friendship group? You could ask your HR department to set up a group class after work — they should be happy to oblige, especially if you gather a list of willing colleagues geared to get their groove on.
3. 30 minutes: Get into gardening
Gardening is a fantastic way to spend the odd half-hour to revitalise completely. The ultimate antidote to spending eight hours on a computer, gardening (and enjoying time in green spaces generally) has been proven to lower stress levels, decrease feelings of depression, and burn up to 300 calories per hour.
Whether opting for aromatic flowers, shrubbery plants or colourful vegetables, there's something incredibly therapeutic about nourishing something beautiful day by day. So, with the warmer summer weather fast approaching, channel your inner Alan Titchmarsh and give gardening a go. If you don't have a garden or a small patch of accessible greenery, why not sign up for an allotment near you?
4. 45 minutes: Jog with a furry friend
This a bit dog-specific here, but sometimes (especially when working from home), you need the pull to get out of the house, inhale fresh air and exercise. If you're a dog owner, nothing will drag you out faster than the utterance of the sacred word "walkies". Obviously, this is the norm for a dog owner, but try to check out new areas to keep things fresh for you and your pooch.
A dogless dog lover? The chances are that you know a friend who has one and could use a hand to look after their fur baby. Or, Borrow My Doggy is a website where you (once vetted) can adopt a dog for a day or two and then enjoy exercising with your new pal.
5. 60 minutes: Just keep swimming
From splashing in local lidos to serious laps in an indoor pool, swimming is a fantastic way to have fun, truly relax and stretch every single muscle. Beyond doing lengths of breaststroke and front crawl, most good swimming pools also offer water-based workouts such as Aqua Zumba or water aerobics.
As a bonus, if your local pool also has a sauna or steam room, spend some time in there to ease your aching muscles. Also, remember those simple desk yoga exercises that were mentioned earlier? After a water workout, try them in a sauna or steam room for even more impact. Some experts recommend ice-cold showers between sauna sessions for a shocking but soothing relief — you've earned it!