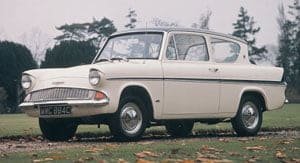 Strategic planning is the process most successful companies embrace when determining the route to achieving their business objective. It is a powerful technique, which mobilises resources behind a plan and is one of the most important factors which distinguishes progressive organisations who have identified and communicated, externally and internally, the type of business they want to become. When Ford developed Ford 2000, it was accepted that the company, although successful, had reached a cross-roads. The business faced many challenges in a number of its competitive environments and required innovative solutions to boost global competitiveness, in order to sustain continuous growth.
Global Manufacturing Practices
There are some 600 million cars in use across the globe. Automobile production is the world's largest manufacturing industry, with sales per annum of £350 billion. The industry supports jobs not only in automobile manufacture, but also in components, distribution, finance, insurance, repairs and maintenance, which in Europe alone amounts to 18 million jobs.
In recent years, the industry has been characterised by the global manufacturing practices of Japanese, Malaysian and Korean competitors, which have stimulated a series of innovative developments. A significant factor has been the adoption of lean production processes. 'Lean production' was first coined by researcher John Krafcik, who wrote that 'lean production is lean because it aims to use less of everything', compared to other forms of production. It resulted in fewer defects and fewer hours to develop products together with greater productivity and lower stock levels. The lean producer has therefore significant cost and marketing advantages, which reduce costs and improve choice.
The location of large new plants by Japanese companies on green field sites in the UK has added to the nature and type of competition. Such changes have created a need for companies like Ford to look again at their operations to view how they could improve their competitiveness in order to counter threats and reduce the performance gap between themselves and their global competitors.
Ford 2000
Ford's vision is 'to be the world's leading automotive company'. It is a management declaration of the direction the Company is taking and sends a clear message to customers, competitors, suppliers and shareholders. Ford's vision doesn't "mean the biggest; it means the best." In Ford terms, leadership means 'product excellence linked to being the best in customer satisfaction, value, cost and profitability'. In order to achieve this vision Ford 2000 set out seven strategies for leadership. These are:
Ford 2000 indicated that manufacturing plants could no longer be managed on a local basis and must become integrated into the new worldwide manufacturing strategy. The goal has been to focus every Ford resource and to use it more effectively to meet customer needs. It represents a different way of thinking allowing the pace of change to accelerate. According to Alex Trotman, the Ford Chairman, Ford 2000 will:
provide economies of scale;
create quantum improvements in processes;
involve investment in Ford people;
lead to worldwide adoption of the best practices at Ford;
provide the shortest possible distance between good ideas and great products.
Having established the vision, Ford needed to communicate the strategic process into the organisation, in such a way that allowed operational divisions to embrace the principles and take ownership for their part in the overall plan. It was important to encourage operating units to develop their own mini-agendas which would fit into and be compatible with the Group's overall vision. This case study focuses on how Ford Dagenham has adopted the
Ford 2000 'Strategies for Leadership' to create their own strategy – Dagenham 2000 - which has enabled the development of its own plans to be a 'centre of excellence', within a world class manufacturer.
Dagenham
Located in Essex and not far from London, the history of Ford at Dagenham dates back to 1929, when Henry Ford's son Edsel came to Britain to break the ground for the new Dagenham factory. Since 1931, when the first vehicle rolled off the production line and October 1996, more than 10 million vehicles have been manufactured at Dagenham. These numbers include classic names such as the Ford Eight, Anglia, Prefect, Consul, Zephyr, Zodiac, Cortina, Sierra, Corsair and the hugely successful Ford Fiesta.
The Dagenham estate comprises 1.75 square miles, incorporating 9.8 million square feet of production plant. The site is confined on all sides, which prohibit it from exacting some of the benefits true 'greenfield' sites have provided for its competitors such as Nissan and Honda. Dagenham has become the centre of world wide excellence for the Fiesta.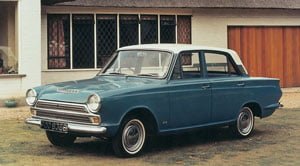 assembled. The synchronisation of these operations and the subsequent distribution of sub-assemblies and components to various stages of the assembly line is highly complex and difficult to manage logistically. In its simplest terms car manufacture involves:
molten metal, produced in cupolas being transferred to holding furnaces and then to ladles;
rough castings are fettled before they are machined to accurate dimensions;
starting with the cylinder block, engine assembly includes fitting cylinder heads, moving parts and ancillary components;
giant presses stamp body panels from rolls of sheet steel;
robots weld the body panels together to form a complete shell;
the bodies are phosphate coated and immersed in a giant trough containing electro-static primer;
a bodyshell is mated to the engine and transmission;
assembly includes the fitting of wheels, glass, trim, electric's and other equipment;
final checks are made on a rolling road before the completed car leaves the factory.
All but the first three phases in this process take place at Dagenham.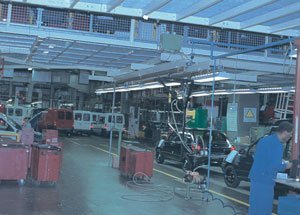 Dagenham's stamping plant also produces panels for the Fiesta for final assembly in the San Paulo plant in Brazil. In the European market Dagenham is continuing to produce for Mazda. Dagenham has also exploited the Fiesta's successful market position of being the number one selling European car in the small car sector, in the developing world via the small car segment. Become nimble through process leadership. The key principle of Ford 2000 was to improve processes on an ongoing basis. At Dagenham this has meant:
improving the interaction between computer systems and manufacturing;
the computer sequencing of parts and components;
developing proposals for effective logistical delivery;
continually exploiting processes which are designed to improve production.
A good example has been Inline Vehicle Sequencing (IVLS), which has become an essential ingredient for delivering excellence in customer quality and service at Dagenham. IVLS ensures the stability of processes and is the first step in securing fully sequenced delivery of components. Conveyors bring sequenced components to the production line to match operational work on the line. This allows stable allocation of work content, which feeds into quality as the operator becomes more in control of his or her processes on the line. Additionally it helps to sequence each order to delivery thereby shortening the time the dealer (and therefore the customer) has to wait for the delivery of a chosen model.
Become a low cost producer
The focus has been on improving processes. Low cost manufacture at Dagenham has been developed in a way which has greatly improved site competitiveness. In 1995, a specialist unit was introduced in the Dagenham plant called the Plant Vehicle Team (PVT). Its function was to concentrate on two key areas:
to examine all processes, evaluating the total cost of design, plant manufacturing processes and activities with a view to eliminating waste and reducing cost;
to establish processes which focus on customer, address their concerns and implement permanent solutions, within 90 days.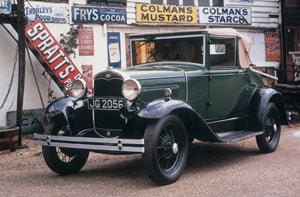 The savings opportunities have been generated from many sources. As an example, engineers evaluated a plant process involving the receipt of completed doors from Ford's Cologne Plant, due to damage in transit. It transpired that the completed doors were difficult to transport from Germany to Dagenham. The solution to improve the process was to ship in the components and weld at Dagenham. This resulted in improved pack density when transporting, reduced scrap and improved quality, which reduced the total cost of door manufacture. The PVT has proved to be so successful in improving value and improving quality, that it has been adopted by all Ford plants.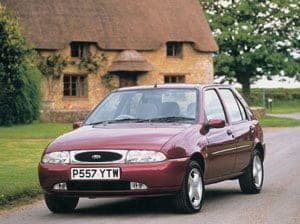 focus groups. Ford have introduced many Metrics to measure this quality and also act on the intelligence received. Quality has also been improved by confining quality defects to Zones. This enables problems to be contained as they occur, without them being passed further down-stream to other processes in the Plant.
The Fiesta is the top selling small car in Europe. Its excellence has been continually enhanced with more sophisticated features, such as air conditioning and engine management systems, all of which have been added in order to satisfy customer requirements. The net result is an even better motor car, but due to the added features a more complex car to build. This was evidenced at Dagenham, where until recently, no experience existed in the manufacture and installation of an air conditioning unit. Inevitably, more parts leads to more sequencing and if quality is not fully sustained lead to poorer quality. This is an area of constant attention to ensure that worldwide production excellence is achieved at all times.
Empowered people
Ultimately Ford's major long-term sustainable competitive advantage lays in the empowerment of its people. Achieving this has involved the formation of a partnership of management, staff and unions to create a high performing organisation, which values learning and knowledge. The key at Dagenham has been to train, develop and skills enhance at all levels. To enhance this:
Ford has approached work in an integrated way and on a team basis
layers of management have been removed
principles of empowerment combined with improvements in technology have enhanced the flow of effective information through the organisation
group working has created synergistic benefits which has led to the solving of problems and improved productivity.
Lead in corporate citizenship
Ford plays a key role in corporate Citizenship across a range of important areas. The key business driver is health and safety. The Dagenham plant is the largest employer in the community it serves and the Company is active in recognising its social responsibilities. Ford are amongst the world leaders in recyclable cars and due to customer focus, which ensures they meet exacting customer requirements and legislative demands on emissions, the Company has determined to take a lead in corporate citizenship.
Dagenham 2000 principles - It is important that in achieving its strategic results Dagenham also adheres to the declared principles of the business. Dagenham 2000 has developed a number of principles which include:
Customer driven principles – Cars made at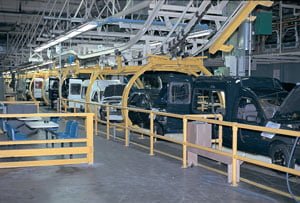 Dagenham equals top quality workmanship. Reliable on-time production focussed on zero defects is designed to surpass customer requirements.
Business principles - These ensure all areas contribute to shared objectives and drive improvements via benchmarking and competitive product processes and facilities. They also ensure that Dagenham's cost structure supports Ford Automotive Operation business objectives.
Operating principles – Dagenham operates an effective team strategy which, through continuous improvements ensures quality and cost targets are met. The Dagenham quality operating system is compatible with company quality operation and ISO 9002 ensures only the most capable and robust processes are used.
People principles - In developing the strategy it has been important to ensure that all contributors are valued. Throughout this process integrity is never compromised. Ford has ensured equal opportunities for all employees. Teamwork has helped to develop high performance and create pride and passion. Ford at Dagenham offers exciting and rewarding careers with lifelong learning. Employees are empowered at all levels. Relationships between employees, unions, dealers and supplier partners are based on trust, cooperation and respect.
Strategy must be measured in terms of performance achievements. Strategic vision must be translated into realisable and sustainable objectives which prove whether strategy is working.
Vehicle production
Dagenham produces a staggering 1320 cars per working day. During 1996 it will produce more than 254,000 vehicles; a significant increase on the 171,000 manufactured during 1993.
Efficiency
The number of hours it takes to build a car has fallen from 59.3 in 1989 to 21.8 in 1996. Both labour and overhead costs have been reduced per unit, which gives Ford the opportunity to compete with its global competitors.
Quality
The number of warranty repairs within the first three months have dropped by more than half. Feedback and action is taken based upon Nova C measurements, leading to significant improvements in quality.
Employee relations
The strategy of partnership has created a progressive company culture of partnership with the trade unions which has led to developments in employee relations. The keys to further progress are:
employee commitment
training and personnel development
common objectives
Dagenham 2000 Principles
progressive and lean organisation
With the competition every bit as determined as Ford, Dagenham 2000 has created an agenda, which enables them to execute actions swiftly and efficiently within the global market.