BT´s approach to sustainable development
This is built around four key moral principles.
Equity today: the duty to meet the present generation's needs. At the recent United Nations Millennium Summit several targets were agreed, including halving by 2015 the number of people (c1.2 billion) living on less than $1 (60p) a day and achieving primary education for all 113 million children who are currently without access to primary schools.
Environmental justice: the obligation to give everyone equal access to a clean environment as well as equal protection from possible environmental harm, irrespective of race, income, class or any other differentiating feature.
Justice to future generations: accepting our role as custodians: 'we do not inherit the Earth from our ancestors; we borrow it from our children'.
Stewardship: taking responsibility for the rest of life on earth. This is a powerful source of moral inspiration to hundreds of millions of people, and a key element in all the world's major religions and faiths. It also makes good sense, because human systems depend on natural systems functioning well.

These four principles encapsulate the moral case that affects everyone, and provide an important agenda for establishing how business can create real wealth that is genuinely enhancing.
BT's emphasis on genuine sustainability differentiates it from those among its contemporaries who continue to 'pick and mix' elements of sustainability according to whether or not they produce short term profit. By contrast, BT has developed a firm commitment to sustainability as an overarching approach to business, and vigorously champions genuine sustainability through research, open discussion and debate.
The overall outcome is that BT's stakeholders are reassured, BT's reputation is enhanced, customers respond favourably, and business continues to grow.
BT, connectivity, and sustainable development
BT is one of the UK's best known companies. It operates globally and looks to provide effective communication, irrespective of geography, distance, time or complexity.
In 2003, BT won the Queen's Award for Enterprise, in recognition of the substantial improvement in its business performance resulting from continuous achievement in sustainable development. Also, for the third year running, BT was ranked as the top telecommunications company in the Dow Jones World Sustainability Index.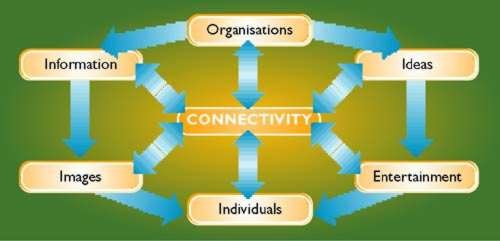 Connectivity lies at the heart of the modern global economy and BT's work involves bringing together people and organisations, enabling them to share information, images, ideas, and entertainment through a fast, efficient network.
At one level, connectivity is a means of helping families to keep in touch with each other on a regular basis. At another, it provides businesses and individuals with the latest information e.g. news about world events; detailed help, support and advice; research findings; business and technical data.
BT's principles are illustrated by its approach to digital inclusion. In the UK, people who can access the internet (the 'haves') have a big advantage over those who cannot (the 'have nots'). BT is looking to end this particular isolation of the 'have nots'.
As part of promoting social inclusion, the UK government has made Internet access for every UK citizen a top priority. It intends to achieve this by 2005.
BT believes that access to information and communications technologyimproves people's lives e.g. by opening doors to education, employment, entertainment and social contact. BT therefore carries out a range of activities to promote digital inclusion and to spread the benefits of its technology as widely as possible.
Achieving this goal requires:
appropriate technology - access to communications technology
consumers with appropriate skills - the ability of groups and individuals to use technology
valuable programme content - the type of communication and the way it is used for social and economic benefit.
These can be restated as:
connectivity
capability
content.
The company builds digital inclusion through providing Internet access for individuals and small businesses. BT sees broadband as being vital to social inclusion and plans to make broadband available to 100s of homes and small businesses during 2005. It has a range of projects specifically targeted at including less privileged sectors of the community. For example:
Community Broadband brings high-speed broadband technology to small local communities.
In partnership with the charity Citizens Online, BT has established a programme initially working in four pilot sites in under-privileged areas where Internet use is low and deprivation high. Known as 'everybodyonline', the project concentrates on groups who are marginalised or excluded for reasons of age, gender, ethnic background, disability, previous educational opportunity and employment status.
Developing broadband is also important in helping the government reach its objective of reducing UK road congestion. If the Telework Association's estimate that 15% of the UK workforce will become teleworkers by 2006 is accurate, this will result in a 10% reduction in work-related miles driven. Similarly, by supporting a better online shopping experience, broadband could produce an estimated 10% fall in shopping miles, leading to fewer carbon dioxide emissions and reduced road congestion.
Stakeholders and sustainability
Stakeholders are individuals and groups with an interest in how an organisation is run and the results it achieves. BT has a two-way relationship with each of its main stakeholder groups.
Shareholders are the most influential group in any company. BT is convinced that the best way to create shareholder value and to add value to being a shareholder is by enhancing stakeholder value e.g. making it more worthwhile and satisfying to be a BT employee.
Maximising employee and customer satisfaction, partnering with suppliers for mutual gain, and being accountable for actions to society in general is as important as making a profit. Moreover, by addressing stakeholder expectations, BT creates shareholder value.
For most companies the three most vital stakeholder groups are customers, employees and shareholders. Here, creating stakeholder satisfaction is mutually rewarding:
1. Contented employees are more likely to be committed to creating customer satisfaction. Every year, BT carries out research into employee attitudes and views in order to identify ways of building employee satisfaction. This occurs at several levels. For example, all managers of teams of eight or more receive individual feedback reports.
2. Discontented employees can be expensive: BT estimates that just one poorly motivated call centre adviser might reduce the company's annual profits by £300,000. In many service industries like Telecoms, a large proportion of a company's staff are customer-facing so it is of paramount importance that staff are motivated - BT could multiply that £300,000 by many tens of thousands, if it were not to take this issue seriously.
3. Over the years, BT has developed several benefits to encourage employees to take a share in their company e.g. by offering employees the option to buy shares at a discounted rate, and by allocating some of the company's profits to employees. If contented as shareholders, employees are likely to be more contented workers too.
Of course, BT is also committed to meeting its customers' needs: creating customer satisfaction remains a key business objective. Much is talked about customer satisfaction in vague terms. BT has carried out in-depth research to quantify the factors that drive customer satisfaction. As mentioned in the above example the service customers receive is critical to how satisfied they are, as it forms part of the top ranked factor. Image is also perceived as more important than the tangible factors related to products and services.
Customer satisfaction drives brand awareness leading to increased brand loyalty and ultimately increased market share. Telecoms companies like BT have to invest large amounts in technology and infrastructure. Having a higher marker share means greater financial economies of scale - the investment can be spread over a large number of customers, increasing profit per customer.
The circle of stakeholder satisfaction feeds into a final link - BT's reputation within wider society. This derives from how stakeholders perceive the company, and so this link feeds off the contentment of the three main stakeholder groups.
Creating stakeholder value through Corporate Social Responsibility

Corporate Social Responsibility (CSR) covers the voluntary actions a company can take that contribute towards the wider social goals associated with sustainable development.
BT believes that long term stakeholder valueis best achieved through focusing on a 'triple bottom line'. Its website (www.bt.com/betterworld) provides BT's Social and Environmental Report in which impacts are quantified and targets set for future action.
It is uncommon for all stakeholders to reach a consensus view, so BT must select the appropriate balance between these targets, and be seen to make responsible decisions. Corporate Social Responsibility is then about being held to account for those decisions in an open, transparent way.

Sustainability and the future
The two main institutions that can influence a move towards sustainability are government and business. Government can establish the necessary laws, and also financial incentives such as taxes that stimulate sustainable action, but it cannot compel companies to be virtuous. Business therefore needs to realise that the virtuous pursuit of sustainability also represents enlightened self-interest: business itself stands to gain.
The pursuit of sustainability takes a long term view of mankind's relationship with the planet. By adopting this approach, businesses are best placed to look after all of their stakeholders as well as acting as stewards for the environment.
BT is convinced that by promoting sustainability based equally on sound business practice and moral principles and by adopting open and frank discussions within CSR it is moving in the right direction.
Profit has an important part to play by making the necessary investment possible in the social and environmental ingredients of the triple bottom line. A useful guide for business today is: 'Do the profitable thing now and do it as responsibly as possible. At the same time, press hard on a moral basis for making a high proportion of those responsible activities more profitable.'
BT | Sustainability, stakeholders and profits