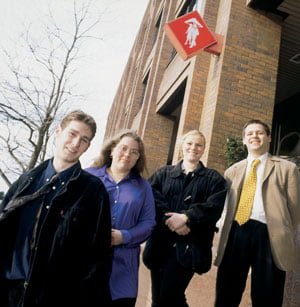 Throughout this diversification, however, Abbey National has retained its focus: to help people achieve financial security. The company has also maintained many of the values commonly associated with building societies - believing in the value of partnerships with all its stakeholders.
Stakeholders are people who not only have a stake in the running of an organisation but who also are affected by the consequence of an organisation's activities. These groups include shareholders, people within the organisation such as managers and employees and also the public and society in general. Today it is unacceptable for a modern organisation to ignore the impact of its activities on the wider community. Organisations should endeavour to strike a balance between their own activities and their impact on society in order to become responsible corporate citizens.
Abbey National
With more than 15 million customers, Abbey National has a relationship with one in three UK households. The company is best known as the country's second largest mortgage lender but, in addition, Abbey National's 800+ branches offer a range of personal financial services - bank accounts, savings, life assurance, investments, pensions, home insurance, personal loans, private medical insurance and more.
Not so long ago, businesses in this country had a tendency to be inward looking, measuring their performance purely in terms of internal targets and neglecting the impact of the business on the wider community. The business effectively drew a boundary between its own activities and the outside world.
Today, fortunately, this approach has been discredited. Modern organisations recognise that there is no such boundary and that the
wider community is, in fact, an important stakeholder in the business. And, of course, the business is itself an important stakeholder in the community. This case study examines how Abbey National has developed effective community partnerships.
Targeting community activities
Although organisations are stakeholders in the community, it does not mean that they can or should become involved in every community project which is available. Of course, this would not be possible as organisations only have limited resources. It is therefore important to use the available resources in the 'best' possible way. In the same way that individuals are selective about which 'good causes' to give time, efforts and money to, organisations too need to be selective about their community activities.
In deciding how to target resources, organisations should consider the needs and requirements of their stakeholders - shareholders, employees, customers and the wider community. The organisation has a responsibility to all of these groups. Balancing these responsibilities is difficult but far from impossible. In fact, companies now realise that a synergy exists between the approaches needed to satisfy purely commercial responsibilities and those needed to satisfy charitable or voluntary responsibilities.
Modern organisations like Abbey National need to consider how they can make a key contribution to the community whilst making a profit. Profit is essential if organisations are to modernise and improve, invest in new technologies and move into new product ranges. Moreover, the organisation must be able to justify its community projects to its owners – the individuals or institutions who own shares and need to make a healthy return on their own investment.
Abbey National Charitable Trust
As with any business activity, Abbey National's community involvement strategy has evolved over time. A major platform for recent community involvement was the creation of the Abbey National Charitable Trust in 1990. The Trust was set up to serve as the organisation's liaison with the voluntary sector and to assist in the support of a range of community projects and charities.
Initially funding was obtained through cash donations from Abbey National plc. In 1993, four years after converting from a building society to a bank listed on the Stock Exchange, Abbey
National sold unclaimed shares and endowed the Trust with £5 million which was invested to provide a permanent income. By 1998, the endowment fund was worth £9 million. The Trust's investment income is supplemented by additional annual contributions from Abbey National. The Trustees, comprising members of the Abbey National Board, meet regularly to discuss requests for support. Trustees initially gave priority to:
organisations working with homeless people and special housing needs groups
projects intended to promote or provide equal opportunities - principally for disabled people, to enable them to live more independently or to participate equally in education, community life or employment
organisations working to support families and family life.
Abbey National has conducted a further review of its community investment strategy and believes it can help the community to flourish and prosper in the future by focusing on disability, education and employment issues. These are topical issues which lie at the heart of Government policy and future action. Abbey National has therefore focused its future Community Investment Strategy on these areas.
Abbey National's Charitable Trust will continue to be the engine for much of the organisation's community work. However, increasing emphasis will also be placed on empowering employees throughout Abbey National to become involved in creating partnerships in the community. As part of the review, the Company has identified a need to give its employees a much greater sense of ownership of the business and to empower them to take greater control of their working lives and their personal aspirations. Involvement in the community is one way to achieve this.
The new strategy is called the Abbey National Community Partnership Programme. In preparing the strategy, Abbey National engaged in a benchmarking exercise and examined best practice carried out by leading companies involved in community action in the UK. The move towards involving Abbey National employees in the community embraces a stakeholder approach and benefits human resource development. Individual employees need to be provided with opportunities to develop their own talents and enthusiasms within their jobs. Most people today enjoy community involvement. Giving individual employees the freedom to take ownership of community related activities is a good way of increasing job satisfaction and maximising staff morale.
To enable staff to make effective contributions to the community Abbey National has set out to support them in these ways:
matched donations of cash to support individual and team charity fund-raising activity
developing company-led initiatives, such as the Helping Hands Community Partnership Programme, which gives Abbey National employees new opportunities to get involved
availability of small community grants to help teams of staff meet the costs of practical community projects
availability of limited special leave which will allow individuals to carry out volunteer and community work during working hours
providing access to public relations materials and other practical forms of support to help them gain publicity for their efforts and build support.
The best way of illustrating Abbey National's community involvement is to set out practical examples in the key fields of disability, education and employment.
Education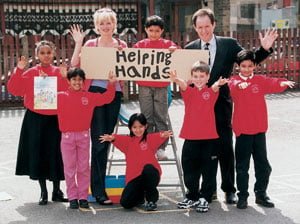 The Abbey National Helping Hands programme aims to support the Company's overall community relations through involvement with primary schools. The programme aims to raise children's awareness of their immediate environment and to develop partnerships with others in the community. Helping Hands deals with real issues for children, such as making the most
of limited school resources, making the community safe, or reaching out to disabled people. The rationale behind the programme is that it is important for today's children to become tomorrow's active citizens, understanding and protecting their own environment.
Schools that choose to participate in Helping Hands receive a comprehensive educational pack which includes activities encouraging pupils to observe, measure and assess various environmental elements in the school and nearby area. All the activities support learning based on the National Curriculum and the Environmental Studies 5-14 curriculum in Scotland. Pupils are also asked to make a proposal to improve an aspect of the school or its local community. They submit their ideas to Abbey National to be eligible for regional and national awards.
Abbey National staff get involved by helping their local school find community partners to assist in implementing the school's ideas, which could be anything from setting up a paper recycling programme to building a ramp for disabled access to the school, or tidying up a local park.
Disability has become a key component of Abbey National's community initiatives, particularly in relation to access, both physical and intellectual, to the educational, employment and recreational opportunities of the able bodied world. The Abbey National Charitable Trust's commitment to disability issues is reflected in recent donations to these projects:
building ramps to improve wheelchair access to buildings at Nottingham University, as well as setting up special facilities for students with sight impairment using the university's law library
providing transportation for children with physical and learning disabilities to enable them to take part in the Buddies Club Play Scheme in Glasgow
the Jubilee Sailing Trust, which encourages integration between able-bodied and disabled people through sharing the challenge of crewing a tall ship at sea
the Adapt Trust, which works to ensure disabled people have access to arts and heritage venues.
Employment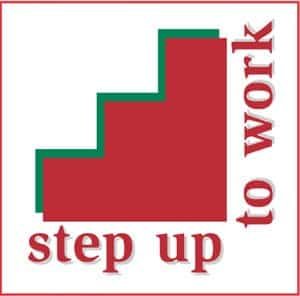 vacancies to fill while the government had people on benefit ready to fill them. Abbey National therefore looked for ways of giving the unemployed an advantage in the recruitment process. Abbey National wanted young, motivated people who had been unlucky in the past, but who could make real contributions to the company.
Abbey National's programme, Step Up to Work, provides 18 to 24 year olds who have been unemployed for six months or more with a six-week training course, followed by placement in head office jobs. The programme has been implemented in Milton Keynes and Bradford - two of Abbey National's largest head office sites - and has achieved a 100% success rate, with all participants successfully completing the training and being placed in established jobs.
The Employment Service played a key role in identifying candidates and ensuring that they met certain basic numeracy and literacy standards. Abbey National feels that this programme provides a valuable model of government and business working together in the employment field to secure objectives which benefit the whole community.
It is accepted today that large organisations like Abbey National have wider responsibilities. Abbey National recognises the importance of developing a strong and well focused community partnership programme. Such programmes need to be targeted at areas of community involvement where there will be the greatest possible benefits both for the organisation and the community. In the case of Abbey National, the most logical areas for the company to channel resources into at the present moment in time are disability, education and employment. The methods adopted should support involvement of staff at every level in their communities and empower them with access to resources of time and money to do this.