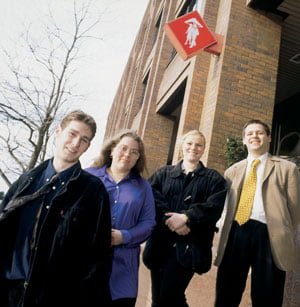 In recent years, there has been a profound change in the financial services industry, with increasing competition coming from companies not normally associated with this market.
Formerly a building society focusing on mortgages and savings, Abbey National converted to a public limited company (plc) in 1989, which enabled the company to diversify into other areas of financial services, including life assurance, wholesale banking, general insurance and consumer credit.
Throughout this diversification, however, Abbey National has retained its focus: to help people achieve financial security. The company has also maintained many of the values commonly associated with building societies – believing in the value of partnerships with all its stakeholders.
Stakeholders are people who not only have a stake in the running of an organisation but who also are affected by the consequence of an organisation's activities. These groups include shareholders, people within the organisation such as managers and employees and also the public and society in general.
Today it is unacceptable for a modern organisation to ignore the impact of its activities on the wider community. Organisations should endeavour to strike a balance between their own activities and their impact on society in order to become responsible corporate citizens.
Abbey National
With more than 15 million customers, Abbey National has a relationship with one in three UK households. The company is best known as the country's second largest mortgage lender but, in addition, Abbey National's 800+ branches offer a range of personal financial services – bank accounts, savings, life assurance, investments, pensions, home insurance, personal loans, private medical insurance and more.
Shared Interests
Not so long ago, businesses in this country had a tendency to be inward looking, measuring their performance purely in terms of internal targets and neglecting the impact of the business on the wider community. The business effectively drew a boundary between its own activities and the outside world.
Today, fortunately, this approach has been discredited. Modern organisations recognise that there is no such boundary and that the wider community is, in fact, an important stakeholder in the business. And, of course, the business is itself an important stakeholder in the community. This case study examines how Abbey National has developed effective community partnerships.