Introduction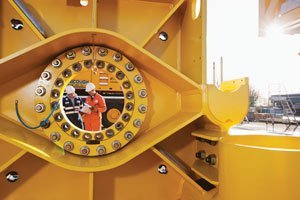 Today most people, probably yourself included, have come to expect energy at the touch of a button or the flick of a switch. Until recently, energy sources have been plentiful. The current global environment is truly complex and presents significant challenges for the oil and gas sector. Industry experts say that the era of easy oil is over. In the past, resources were relatively easy to extract, but now new reserves are more difficult to exploit. Currently, oil and gas is extracted in deep water or more remote places, often under extreme environmental conditions. Today, technology and innovation are more critical than ever to overcome new industry challenges in order to make energy available to everyone.
GE Oil & Gas is one of the key players in the energy market. It delivers innovative equipment and services that enables its customers, oil and gas companies, to access and to make more efficient and sustainable use of the world's energy resources. Its technology is involved from extraction to transportation to end use of oil and gas. GE Oil & Gas operates in over 100 countries around the world. It employs 43,000 people and had sales revenue of over $15 billion in 2012. GE has an unrelenting commitment to integrity, the environment, health and safety, and quality. This commitment is described in GE as 'The Way We Work'.
One of the main GE Oil & Gas businesses is Subsea Systems. GE Oil & Gas' Subsea Systems is headquartered in Aberdeen, UK and employs 2,800 people at eight sites across the country where its oil and gas operations are constantly expanding. For instance, in 2012 a new subsea centre in Bristol was opened creating 200 new jobs. This expansion is in direct response to the growth of the subsea business, a trend that is expected to continue in the coming years.
The Gorgon Project
GE Oil & Gas technologies are at the core of complex, industry-milestone projects worldwide, including projects in Qatar; Prelude, Wheatstone, Ichthys LNG and Gorgon in Australia; and the East-West Pipeline in China.
This business case references GE Oil & Gas' contribution to the Gorgon Project, to demonstrate the various roles needed around the world to ensure the efficient running of big oil and gas projects.
Operated by Chevron, the Gorgon Project is one of the world's largest natural gas projects and the largest single resource development in Australia's history. The Project is developing the Gorgon and Jansz-Io gas fields, located between 130 and 200 kilometres off the northwest coast of Western Australia. It includes the construction of a three-train 15.6 million tonnes per annum (MTPA) liquefied natural gas facility on Barrow Island, and a domestic gas plant with the capacity to provide 300 terajoules of gas per day to Western Australia. The gas produced will be used to meet the local demand in Western Australia as well as the growing energy demand in Asia.
GE Oil & Gas is responsible for supplying and maintaining key technology that will be at the heart of the project.
GE Oil & Gas' involvement in complex, global projects, such as Gorgon, requires a wide range of roles in a variety of areas. Its highly trained and skilled workforce constantly develops and adapts to meet the changing needs of the industry.
Workforce planning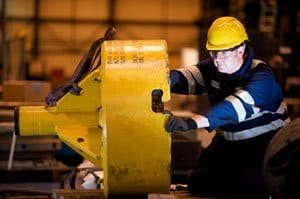 Workforce planning is the process of planning for the future labour needs of a business. An analysis will show the numbers, skills and locations of people needed. Recruitment and training can then be focused on meeting those needs. GE Oil & Gas works in a rapidly changing market, so workforce planning is key to secure the future of the business.
In addition to the aforementioned industry challenges, the oil and gas industry is also facing a shortage of skilled people due to a number of factors. First, an ageing workforce creates a large industry challenge as many senior experts in the industry are approaching retirement. Industry statistics show that up to 50% of oil and gas engineers will be eligible to retire over the next few years. In addition, in the UK there is a shortage of science, technology, engineering and maths (STEM subjects) graduates so demand for these students is high.
Skills and competencies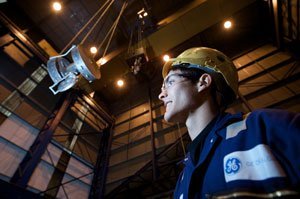 Engineering and technical competencies are essential to the industry and provide the main, if not exclusive, entrance into both technical and managerial careers. Due to the wide range of roles needed, there is also considerable demand for other competencies such as legal, marketing, financial and commercial capabilities. Interpersonal skills such as highly interactive and organisational skills, strong analytics and problem solving, comprehensive oral and written communication skills and strategic thinking are required of employees to take operations to another level. An appetite for travel is also highly valued since the industry operates on a global scale.
GE Oil & Gas is focused on providing training and development opportunities to ensure its workforce can meet the industry's latest challenges by offering a broad training curriculum and a network of global training centres. Additionally, the company's customised leadership programmes aim to develop the next generation of technical experts and managers.
Business functions
GE Oil & Gas offers a huge range of roles in a variety of functional areas, collaborating globally to support business needs, including:
research & development (R&D) and engineering to create and implement innovative technologies
marketing and sales to identify and meet customers' needs globally
human resources (HR) to recruit, train and develop an efficient workforce
finance to track the profitability of the business and its projects
manufacturing to produce equipment for use in all stages of energy production and distribution.
Corporate Social Responsibility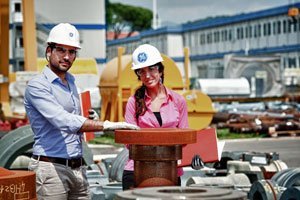 External factors such as the environment and advances in technology can also influence the projects and may require additional expertise and skills. An example is Barrow Island where the Gorgon Project is located. There are a number of unique species of flora and fauna on Barrow Island and its surrounding waters, including 378 species of native plants, 13 species of mammals and four species of protected marine turtles. The island has been a Class A Nature Reserve since 1910 and a Quarantine Management System (QMS) has been implemented to prevent the introduction of non-indigenous species. In line with the Project's QMS and the company's Corporate Social Responsibility (CSR) commitment, GE Oil & Gas is required to comply with measures to protect the island's sensitive environment. For more details please visit www.gecitizenship.com.
Every single piece of equipment sent to Barrow Island must comply with the Project's strict quarantine requirements. For this reason, GE Oil & Gas has implemented its own quarantine management system in Italy, where some of the equipment going to Barrow Island is currently being assembled. These measures have been very successful and were recognised with a recognition award from the Project's quarantine team.
Advancements in technology are also creating new and exciting job opportunities. For example, the power of big data and analytics helps gain operational advantages through greater speed and higher efficiency. This is what GE calls the 'Industrial Internet'. The Industrial Internet enables specialised employees to monitor equipment that is installed thousands of miles away, detect early warning signs of potential malfunction and take preventive action. For more information about the 'Industrial Internet' please visit www.gereports.com.
Roles and responsibilities
Inside every business, you can find different roles and responsibilities. Most often big projects are carried out by diverse cross functional teams typically led by a manager who is responsible for the team processes, performance and business results. The leadership team is responsible for making key strategic decisions for the entire organisation.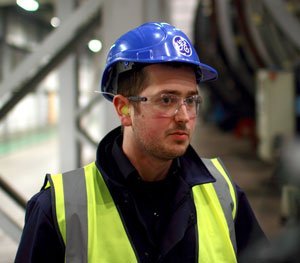 Demonstrating passion and commitment and delivering a standard of high performance, employees can grow inside the organisation to higher positions and level of responsibilities. GE Oil & Gas supports employees' career paths through dedicated training and development opportunities. 24-year old trainee production engineer, Rhys Long, has experienced this benefit first-hand. Rhys graduated school with 11 GCSEs and 4 A levels providing the opportunity to accept an apprenticeship with GE Oil & Gas. After a year as a technician, his work ethic impressed his managers so much that he is now working towards an engineering degree facilitated by the company. His skill set includes problem solving and project management skills that he is now able to apply in a real-life situation. According to Rhys, the most rewarding part of his job is physically seeing the improvements he has made within the factory enhancing processes. Rhys says:
'I take a lot of pride in the work I do, so it is always a reward to see somebody using something I have implemented.'
Rhys is seen as motivated, confident and a good communicator. He attributes these personal characteristics to his success in the role.
A cross functional team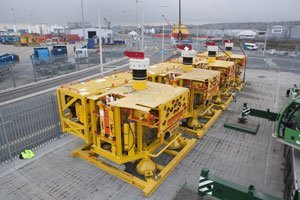 In his role as a GE Oil & Gas Project Engineer, Simon Corrigan's responsibilities on the Gorgon Project include reviewing the initial design and concept, as well as completing detailed designs of components and assemblies ready to be manufactured by GE. Working for GE Oil & Gas provides opportunities to work with colleagues across the world. Design engineers from Poland, Italy and Houston, as well as the UK, are working together in cross regional teams on the Gorgon Project to reach the highest operational standards. Working on such a prestigious project provides a sense of pride to Simon:
'This project is complex, challenging and has taken me out of my comfort zone.'
Outside Engineering, many roles often carry high levels of responsibility as well. Elaine Buchan works in finance as an EPC Costing Analyst. EPC, Engineering, Procurement and Construction, covers the entire range of a project. Elaine's role was to oversee the costings for the various stages of the bid process for the Gorgon Project. Her responsibility was to help ensure the success of GE Oil & Gas' bid, as Elaine explains:
'My work on the Gorgon Project was extremely varied from preparing pre-qualification documents through to costing the job. I was incredibly excited to be involved in such an important project for GE.'
GE Oil & Gas is also supplying subsea trees for the Gorgon Project. Subsea trees are huge assemblies of valves and spools that monitor and control gas flow. These were constructed at the GE Oil & Gas site in Aberdeen then shipped to Australia. According to Douglas Paul, Senior Logistics Coordinator responsible for the delivery of these trees:
'These trees are a technological and engineering marvel and the logistics team is the safe pair of hands that ensures they reach their end destination securely.'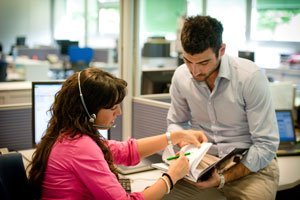 Douglas helped plan the transportation of the trees from the GE facility in Aberdeen to the harbour for their shipping to Australia. Preparations were made more than a year in advance, because the subsea trees are so large, roads were closed to the public to allow the equipment to reach the ships in the Aberdeen Harbour. More than 22 people from GE were involved in this logistics process, from loading and transportation, to offloading. From there, the trees were shipped by Chevron 12,000 miles to Australia, a journey taking around 6 weeks before final installation.
Conclusion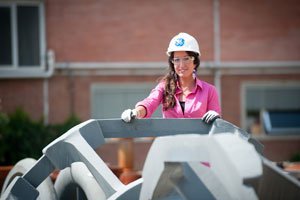 A project like Gorgon shows the many types of roles that are key to the future of the industry. These include positions in engineering, research and development, manufacturing, environmental management, finance, IT, HR, sales, marketing, communications and many more, at all levels, all around the world.
GE Oil & Gas is a leader in advanced technologies and services solutions for the oil and gas industry, one that is facing many new challenges. Finding and extracting energy resources is becoming more complex. Projects are often in difficult or remote places, like deeper water, higher pressures and higher temperatures. The company needs new talent to develop the next generation of managers and experts. Only with a combination of innovations in technology and a knowledgeable, skilled workforce can the industry overcome these challenges to meet the world's future energy demand.
GE Oil & Gas | Workforce planning in the global oil and gas environment