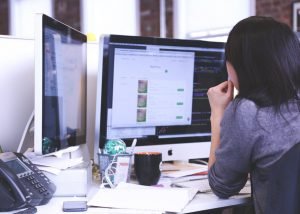 Adobe's Creative Cloud software suite is full of programs that can help your business put out high-quality content. You're probably familiar with the big names already—Photoshop, Illustrator, InDesign, and Premiere have been staples in the design world for years.
But did you know that a full Creative Cloud subscription gives you access to over 20 different programs, all with special capabilities that can benefit your business?
Don't miss out on the features these lesser-known products offer. Here are five of the best Adobe programs you might not have tried.
InCopy
Because word and image processing require separate programs, keeping your designers and copywriters on the same page can be a hassle.
Thankfully, InCopy integrates with InDesign so both teams can work on a project simultaneously, without overwriting each others' work. InCopy lets writers style text, modify layouts, and track any changes they've made.
Adobe XD
Providing your customers with a positive user experience (UX) is one of the best ways to help your business's website to succeed. That's why Adobe's design team built the XD program: to make designing and prototyping a breeze.
The XD app allows you to build wireframes in-app and turn them into fully interactive web or mobile app prototypes. This enables you to test out your UX before your site goes live via your laptop or phone.
Want to know the best part? Adobe XD is free—you can use it independently without purchasing a Creative Cloud subscription.
Dimension
Need a way to test out your logo and branding on physical products before you send them off to the manufacturer? Dimension lets you generate photorealistic, 3D rendered mockups so you can try out your designs ahead of time. You can also use it to create gorgeous product shots by compositing 2D and 3D images.
Spark
Don't waste any more time trying to create a meme for social media in a word processing program. Adobe Spark helps you make graphics, video stories, and web pages from your computer or mobile device. Even those of us without graphic design skills can use Spark to create professional-quality content in seconds.
Premiere Rush
Did you know that video marketing on social media can be up to 600% more effective than print and direct mail? With Premiere Rush, your business can get in on the video trend without the need for professional equipment. Shoot video with the in-app camera on your mobile device, edit the color, audio, and graphics, and share it directly to your favorite social media platform.
How To Take Advantage of These Adobe Programs
Getting access to all of these Adobe programs and more is simple. Adobe offers a variety of Creative Cloud subscriptions with options for small business teams and larger enterprises. Whether you subscribe to an individual program or the whole suite, these Adobe applications can help you take your business's content creation to the next level.
Want to learn more about using images, digital content, and branding to tell your business's story? Check out our Marketing Theory page for case studies and educational resources straight from the experts.