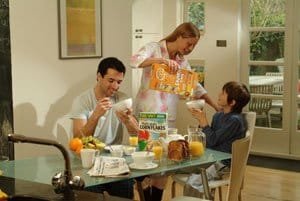 The Kellogg Company is the world's leading producer of cereals. For more than 100 years, Kellogg's has been a leader in health and nutrition by providing consumers with a wide variety of food products. Kellogg's market leading position and reputation are built on its commitment to ethical business practices and its values-based culture. Business values identify the beliefs that the company holds to be the most important. These values then guide decision making and shape the way the organisation behaves. For Kellogg's, these are referred to as K-Values.

Kellogg's K-Values guide the way the company interacts with all of its stakeholders. Stakeholders are individuals, groups and organisations that have an interest in the decisions a company makes and the products that it produces. They also, depending on their power, affect how businesses perform. Kellogg's products are manufactured in 18 countries and are sold in more than 180 countries. This means Kellogg's has to manage its relationships with a variety of stakeholders around the world. The diagram identifies Kellogg's key stakeholder groups.
Business strategies

Kellogg's long-term business plans, known as strategies, focus on engaging with its stakeholders to ensure their needs are being met. For Kellogg's, this means ensuring the highest ethical standards and sustainable business practices. Kellogg's has a Global Code of Ethics governing how it deals with stakeholders across the world. A sustainable business is one which focuses on minimising any negative impact on the environment to ensure future generations can prosper.
Kellogg's vision and core purpose outline what the company wants to achieve. They guide the organisation's decision making processes to help meet the expectations of its stakeholders. Kellogg's vision, which was refreshed in 2012, sets out the company's main aim:
'To enrich and delight the world through foods and brands that matter.'