Introduction
Modern society depends on prosperous communities that care for all of their members. Business organisations can play an important role in creating and developing such communities.
This case study focuses on how Cadbury Trebor Bassett provides a positive role model and acts as a benchmark in how to exercise Corporate Community Investment (CCI).
Cadbury Trebor Bassett (CTB) is the UK confectionery division of Cadbury Schweppes, one of the world's leading manufacturers of soft drinks and confectionery e.g. sweets, chocolate. CTB is the UK's leading confectionery manufacturer, producing favourites such as Cadbury Dairy Milk, Roses, Bassett's Liquorice Allsorts and Trebor Extra Strong Mints.
What is Corporate Community Investment
Corporate Community Investment involves business organisations recognising that they have a responsibility both to their local areas and society in general. For a company, being socially responsible means using its resources and its influence to shape the lives of fellow citizens for the better.

The Cadbury Schweppes group has a Corporate Community Investment strategy of 'Creating Value in the Community'. This focuses on creating community partnerships that generate real, sustainable added value in:
education and enterprise
health and welfare
the environment.
EIRIS (Ethical Investment Research Service) survey 2002 commended the company for its carefully structured community involvement programme. CTB is also a member of the Business in the Community PerCent Club, CTB's community contribution was around 2 per cent of its UK pre-tax profits.
In 2001 CTB launched its Community - 'You Can Make A Difference' programme to maximise the impact of the business, its employees and community partners. Over 1,500 of the company's 7,000 workforce have been involved so far.
Stakeholder expectations
Cadbury Schweppes' core purpose is 'Working together to create brands people love'.
The success of the organisation in meeting this purpose can be measured in terms of the value created for shareholders. However, this success is achievable only if the company respects its commitment to every one of its stakeholders.

CTB believes in creating prosperous, educated and socially inclusive communities, not only because this is part of the company's heritage but because it is the right thing to do and makes good business sense.
Corporate Community Investment has always been a core part of CTB's business philosophy. It is also something that its stakeholders expect. Stakeholders are the groups and individuals that play a part in an organisation.
Stakeholders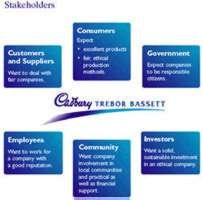 Enlightened companies see their stakeholder groupings as partners who help to shape and inform company plans and policies.
The external environment
Successful businesses seek to create a fit between their line of business, way of operating and external environment. In recent years, there have been attempts to make UK society more inclusive. Groups that used to be treated as 'outsiders' (e.g. disabled people, single parent families, people living in areas of poverty and educational disadvantage) are being brought into the mainstream of social and economic activity.

The current UK government is promoting social inclusion and the part that businesses can play in bringing it about. For example, the government has encouraged businesses to work in partnership with government agencies and the local community to:
improve education and training opportunities
support small local businesses
promote housing projects
create employment opportunities through a Welfare to Work programme.
Active citizenship
In the modern world the obligations of business to society have broadened and companies like CTB are building on a heritage of good citizenship in a more strategic way.
CTB's community contributions take many forms e.g. cash grants, sponsorship, donations in kind, as well as the time, effort and skills that CTB people put into the communities in which they live and work.
Cash
In 2001, Cadbury Trebor Bassett and Cadbury Schweppes contributed £1.1m in cash to community projects in the UK.
Gifts in kind

In 2001, these were worth £350,000 and included:
products - drinks, chocolate, sugar confectionery
surplus materials - foil, sticky tape, cellophane, cardboard donated to schools and play centres for children to use in arts and craft activities. This also reduces waste
furniture - surplus and/or obsolete tables, desks, chairs, OHPs etc are donated to charities, schools and community organisations
services and facilities - where possible, schools and community organisations are allowed to use the company's facilities e.g. meeting rooms, conference centres, sports fields, social clubs.
Time
The company has an extensive employee volunteer programme; staff donate their time and skills. More than 1,500 employees take part in community activities. These include:
working in classrooms (e.g. listening to children read)
providing strategic support to headteachers or community sector organisations
supporting painting and decorating programmes
promoting community projects within play schools or community centres.
CTB has a menu of community activities for employees to choose from and gives every employee its 'Guide to Employee Volunteering'. Volunteers are allowed time off work to take part.
Benefits to the community
CTB is genuinely concerned with making a real difference and carries out evaluations to identify the effectiveness of its social responsibility programmes.
1.Creating a more active workforce
Andrew Cosslett, CTB's Managing Director, has remarked:
'By providing an inspiring menu of activities, by encouraging people to take part and allowing them to do so in work time, we have unleashed an army of committed and enthusiastic volunteers who have had a tremendously positive impact on our local communities'.
2.Close targeting to maximise benefits
CTB compiled a portfolio of activities, designed to offer something for everyone, but also to fit with a central strategy of focusing effort where it will make the most difference. Principally:
Areas of deprivation -CTB looks to involve its people in experiences that bring them into contact with real social need, and which do not insulate them within safe, centralised organisations that operate only in 'easy' accessible areas.
Core themes that enable CTB to develop expertise and gain synergies - these include Youth at Risk, Education and Enterprise projects. A School Links programme allows employees to develop projects on a one-to-one basis with local schools, while encouraging the sharing of materials and best practice through termly meetings of all Link Managers.
Projects where CTB can provide significant strategic input - Middle and senior managers have joined the Management Committees of local grassroots organisations such as People United Against Crime where their involvement makes a real impact.
Dave Shoesmith, the Director of Kings Norton Excellence in Cities Education Action Zone recognises the value of CTB's contribution:
'We've got money but what this estate really needs are the skills that your employees can provide as well as having positive adult role models'.
3.Extending influence into the supply chain
CTB and Cadbury Schweppes use their influence as a customer and supplier to encourage other companies to take up the volunteering challenge. For example, Smart Communications (Public Relations), AS Biss (Public Affairs) and Marakon (Management Consultancy) have all provided professional services to community organisations that CTB supports and have been inspired to introduce their own community programmes.
In addition, CTB has developed programmes with its customers. For example, CTB's Sales Team organised a joint project with East End Foods (Cash and Carry) to provide business advice to independent retailers to help regenerate a disadvantaged neighbourhood in Balsall Heath, near Birmingham.
4.Levering additional funding
CTB points many of its volunteers towards areas where the community can gain external matched funding. This includes Education Action Zones, schools bidding for specialist status and regeneration funds. CTB's employees are able to advise community organisations about potential sources of funding e.g. helping to develop the idea and also funding the set up of a Matrix Internet drop-in centre on the deprived Kings Norton estate in Birmingham.
By lobbying the local MP, the company helped access additional funding from the Drugs Advisory Council. Working with a reputable company like CTB helps community organisations to gain credibility when seeking support for local projects.
5.Backing up with other company support
CTB also operates a CashMatch scheme that provides £ for £ support. This provides an incentive for employees to raise money for their favourite charity. The knowledge that they can effectively double their money through the company's support has inspired many employees to fund-raise for the first time.
Benefits to CTB
Cadbury Trebor Bassett benefits from its Corporate Community Investment strategy in many ways, and is a stronger company as a result. The principal benefits are in:
motivating employees by using company resources to support causes that they care about
building loyalty amongst people who are proud to work for a company that is socially responsible and a good neighbour
growing the skills and experiences of its employees e.g. in devising and presenting schemes, problem solving, project management
developing a better understanding among employees of the diverse nature of society
improving team working through employee participation in community activities
improving morale and the feel-good factor as employees benefit from really making a difference.
The way forward
Being a responsible citizen is an ongoing process that requires continual evaluation. CTB keeps track of its community investment in an on-line database based on LBG's (London Benchmarking Group) internationally approved model.

In 2011, Cadbury Schweppes was in the Top Ten of the FTSE 100 in terms of community investment. Evaluations indicate that schools valued CTB's contributions, for example in providing strategic support and coaching and fresh perspectives, including an insight into business techniques. Every employee who responded to the questionnaire found the programme to be a worthwhile experience.
CTB continually seeks new, improved ways of building stronger communities. It is that sort of company.
Cadbury Schweppes | Stakeholders and Corporate Community Investment