Amway is a global company which has built its success on direct selling. Direct selling is different from the more traditional distribution channels: customers visiting shops to buy their goods. Amway has three million Independent Business Owners (IBOs) worldwide who deal directly with clients, building up personal relationships and delivering direct to their homes.
Amway manufactures and distributes over 450 different products including household goods, cosmetics and food supplements. The IBOs are highly motivated, selling to people they know or meet. The personal contact and care is an important element in direct selling.

One of Amway's most successful lines is hair care products. This is a highly competitive market and over the years Amway has invested heavily in both research and development as well as in market research. It is important to distinguish between the two.
Research and development is a key stage in the creation of new products and involves experimenting with new compounds and ingredients, careful testing to ensure safety and developing the manufacturing processes to enable mass production.
By contrast, market research is the process of gathering information to discover exactly what the market wants. It is focused on the end user of the product and ensures that Amway is producing the right product at the right price for the right consumers.
Background to the hair care market
The market for hair care products is enormous and continues to grow. Western Europe is currently the world's largest region for hair care products and by 2001 sales are expected to have increased by nearly 16on 1997 levels.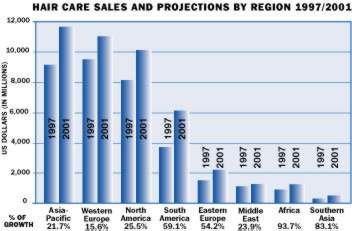 However, other economic areas such as the Asia-Pacific region, Eastern Europe and South America are expected to grow faster and offer excellent new markets.
Sales in South America are projected to grow by nearly 60by 2001, 54in Eastern Europe and 27in the Asia-Pacific region. This has significant implications for international marketers because manufacturing truly global products can create many challenges.
Consumers are becoming much more demanding, looking for high quality products that are convenient to use and time efficient. The biggest growth area in the market is expected to be in multi-functional products such as 2 in 1 shampoo and conditioner for people with busy lifestyles.
In the past, the shampoos and conditioners used in hairdressing salons have normally been of a higher quality than those available in the shops. Consumers are now demanding the same quality for home use.
Technological innovation
Scientific research and the development of new products are extremely costly and are often beyond the financial resources of small companies. For Amway this investment has been key to its success.
Amway has been a market leader in researching and developing new products throughout its product portfolioand designing new manufacturing processes, essential if it is to keep ahead of its competitors.
All products move through phases during their life span, much like a person. New products are first conceived and developed for the market. Then their sales hopefully will grow, as consumers become aware of them, before levelling off as the product reaches maturity. This is when sales and profits are likely to be at a maximum.
Finally, the product sales may begin to decline as it loses popularity or is superseded by a new, more technologically advanced item and it may be withdrawn from the market (this is called the product life cycle).
Companies may try to prevent this decline by extending the life span through extension strategies, breathing new life into an old product. Research and development are associated both with the development stage of the product life cycle and any extension strategies. In the highly competitive market of hair care products, it is vital to keep developing and improving the products offered.
Satinique - the launch of a new product
After several years of research and development, Amway has produced new Satinique, a range of products using one of the most advanced hair care technologies available today. It uses the Ceramide Infusion System and to understand how it works requires some knowledge of the structure of the human hair.
Hair is comprised of three layers: the medulla, which is the soft spongy core of the hair shaft. The cortex is an inner layer that gives the hair its strength, elasticity and texture and determines its thickness and colour. Finally, the cuticle, which is the outer protective layer of tiny overlapping scales. When these scales are smooth, hair will look healthy and shiny. Ceramides, found naturally in the hair combine with proteins and smooth down the scales, locking in the moisture and keeping the hair looking healthy.
Modern life styles and the environment can prevent this happening. Hair styling, chemical processes, pollution and UV rays can open up these cuticle layers, causing the hair to become dry and brittle, allowing the moisture to escape and the hair to lose its shine.
The Ceramide Infusion System is designed to reverse this problem with a formula which includes natural ceramides, protein and Meadowfoam Seed Oil, a moisturising agent, to penetrate the hair and restore its nutrients.
Target markets and market segmentation
Having successfully developed the new product in the laboratory, Amway has to decide how it is going to be marketed. This is the responsibility of the Corporate Marketing Team.

Firstly, the marketing team had to decide what the objectives were for Satinique before they could plan the marketing strategy. What are we trying to achieve with this new product and how are we going to achieve it? Only then can they consider the tactics they would employ. This is called the marketing mix.
One of the first questions was 'who is this new product being aimed at?' This is known as the target market. To answer this question, Amway had to conduct extensive market research to collect both primary and secondary data.
The target audience
Some companies will aim their products at the entire population, others will try to differentiate. Splitting the whole market up into various groups is known as market segmentation.
Although it was recognised that groups such as children, men and teenagers are likely to become targets in the future, the Satinique range was aimed at adult females between 25 and 44 years of age.
Extensive market research into this segment shows that women are often looking for new products and technologies that will provide a more satisfying hair care experience. From the data collected, it is possible to build up a typical consumer profile to describe current buying behaviour.
A typical consumer from this target group:
is probably a professional woman
is very hair conscious and always wants to look her best
wants professional, salon quality products
buys hair care products from shops and hairdressing salons
relies on recommendations from friends when making hair care purchase decisions
makes buying decisions based on clinical evidence.
Having decided on the target audience, the marketing team turns its attention to the marketing mix. In this case it would focus particularly on the pricing strategy, the promotional campaign and, most importantly, the packaging.
A team of experts was brought together to ensure that all aspects of the new product were covered. Amway employed Dr Phillip Wertz, a leading expert in ceramide technology and Nancy Flinn an expert on the hair care industry and its products. Dragoco, an internationally renowned fragrance house, was brought in to cover design and development.
Aesthete, a world class Parisian design team, and experts from the Institute for Colour Research looked at global trends in packaging colours before designing the packaging. John Gillespie, a hair stylist with an international reputation was employed for public relations, merchandising and guest appearances.
Packaging

One of the most important challenges for Amway's team of experts was to develop the appropriate customized product packaging for the new Satinique products. It was important to create a brand image for the total product range. The image created would reflect a great deal about the product and its consumers. This is known as positioning the product within the market.
Packaging can be crucial to the success of a new product and Amway went to great lengths to ensure that Satinique's packaging and design appealed to the target audience.
The Institute for Colour Research, a leading American analyst and forecaster of global colour trends, helped to determine the colour palette and finishes for the packaging. The colours are light, elegant, soft and culturally appealing.
Soft, metallic white gives a sense of clarity, while the blue caps represent water and blue sky. The silver metallic touches add luxury and spice. All the colours are designed to suggest cleanliness.
This design can be used to create a brand image and brings together the product collection. The exclusive look mirrors that used in the cosmetics sector and reinforces the quality message.
Conclusion
The launch of any new product requires a considerable amount of time, effort and careful planning.
Research and development uses advances in science and technology to enhance products, while market research examines changing consumer tastes and fashions.

The Corporate Marketing Team and team of experts have to co-ordinate and develop a cohesive marketing strategy. The key to successful marketing is to clearly identify at which market segment the product should be aimed, find out precisely what consumers in this target group want and then plan the marketing strategy accordingly.
The focus of brand image and positioning of the product within the marketplace are of paramount importance.