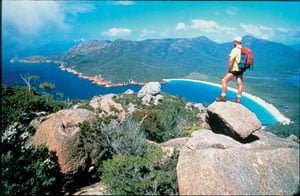 In recent years, Australia has become an increasingly desirable holiday destination for UK travellers due to its diversity as a travel destination, beaches, outback, rainforests, city lifestyle and adventure. This is also the result of cheap flights and the strength of the £ sterling against the Australian dollar; more than 50% of all European arrivals are from the UK. In addition, the UK is the third largest source market for visitors to Australia behind Japan and New Zealand. This influx of visitors from overseas has greatly benefited the Australian economy.
Inbound tourism is an important export industry for Australia that generates more than a quarter of a million jobs. In fact it is Australia's fourth largest earner of foreign exchange dollars and represents 11.2% of total export earnings from the 5 million international visitors in the June 2001 financial year. Every billion dollars in tourism export earnings creates 11,367 jobs and export earnings is expected to grow to 30.8 billion in 2008-9.
In the last year, the Australian High Commission has issued just under 40,000 working holiday visas to the UK market (the backpacker market represents more than 100,000 visitors). The working holiday scheme aims to provide opportunities for young people (18-30) to holiday in Australia for up to a year while supplementing their funds through work. Australia is a desirable country to both live and work (no language problems for the UK traveller) and a working visa provides a perfect opportunity to combine travelling with working. Key trade partners have introduced visa processing services along with job contacts and advisory services to encourage backpackers to make use of the opportunity. Australia has many attractions and is one of the world's best backpacking holiday destinations. The international tourist industry, however, is highly competitive and Europeans wishing to travel have many short, medium and long-haul destinations from which to choose. The increasing number of alternative, affordable holiday opportunities on offer represents a considerable, ongoing challenge for the Australian Tourist Commission (ATC).