Generating traffic to your business website can prove challenging. If you fail to entice internet users to your business website, revenue is lost. According to a HubSpot survey, web traffic is the second major measurement of success when it comes to content strategy.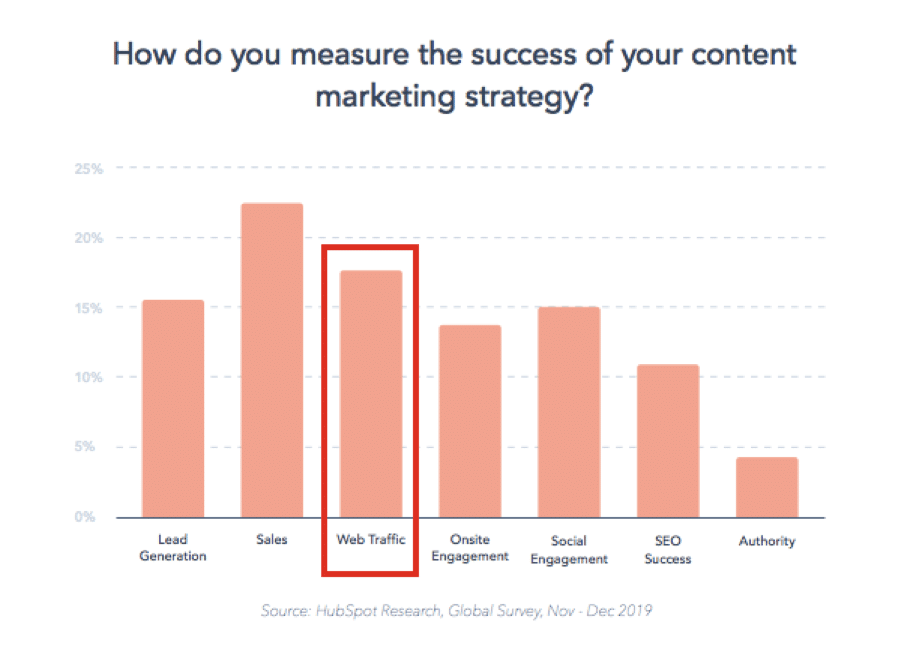 What is one of the best ways to drive more traffic to a business website and increase conversions? Articles. Articles, whether served up via your website blog, or posted online through outside publications and sources, are critical to traffic and conversions.
Behind video content, blogs are primary sources of media within a powerful content marketing strategy.
However, writing articles to generate traffic, leads, and increase conversions is not easy. Business leadership may not be great writers. You may have the industry expertise, but you may not fully understand how to get the business' marketing message across in a profitable way.
This is not uncommon. The good news is that there are article writing services available to businesses large and small. Ideally, you can work with a marketing agency that specializes in your industry. For example, if you own a local dental clinic, you'd want to work with an agency that specializes in dental marketing. Similarly, if you hire freelancers, you'll want to work with freelancers who have experience writing topics related to your industry.
Once you are ready to employ professional article writing services, the goal of finding the right fit becomes top priority. To help, we compiled 5 tips to get the best article writing services for your business. Let's get right to it!
1. Discuss Search Engine Optimization (SEO) Success
One important indicator of article writing services expertise is SEO success rates. Article writing service providers need to have SEO at the forefront in order to facilitate success for their clients. Without SEO, content simply becomes lost in SERPs.
This is why search engine optimization is the top tactic for content marketing success. According to a SEMrush study, 75 percent of respondents agreed that SEO was the most efficient content marketing tactic.
Before partnering with an article writing company, ask for proof. Professional writing service providers should have case studies and previous client success rates at the ready. They know how essential proven results are to landing new clients.
Ask your short list of article writing companies to provide analytics and other data to prove their expertise in content optimization. If they don't have analytics to back up their claims, move on to another agency.
2. Communication And Collaboration Is Critical
Another essential tip for finding the best article writing services provider is to ensure communication and collaboration with your business' writing team is streamlined. Nothing is more time consuming than not being on the same page.
In essence, your business is the customer in the equation. This means that you should be receiving exceptional customer service. This includes strong communication and collaboration.
Collaboration is absolutely important to consider when choosing a writing company. There may be edits needed, or you may need to work closely with a writer in order to express forward thinking industry ideas.
In 2020, 40 percent of teams utilized communication and collaboration tools to streamline content marketing efforts.
Choosing an article writing service provider that utilizes collaboration and communication tools, a content management system, and more can prove beneficial.
Without powerful collaboration, articles could become mundane. And if they are too mundane, your business' target audience may not be as enthusiastic to make a purchase.
3. Ensure The Article Writing Services Company Is Reputable
When you get to a few top writing services candidates, it is essential to begin a more in-depth review process. This is when ratings, reviews, and client testimonials make a big time impact on the decision making process.
You obviously want to find a reputable company to pump out your business' content. This means checking online reviews for most. However, take your research a bit further to ensure you are partnering with a reputable writing company.
For example, check out client testimonials. They are easily found on a company's website.
Next, make a few calls to ensure the testimonials are legitimate. It is not difficult to spot a fake testimonial, but making a call or emailing the previous client could turn up valuable decision making information.
It is important to also check a company's social media profiles. You want to ensure that your company's views are aligned with any company you may partner with. These research tactics can give you peace of mind that the writing company you choose is reputable.
4. Are Article Revisions An Extra Cost?
Article revisions often come at an extra cost, so this is a very important question to ask any article writing services company you are considering. Revision services should be part of the overall cost.
But this is within reason. It is essential to trust that the writing team knows how to craft a powerful article that will surpass your content strategy goals. Giving writers a ton of revisions over and over again could potentially weaken the article.
That being noted, there should be a number of revisions included in an article. This is when collaboration and communication really become critical.
5. Article Writing Services Need To Be Cost Effective With Maximum ROI
Last but certainly not least is cost. Article writing services should not break the bank for your business. However, don't expect to get quality articles at a discount price. In 2020, 19 percent of businesses spent over $10,000 on content marketing.
Article writing services and content marketing can be cost effective with 37 percent of businesses spending less than $10,000 last year. And the actual development of content is a fraction of the overall budget.
You do want to ensure you are tracking ROI. If you are spending $5,000 per year on content development, and your ROI is not making sense, it may be time to hire a different article writing company.
Is Your Business Producing Enough Content To Grow Revenue?
This is a very important question to ask. Most businesses agree that a strong content marketing strategy with articles consistently being posted online has massive traffic, lead, and conversion potential. If you have yet to maximize your content marketing strategy, the time is now to make content a top priority.