VoIP stands for Voice over Internet Protocol. Instead of using traditional analog wires to send a person's voice, VoIP uses the internet. VoIP breaks down sound into a digital format and packets of data sent through the internet.
There are several advantages for businesses that use VoIP. VoIP helps with cost, provides portability, and integration between phone and computer.
Keep reading to discover more about how businesses can benefit from VoIP.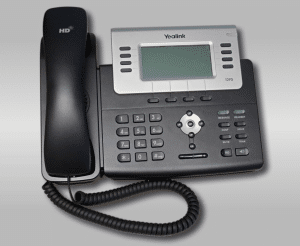 Phone and Computer Integration
Because VoIP uses an internet connection it is easy for businesses to integrate VoIP with the applications they use every day. For instance, with VoIP and Outlook, you'll be able to place outgoing phone calls from Outlook. You'll also be able to bring up a customer's or client's record when they call in.
VoIP is also capable of integrating well with video conferencing applications and allows remote access. For those who travel, this means that VoIP will allow you to access your voicemails through email. Some will even transcribe the voicemail for you.
Portability
One of the greatest advantages of VoIP is its portability. For those that travel, VoIP allows them to keep their office phone number and divert calls anywhere. There are adapters available to convert some cellphones into a VoIP phones.
This comes particularly handy for those who travel frequently for work and especially overseas. Because VoIP uses the internet, it can take advantage of cloud-hosting systems. This technology allows employees to place and receive calls using their office number from anywhere.
Cost Efficient
There are many ways VoIP can save company money. The biggest way is the ease of installation, set-up, and maintenance. Because it uses the internet, a technician does not need to install all new wiring throughout.
The equipment is connected to the existing internet cables. There is no specific hardware or software to install. Rather, find a VoIP carrier that meets your needs, buy VoIP capable phones, and install.
VoIP features also make it easy to add and remove users, configure and assign anIP phone number for a new user, as well as a web access portal to adjust other system configurations. This saves the time and cost of having to potentially buy a new phone line, or pay to have a phone line moved due to a change in offices.
Even More Benefits
Besides the main benefits, mentioned above, to having VoIP for your business, there are many more.
Some quick examples include integrating older technology like fax and easy scalability. Because VoIP does not rely on individual phone lines, there is no need to worry about paying for unused lines.
VoIP can even provide a way to send and receive files between employees during conference calls where someone is traveling.
Getting VoIP
A final added benefit of VoIP is how easy and simple it is to get an IP phone number. But, you should still be armed with a little bit of knowledge before choosing a carrier.
After a service provider has been chosen, the rest is as simple as setting up a new account. Some carriers will offer a trial period with a free VoIP number with the ability to buy as many extra numbers as needed.
Some carriers will offer the telephones included in the initial setup and installation fee, while others will require that you bring your own phones. Choose the carrier that best suits your financial and business needs.
VoIP for Business
VoIP has turned out to be one of the more beneficial advances in technology for businesses. It has proven to be cost-effective, instrumental in cutting existing costs, integrating all applications, and being portable.
VoIP can also breathe a little life back into some of your older technology by integrating it with your more up-to-date systems. This can prove useful when working with clients or customers who haven't been able to upgrade yet.
The benefits of VoIP systems for business are vast and varied. Businesses choosing to use VoIP have been able to improve productivity with their remote employees. The system allows employees to log into the system from anywhere and receive or make calls using their office number.
While this may put a wrench in the plans of those who use traveling as mini vacations away from the office, but the business and company as a whole will benefit greatly.