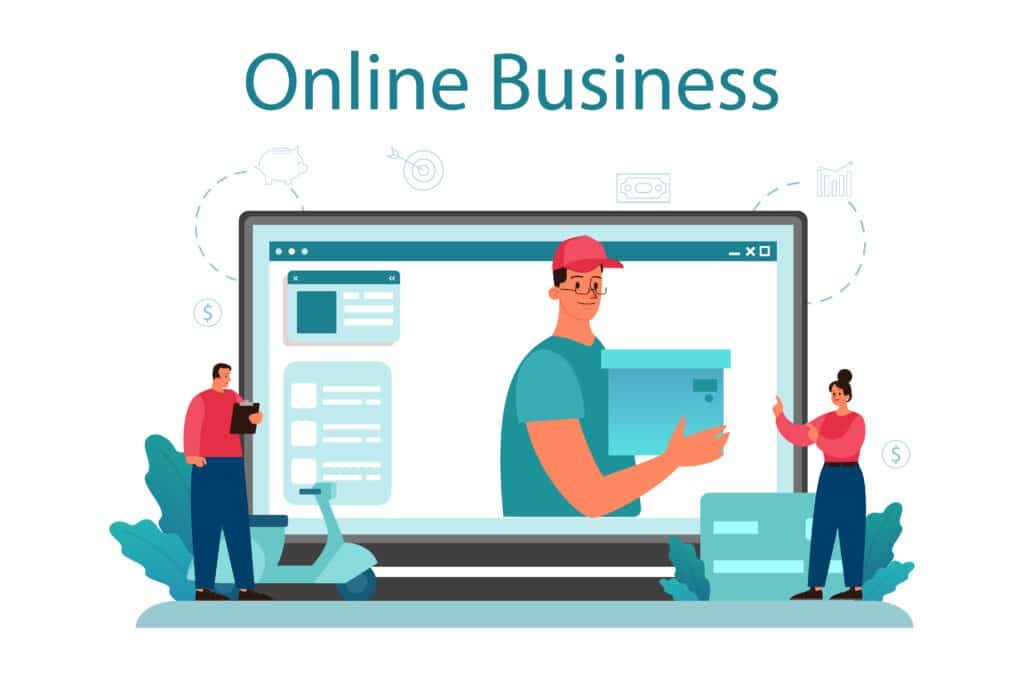 Did you know that, according to Google, 4 out of 5 customers search online before making a local purchase? For small business owners, this means being present on the internet is vital for 21st-century success.
The purpose of your website is to attract potential customers, and then convince them to hire you, book your services or visit your storefront. It's an investment that you should carefully consider as it is likely to bring in more sales.
Here's how you can create the perfect website for your small business in 4 easy steps.
1. Choose the right platform
First and foremost, you should start looking at options to build your website. Web design agencies are usually a good solution if you don't have any prior knowledge and need someone to take care of it for you. But they also cost thousands of pounds. Moreover, once they create it, they're done meaning you won't get the tech updates you need to have an edge and compete. Your website could be out-of-date in six months.
If you're a creative soul, you can look into building it yourself. There are a lot of great DIY website builders for this purpose, like Wix or Weebly. They offer small businesses an affordable way of getting a website, with advanced customisation features. But you'll often find that these website builders lack an integrated approach. What happens when you want to link your website to your Facebook Business profile or when you need to list your website on Google Maps?
To succeed online, small business owners need today to appear across all major platforms. They need to have multiple profiles and make sure to keep them up-to-date with their latest offers or events.
If you don't have the time to learn the intricacies of all the other channels available online, there's a third option available to you: you can have someone else build not just your website but also your entire online presence. Digital online platforms like UENI offer an all-inclusive solution for service-based, small businesses anywhere in Europe.
This includes every tool you need to gain more exposure from your website to social media to search engines to digital directories in a single package.
As compared to traditional DIY website builders, this solution allows you to be visible on all sorts of sector-specific platforms where customers are looking for your services. It's also useful to help build your brand and reputation and increase customer engagement at a low cost.
2. Prepare some professional photos
Your website needs to showcase your credibility to convince a customer who lands on your website to choose your services. Consider that Airbnb doubled its profits once the company introduced professional photos across their site.
For any sort of business, it's helpful to have some relevant photos related to your work – any image of you or one of your employees on the job will do the trick. Adding a personal touch here helps greatly to put customers' minds at ease. You can show them what to expect and give your business a face in a single gesture. Some photos that highlight your skills – such as 'before and after' images – are also great for this purpose.
For the purpose example, let's say you're a professional painter. Imagine your next job is to paint a worn-down house. You should take a photo of the house before you work your magic and then take another once you've done the job. This kind of storytelling clearly demonstrates your expertise and helps your customers visualise you accomplishing whatever service they're considering hiring you for.
3. Write an attractive description of your business and your services
Next, prepare your essential details – your hours, location (if applicable), prices and services and plan to display these prominently and throughout your website.
When you write a description of your services and your business, be as specific as possible. Say what makes you different from your competitors.
Consider: What's your USP? Why should customers choose you? Why are you the best offer?
To answer these questions, you should write an 'about us' section that provides general information about your business. This is also where you should brag about whatever makes your business special. Is your business a decades-old operation and an established pillar of the community? This part of your website is your chance to really sell yourself.
Also, in order to make sure your website is first on the list in Google search results, it's useful to use the exact phrases local customers type into Google when they search for the services you offer in the descriptions of your services and your 'about us' section. 'Hammersmith plumber quote,' for example.
This technique is part of what's called 'search engine optimisation' or SEO. Basically, it means tailoring your website to appear high in Google search results. While employing the best SEO requires a real tech guru, you can manage these kinds of basics yourself if you do the research.
It's also worth taking a look at competitors in your area that appear when you type in the services you offer and your location into Google.
Say you own a beauty salon in East London. Search for 'haircut for women Hackney' or 'best hairdressers Hackney' on Google. Look at the first three websites that appear – they are doing something right. Their example is a good place to start, even if it's just to distinguish your business from theirs.
4. Know that you'll need more than just a website to succeed online
In order to maximise the results of taking your business online, you should create profiles and list their details across the web on all high-traffic platforms.
Being on Google Maps, for example, helps any potential customer see your location and get directions instantly. Having a Facebook Business page allows you to connect with customers directly, and provides yet another avenue to showcase your business and collect positive reviews.
Those are two examples, but they are just a small part of the larger picture.
Getting your business listed on sector-specific directories is also an important step to increase your visibility and put your business in front of thousands of unique viewers every month. Plus, it's a great boost for your site's SEO and can earn you a backlink, so this is definitely an option to explore.
The gist is this: for your business to succeed online, it needs more than just a website. Too few business owners realise this, and this ignorance about technology winds up hurting their profits.
Fortunately, as so few business owners have transitioned online, yours can be among those who adopt technology now, and you'll be well ahead of the curve.