Introduction
Most large companies produce a variety of goods and services designed to meet consumers' needs and requirements. Consumers' expectations and requirements change over time, so firms need to develop new products. Market focused companies use market research to identify these trends. They are continually developing new products, some of which are completely new ideas, while others are improvements on existing ones, also me-too products to find other ways to offer differentiation within their product portfolio.

A firm's need to keep developing new products means that at any one time a typical large company will have a portfolio of products, not all of which will be at the same stage in their product life cycle. Some products will be new and may be struggling to make headway, others will be established and growing in importance, while others will have matured and be in decline.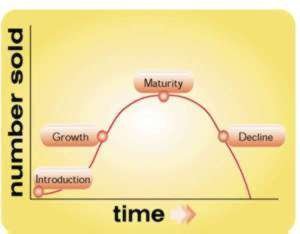 This Case Study shows how BIC(r) understands product life cycles and appreciates the importance of matching promotional activities to the various stages in the life cycles of the products in its portfolio.
Products for consumers at affordable prices

BIC was founded in 1950 by Marcel Bich with the introduction of the first high quality ballpoint pen at an affordable price. In 1975 BIC launched the first one-piece shaver and become a market leader within that sector too.
In the early days, BIC concentrated on a core range of products which mainly included: BIC Cristal® and Orange Ball Pen and the Classic Shaver. In the 1990s the company realised it needed to develop its product range to meet changing consumer needs and to compete with new competitors entering the writing and shaver categories.
BIC has therefore set about re-shaping itself. It has looked to add value to its products (e.g. by moving from a single blade to a twin blade, then to a triple blade razor) and to develop a range of new products. BIC's introduction of the Classic one-piece shaver, rebranded as BIC 1, illustrates this process. The re-branding was intended to enhance the brand's simplicity whilst still maintaining the highly recognisable, orange packaging.
BIC has further enhanced this re-branding by launching BIC 2, which satisfies consumers looking for a functional twin blade at an affordable price. Through the launch of BIC 1 & BIC 2, BIC has created a branding synergy.
In the twin blade sector, BIC has launched premium products such as Comfort Twin and Twin Lady. These products target consumers demanding enhanced features and benefits while still offering excellent value for money. In 2003, BIC launched its first triple blade shaver for men BIC Comfort 3 and one year later BIC Soleil Lady for women. Both of these products offer greater innovation and technologically enhanced features and benefits at attractive prices.
The Boston matrix and BIC products
Multi-product businesses like BIC are aware of how products in their entire portfolio contribute to the overall growth of the business. Established profitable lines make a vital contribution that enables a company to invest in the development and promotion of new lines.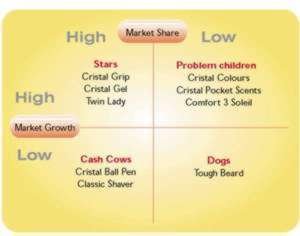 The Boston Group developed 'The Boston box' or matrix. This relates closely to product life cycles and identifies four classes of products in an organisation's portfolio.
Problem children - These are newly-launched products. This name is appropriate because many products fail to move beyond this phase. Such products are also referred to as 'Question Marks'. In order to grow, they require large amounts of investment and promotional support. Wise firms monitor each product's progress and recognise whether or not ongoing support is justified.
Stars - These are products that have successfully reached the growth stage in the life cycle. Although they need ongoing promotional support, they are already providing high cash returns. They present good prospects for the future.
Cash cows - These products have reached the maturity stage and are now 'yielders'. They have a high market share in markets that are no longer rapidly expanding. However, they will need ongoing marketing support and will need 'freshening up' from time to time.
Dogs - These are products in decline. These have a low market share in a low-growing or declining market. Because they generate a negative cash flow, they will usually be disposed of.
The Boston matrix can be applied to BIC products:
The Cristal Ball Pen and Classic Shaver are popular and well established products with very high unit sales. BIC produces them on a large scale. They provide excellent cash profits for the company.
The Cristal Grip and Cristal Gel Pens, and Twin Lady shavers are stars with well established growth patterns. For example, the Twin Lady filled the gap in the market for shavers for women.
Problem Children that have recently entered their respective markets include Cristal Colours and Cristal Pocket Scents in the pen market, and Comfort 3 and Soleil in the shavers market. Currently BIC is investing in these products. Over the next two or three years the company will decide whether these products have succeeded (moved into the star category) and warrant continued support. Products such as Soleil (a shaver for women) are rapidly moving into the star category.
Of course, some products fail to take off sufficiently and/or go into decline. The 'Tough Beard' shaver has not warranted further development and BIC has taken it out of production.
Developing the product range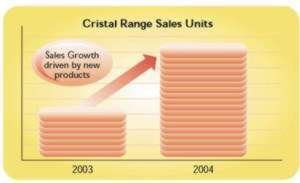 The Cristal range of pens demonstrate how to inject new life into a product range:
BIC's Cristal Ball pen was launched in 1951. It has over 30% market share and is the UK's best-selling ball pen.
In 1964 BIC launched BIC Orange. This is a fine-point version of the Cristal pen, easily recognised by its orange barrel.
In the 1990s, as the Cristal and Orange Ball pens became more mature and encountered fierce competition from lower priced brands, BIC invested in developing the Cristal range to attract new users and to differentiate itself from the competition.
This led to the launch of a range of new products:
Cristal Grip, for more comfort
Cristal Colours, for fashionable colours
Cristal Pocket, for a more convenient size
Cristal Pockets Scents, for fun and fruity inks
Cristal Gel, for smoother writing.
By continually adding to the range, BIC manages to inject new life into the product life cycle of the overall range.
BIC now offers a full range of Cristal pens using both ball point and gel ink technology. The range's development has also helped to support the enhancements of the core brand, and each year sales of Cristal pens increase.
The product life cycle and promotional activity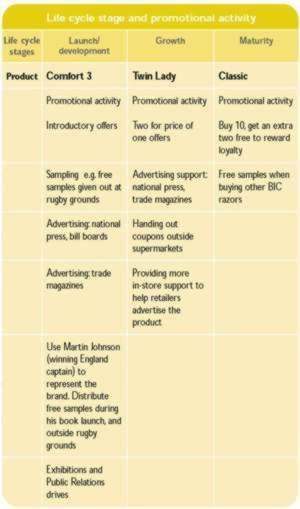 BIC analyses its products, and promotes and supports these in line with their stage in the product life cycle. For example, BIC Cristal and the Classic shaver have a long life cycle and although they have had technological improvements over the years and are produced using more advanced manufacturing techniques, the style and design of these products have not changed. They are still recognisable worldwide.
Initially, when these products were launched, promotional activity would have focused on generating awareness and encouraging consumers to trial the products. Now that these products have become well established icons, the promotional emphasis is on rewarding loyal customers who continue to buy these products.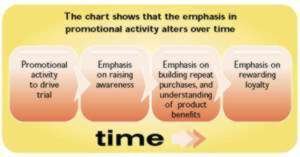 The illustration shows the way in which promotional activity is tailored to stages in the product life cycle.
When BIC launched the Comfort 3 razor, it chose Martin Johnson to represent the brand. BIC invested heavily in outdoor media such as billboards and conducted national press advertising to raise awareness.
With Cristal Gel, BIC carried out a large amount of below the line activity. To build awareness of the new product, BIC supplied existing Cristal Ball pen users with Cristal Gel samples through special promotional packs and other sampling campaigns to office users. This was supported by advertising and direct marketing.
During a product's growth period, BIC continues to use market research data to help it better understand market developments and consumer requirements. It also continues to support the product so that more and more consumers try it out and are converted into regular users. At this stage, advertising and special offers encourage new users to try the product.
As a product moves towards maturity, BIC's marketing experts need to identify ways of injecting new life into it. They must also identify new product developments that can meet similar consumer needs. This explains why, for example, BIC has developed extensions to the Cristal range.
Once a product has saturated a market, sales will stagnate. However, it is important to continue to support cash cows because they play a vital role in injecting profits that sustain new product development.
Once a product has moved into decline, a company like BIC will look to replace it with new products that meet existing and evolving consumer needs. For example, the razor Tough Beard was taken out of the product portfoliobecause other new BIC razors were better able to meet the needs of customers with 'tough beards'!
Conclusion
Businesses that understand the Boston Box and product life cycles are able to target appropriate promotional activities to support the various products in their portfolio.
Well established products such as BIC Cristal and Classic shaver are the cash cows that enable BIC to thrive by developing its stars and some of its question marks in line with market needs. BIC is an innovative organisation that uses its technical and marketing expertise to supply consumers with the products they want and need.

BIC | Linking promotional activity to the product life cycle

About this case study:
As a result of carefully reading the Case Study, students should be able to: explain how and why companies extend their product range, show how promotional activity links to stages in the product life cycle, explain how BIC has sought to add value to its products.
Click HERE to download this case study »
Supporting resources
Other Resources