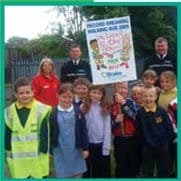 The Chartered Institute of Marketing defines marketing as 'the management process responsible for identifying, anticipating and satisfying customer requirements profitably.'
This definition shows that, in order to be successful, an organisation should find out what customers require. Knowing what they want, they should then attempt to satisfy these needs. It is this that helps business organisations to meet their mission, purpose and values. In recent years, however, many companies have taken a wider view of the marketing concept. This implies that they should balance all the things they do against the needs of the society in which they operate.
ASDA is the second largest retailer in the UK, and it has been the largest subsidiary of the Wal-Mart family of companies since 1999. ASDA's scale can be appreciated by the number of stores it runs as well as how many people work for it. For example, it has 321 stores across the UK and Northern Ireland, 29 depots and more than 148,000 colleagues. These all helped to generate more than £15 billion in turnover.
In recent years colleagues from ASDA stores and depots have become much more involved in the community. This has included working with local communities to raise money for charities. This case study shows how being involved with the community has helped ASDA to improve the way in which it meets its mission, purpose and values.
According to The Community Connection, The UK's supermarket sector has also become more competitive. This contest between retailers in the marketplace helps to keep prices down. It also makes sure that organisations always produce and sell the goods that consumers really want.