Hair loss is a common issue for men that has been around for as long as mankind itself. These last couple of years a lot of research was done to find solutions for this problem.
And science has done its job! Two main treatment types have been produced which are backed by science, researched and proven to work. We are talking about Finasteride and Minoxidil.
Let's take a look at the similarities and distinctions between all the options on the market right now.
Minoxidil: The Oldest Treatment Option On The Market
Minoxidil has proven it's worth time and time again. It's a topical solution, meaning it should be applied directly to the skin of the head. Because of its vasodilating properties, it helps stimulate the blood flow around the hair follicles, making nutrient supply easier and thus allowing the hair to grow thicker and stronger.
It is particularly effective for guys who are experiencing early onset male pattern baldness. The moment you notice more hairs falling out, the hair on the top of your head starting to thin out, or your hairline receding, it's advised to start using Minoxidil as soon as possible.
Up to 70% of men report it to be a very effective treatment option, and as a result, word has spread. While there are side effects, like possible scalp irritation, those occur only in rare instances. Plus, Minoxidil solutions without ethanol (alcohol) and propylene glycol (which are the main reason for the irritation) are now available on the market.
For example, Freshman has a unique formula which is free of alcohol and propylene glycol, specifically designed for men who have more sensitive skin. The treatment should be applied twice a day for the best results.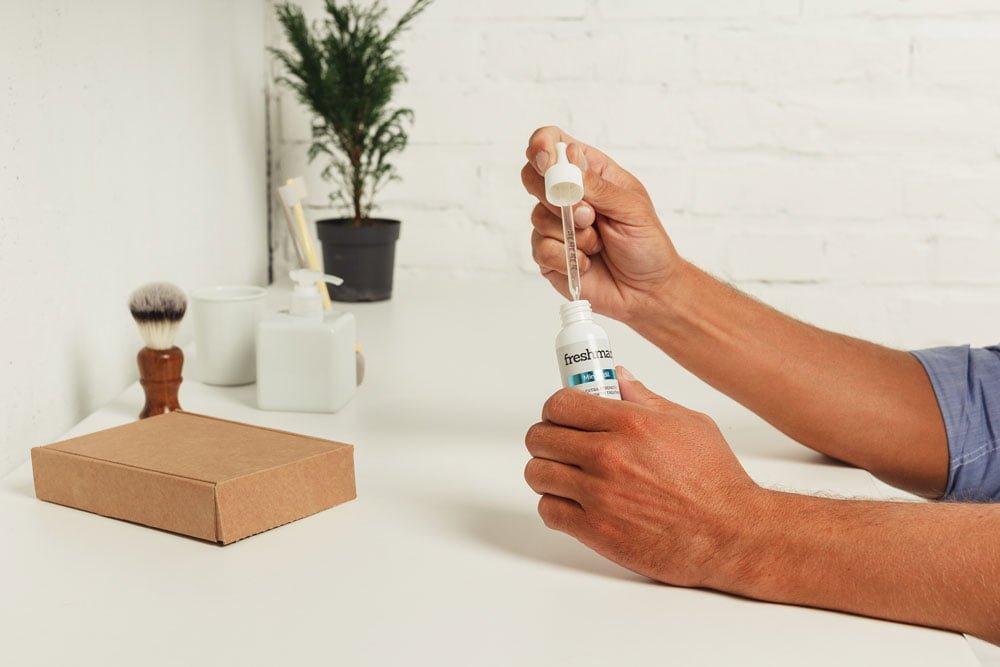 Finasteride: An effective treatment to help prevent balding
The second scientifically proven method is Finasteride. Studies show that it can be even more effective than Minoxidil in preventing hair loss and encouraging hair regrowth. About 90% of men using it report incredible results. At the moment Finasteride is available in two different forms: a tablet and a topical solution. Let's take a look at the difference between both.
Oral Finasteride
Traditionally, Finasteride comes in tablet form. It is taken once a day and will help battle hair loss. It is known as a highly effective treatment but some men experience side effects. One of those side effects can be possible erectile dysfunctions, making a lot of men understandably hesitant to use oral Finasteride, despite the fact that over 96% of men do not experience any side effects.
Topical Finasteride
It's the same as oral Finasteride but this one should be applied to the scalp, just like Minoxidil. Clinical studies have shown that topical Finasteride can be just as effective as the tablet form but less likely to cause side effects because it's only used topically on a small part of the body and doesn't need to be digested.
Another plus for Topical Finasteride is the potential to combine it with other ingredients, like Minoxidil. This makes the treatment a very convenient product to use for guys who would otherwise need to swallow a pill and apply a solution topically.
Which is more effective?
Finasteride and Minoxidil are both commonly used medicines with countless studies backing up their effectiveness when it comes to treating hair loss. There have also been a couple of comparison studies to see which option has the most effect.
A study conducted in 2004 that took a look at the effectiveness of oral Finasteride against topical Minoxidil found that the tablets gave better results. There was an increase in hair density in 80% of the patients, while there was only a 52% increase in patients that received Minoxidil.
Another study comparing oral and topical Finasteride with Minoxidil showed that a combination of Minoxidil with Finasteride gave the best possible results. Although every group reported an increase in hair growth, the patients who used topical Finasteride with Minoxidil gave the highest rating, making this form of treatment the best product on the market for guys experiencing male pattern baldness.