Anglo American is a UK public limited company that operates on a global scale, with mines in Africa, Europe, South America, Canada, Australia and Asia. It is one of the world's leading mining companies in the primary sector involved in the exploration, extraction and processing of metals and minerals.
The commodities it mines include platinum, diamonds, copper, nickel, zinc, phosphates, iron ore, manganese and coal. Anglo American is the world's leader in extracting platinum and diamonds and is also a leading producer of coal. Exploration and technology development are key competencies for Anglo American. The company is continually looking to discover new mineral sources around the world and to develop new technologies which will give the business a competitive advantage.
Anglo American plays an important part in the world economy. Nearly 76% of its employees live in Africa and it is also a major employer in Europe. For example, its Tarmac aggregates and construction products business employs nearly 7,000 people in the UK. Anglo American is dependent on being able to access a constant supply of mineral deposits. These deposits need to be economically and efficiently extracted and this requires the business constantly to develop new products and processes.
In a fast-changing world, new technology development is crucial if organisations want to maintain their market position. Research and development into new products and processes helps organisations to become more efficient. It can lead to cost-cutting and the speeding up of production times. It also helps to meet the needs of customers more closely.
This case study focuses on new product and process development. It illustrates how the Anglo American Group's strong capabilities through its Anglo Research and Anglo Technical Division make new technology development possible.
New technology development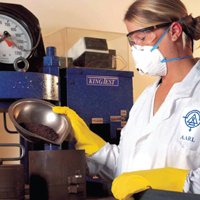 New products, processes and services are created through innovation. Anglo American focuses its research on improving the performance of its existing processes, developing new competitive processes and supporting the wider organisation through specialist mineralogy and analytical services.