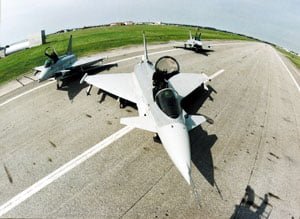 The Chiefs of Air Staff of Germany, Italy, Spain and the United Kingdom signed an agreement to develop a new European fighter aircraft in January 1994. This agreement defined the requirement for an extremely agile, multi-role combat aircraft which could dominate the skies to the mid-21st Century, now called the Eurofighter Typhoon. Seven prototype development aircraft have been built and are undergoing an intensive flight test programme across the four countries.
It is clear that the Typhoon will be the world's most advanced combat aircraft. Initial results seem to surpass all expectations. The aircraft is exceptionally agile, unrivalled in technology, highly manoeuvrable and has demonstrated its abilities in several spectacular flying displays, most recently at the 1999 Paris Air Show.
Several of the world's air forces are interested in purchasing the aircraft and with production underway and orders for 620 aircraft already secured, the consortium members are confident of the success of the Eurofighter Typhoon. The first delivery of operational aircraft to the Air Forces of Germany, Italy, Spain and the UK is planned for 2002.
This case study looks at the strategies involved in developing and manufacturing a pan-European product.
Pan-European partnerships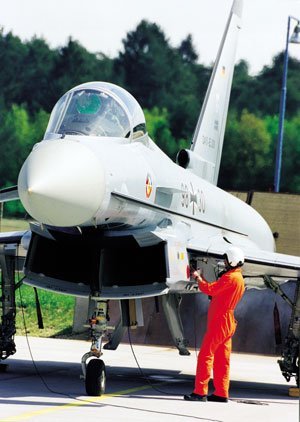 The Eurofighter consortium consists of four industrial partners:
British Aerospace, a world leader in aerospace and defence
Alenia Aerospazio, the leading Italian manufacturer in the aerospace industry
CASA, a Spanish company which is a world leader in materials development
Daimler Chrysler Aerospace, a leading German aerospace manufacturer.
The partners agreed to divide the development, testing and production of the new fighter between themselves using facilities in each of the four countries, making this a genuinely pan-European project. The production work-share between the four countries was set according to each country's planned purchase of the aircraft.
Therefore, Britain took on 37% of the production work in line with their planned orders for 232 aircraft, Germany 30% (180 aircraft), Italy 19% (121 aircraft) and Spain 14% (87 aircraft). Two separate groups were set up, one to develop the actual aircraft and the other to develop the EJ200 engine. The whole programme is managed by the NATO Eurofighter and Tornado Management Agency (NETMA).