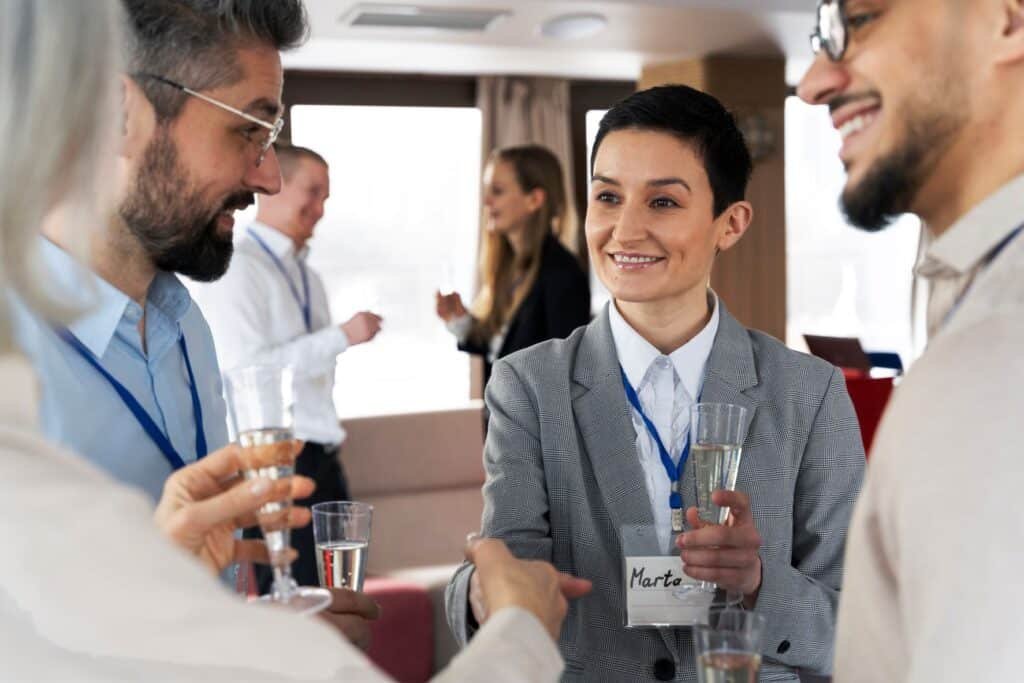 In today's world, networking has become an essential part of building a successful career. Whether you're an entrepreneur, freelancer, or an employee at a company, having a strong network can open up a world of opportunities. However, networking isn't just about collecting business cards and making small talk at events. It's about building meaningful professional relationships that can help you achieve your goals. In this article, we'll explore the art of networking and provide you with some tips on how to build lasting connections in your industry.
Identify Your Goals
Before you start networking, it's important to identify your goals. What do you want to achieve? Are you looking for a new job? Do you want to find clients for your business? Are you seeking mentorship or guidance in your industry? Once you've identified your goals, you can start targeting the right people and events to attend.
Attend Networking Events
Networking events are a great way to meet new people and expand your network. Look for events in your industry or attend conferences that are relevant to your goals. Make sure you're prepared with business cards and a clear elevator pitch that explains who you are and what you do.
Follow Up
After attending a networking event, make sure to follow up with the people you met. Send a quick email thanking them for their time and expressing your interest in staying in touch. This is also a great opportunity to ask if they'd be interested in meeting for coffee or a virtual call to discuss your mutual interests further.
Use Social Media
Social media is another powerful tool for networking. LinkedIn is a great platform for building your professional network, as it allows you to connect with people in your industry and join relevant groups. Twitter and Instagram can also be useful for connecting with influencers and thought leaders in your field.
Provide Value
One of the most important aspects of networking is providing value to the people in your network. This can mean offering your expertise, sharing useful resources, or introducing them to someone who could help them achieve their goals. By being a valuable asset to your network, you'll establish yourself as a reliable and trustworthy connection.
Don't Be Afraid to Ask for Help
Networking is a two-way street, and it's important to remember that you can also ask for help from the people in your network. Don't be afraid to reach out to someone if you need advice, guidance, or a referral. However, make sure you're also offering value in return and not just taking from your connections.
Take up adult education training
Pursuing further education in your field can help you develop new skills and knowledge, and can also introduce you to other professionals in your industry. There are a variety of adult education options available, including traditional classroom courses, online courses, and distance learning programs. Distance learning programs, in particular, offer the flexibility to learn at your own pace and on your own schedule. This can be especially beneficial if you have a busy work schedule or other commitments.
By taking up adult education training, you'll not only improve your own skills and knowledge, but you'll also have the opportunity to network with other professionals in your field. Many adult education programs include group projects, discussion forums, and networking events that can help you make meaningful connections. When considering adult education options, make sure to choose courses or programs that align with your goals and interests. Look for courses that will help you develop skills or knowledge that are in demand in your industry, or that will help you advance in your career.
Follow Through on Your Promises
Building trust is an essential part of networking, and one way to establish trust is to follow through on your promises. If you tell someone you'll introduce them to a contact, make sure you follow through. If you offer to provide a resource, make sure you deliver on your promise. By demonstrating your reliability and trustworthiness, you'll strengthen your professional relationships.
Be Genuine
Finally, it's important to be genuine when networking. Don't try to be someone you're not, and don't approach networking with a transactional mindset. Focus on building authentic relationships with people who share your interests and values. By being true to yourself and your values, you'll attract connections who are a good fit for you and your goals.
Networking is an essential part of building a successful career. By identifying your goals, attending networking events, using social media, providing value, asking for help, following through on your promises, and being genuine, you can build meaningful professional relationships that will help you achieve your goals. So go out there, start networking, and watch your career take off.