Introduction
Responding to change in the business environment is challenging, particularly for large organisations. The business environment provides both opportunities and threats to the long-term success of an organisation. Therefore, for an organisation to develop well strategically, a range of important, but well defined decisions have to be taken. The organisation must decide how to allocate its resources and develop core competencies to fit the environment. Such decisions should be designed to improve the ability of the organisation to compete, through new and unique ways of meeting customers' needs which competitors find difficult to copy.

Providing core competencies cannot be imitated, allocating resources on this basis provides a competitive advantage. Using competencies also helps an organisation to:
focus inwardly upon developing a business culture
focus outwardly upon providing more value for customers by matching the organisation and its strengths
meet customers' needs.
This case study looks at the growth of a producers co-operative to become the largest dairy group in Europe and how rapid growth required a values-driven culture and identity. This enabled the new business to create leading brands across a range of markets.
Arla Foods
Arla Foods has its origins in a co-operative of 17,000 farmers founded as Anmark in Denmark during the early 1970s. As a co-operative, the farmers banded together to negotiate with retailers who it sold to, and agriculture suppliers it bought from.
As it grew, it did business outside of Denmark as MD Foods and later merged with a Swedish producer to form Arla Foods the largest dairy group in Europe and 5th largest in the world.
The business entered the UK market in 1992 by purchasing a number of dairies. Bringing together small producers created a large organisation which soon became the 3rd largest milk processor in the UK. With six operational sites and a head office in Leeds, Arla Foods employs 2,000 people within the UK and processes over 1,000 million litres of milk annually.
The market for milk has changed significantly in recent years. With the emergence of big retailers such as supermarket chains, there has been a movement away from doorstep delivery, which has created a range of opportunities for a company like Arla to build upon its competencies within the UK market, and develop a culture that could deliver a range of branded dairy products.
Developing a values-driven culture
Arla has grown by bringing together a number of different UK dairy sites. Each of these dairies had its own conditions and practices but no distinct Arla culture, direction or purpose. It is important for all organisations to have astatement of purpose or a vision to define their purpose. The vision must translate into a series of values which will define the company in the market place.
An internal team called Project Soul talked to a range of stakeholders such as owners, customers, farmers and employees. The team wanted to develop a vision for the business and then create a way for employees to buy into this. A vision provides a common direction for the whole Organisation and is an important starting point. Arla's vision is to become "The Natural 1st Choice Dairy Company" for both customers and the farmers.
Translating a long-term vision into steps that make it a reality needed to involve everybody within the company. The Arla Advantage programme was developed to focus on how everyone could contribute to a values-driven culture following its vision to gain competitive advantage. The programme was aimed at making the business a better place to work, and creating a new distinctive organisation with its own culture firmly focused upon enabling individuals to contribute to creating competitive advantage.
The Arla Advantage
Three key values within the Arla Advantage programme were designed to transform the culture of the organisation. These were:
Arla had to be perceived by its employees as 'a great place to work'
In order to do this, it was important to build an open environment in which news (both good and bad) could be communicated clearly. If everybody receives the same message, and shares information, it will help them to work towards the same goals and give a clear direction. At the same time, it was important to develop a workplace in which people could be valued and trusted.
With colleagues, farmers and suppliers all working together in a quality partnership, the aim was to always deliver with quality standards agreed. With a passion for doing things the right way, employees could take on responsibility and continuously improve performance.
This involves creating the right first impression, being fast and flexible in meeting the changing needs of customers e.g. retailers and final consumers. Developing the customer advantage also involves constantly innovating and proactively seeking opportunities to add value.
These values had to be adopted, i.e. practised by all employees in order to translate this into a series of actions that transformed working practices. The Arla Advantage programme involved everyone from every team. Each team explored how they would demonstrate the values. This formed the basis for a value-driven culture to deliver its vision.
Once you have created a values driven culture, it is vital that you constantly look to enhance and develop it further still - it's a journey that never ends.
At Arla Foods this role of maintenance and development is undertaken by the Arla Advantage Champions Group, a group of colleagues drawn from everyfunction of the business.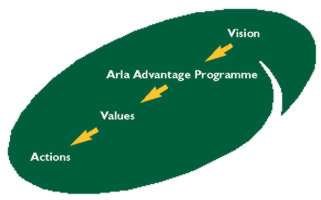 The group meets on a regular basis to analyse how the company culture is developing, suggest improvements and communicate with all six UK sites about exciting new developments and share best practice.
Coming from an anonymous (i.e. unbranded) supply chain associated with dairies and milk, Arla did not want to be like the rest of the dairy industry. The aim was to build a business that would provide it with a distinctive position in the market place with strong brands and high consumer confidence supported by able and flexible employees.
Values in action - Cravendale
Other than flavoured milks, there has been little innovation in the fresh milk market. For the consumer, the trigger to purchase is both need and the colour of the cap on the plastic container in the supermarket. The market is declining with a movement away from doorstep delivery towards supermarket purchase. Within a values-driven culture, there was a need to challenge existing practices and explore ways of innovating to discover and meet the changing needs of consumers such as an improved taste profile, a greater level of purity and remaining fresher for longer - 20 days unopened and 7 days once opened.
Backed by their strong supply of product (milk) and having built a business environment that would encourage new product development (NPD), Arla wanted to introduce growth into the market place. In Canada there has been some innovation in the milk market, with the development of pure filtered milk with less bacteria. It was felt that this type of innovation would provide an opportunity to reflect the changing way in which milk is purchased, and yet at the same time, provide a host of other benefits for consumers.
A large investment in new plant machinery meant the company could produce pure filtered milk. New products need unique selling points (USPs) to differentiate them in the market place. The main benefits of Cravendale over its competitors are that it:
stays fresher for longer, up to 20 days unopened and 7 days opened
can be distinguished by its creamier and pure taste which consumers prefer
is a branded product perceived as providing the consumer with more value.
Marketing a new product
Setting up a production facility can be expensive, so it was important to undertake extensive market research before making an investment to produce balance risk and return. The marketing processes involved had to be focused upon identifying, anticipating and satisfying consumer requirements for a new milk to turn what was viewed as a commodity into a brand. At the same time the brand needed to provide a profitable return for Arla Foods.
Having established a new segment of the market for milk, it was important to position the Cravendale brand to reflect the thoughts and perceptions of consumers. For example, it was emphasised that 'the brand can do what fresh milk cannot' as well as that 'it contains milk so good the cows want it back!'
Developing a branded product within a 'brandless' market was not going to be easy. The packaging was developed to be distinctive, and also stopped UV rays to help preserve the milk. The name had to fit the product and reflect the values to benefits of the brand.

The milk was targeted at socio-economic groups ranging from ABC1 families with children. A premium price was charged to reflect the complexity of the production processes, the position in the market place and the value of the brand as a quality milk.
The brand was initially tested in the Meridian TV region in the South of England, followed by rollouts across TV regions in Yorkshire, Tyne Tees, Border, Central and Granada before going national as the company developed its capacity to meet consumer needs.
Conclusion
By providing consumers with a different experience with some tangible product benefits, supported by a branding process, the Cravendale brand experienced rapid growth. The brand has shown that it is possible to turn a commodity into a range of specialist brands. As Arla does so, such product launches and innovations reflect the evolving values-driven culture of the organisation.

Arla Foods | The Natural 1st Choice Dairy Company