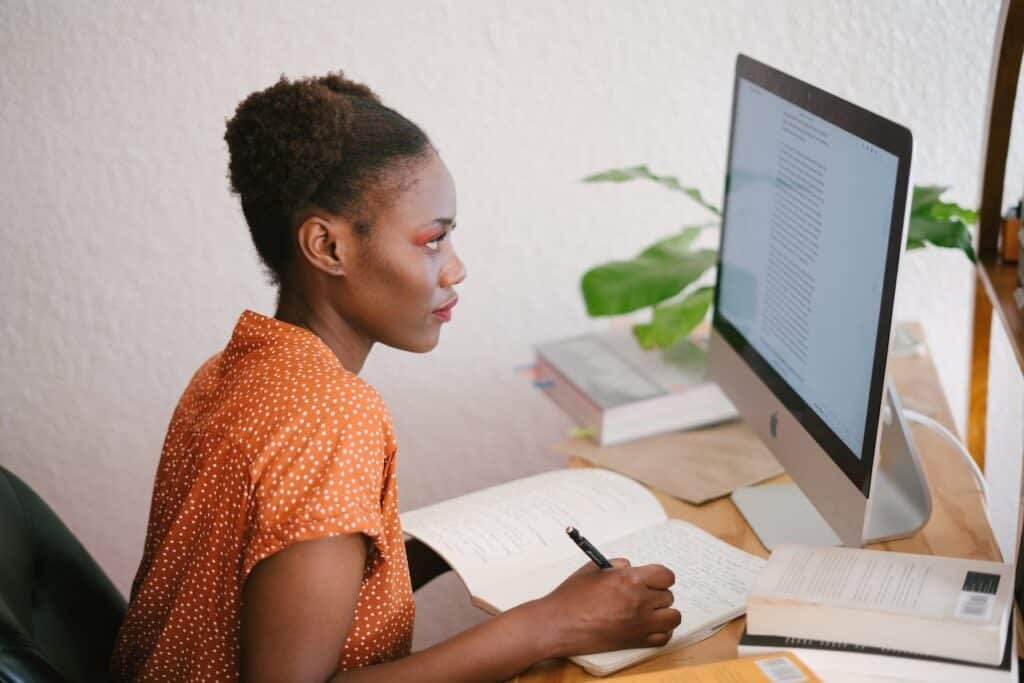 Arguments about which type of learning is more effective usually end up going nowhere. While some find face-to-face classes more reliable and proven, others are conquering new heights with online learning.
Online education has been gaining ground for over a decade, but the COVID-19 pandemic accelerated the switch to it for businesses and institutions. So, did the online option leave no chance for face-to-face classes? Let's dot the i's and cross the t's for each type of learning.
What Is Traditional Learning?
Traditional learning is a style of instruction that takes place in a classroom setting where both an instructor and learners are physically present.
Here, the primary source of information and administrator of the learning process is a trainer. Thanks to face-to-face interactions, the trainer knows the students personally and can evaluate their strengths and provide more guidance to those who are having difficulties.
Benefits of traditional learning
We have all experienced classroom learning at school, university, or in-person training at work. Face-to-face instruction has been at the forefront for centuries. Those committed to traditional classes usually note these advantages:
Relationship. The traditional physical classroom is better in terms of cultivating interpersonal skills. Learners interact with each other and build relationships with peers and colleagues. In addition to the benefits of socialisation itself, they can work in groups and brainstorm together. Students feel less isolated when they work together to overcome academic challenges.
Nonverbal perception. Learners can grasp non-verbal signals, see the instructor's gestures and facial expressions, and hear their voices. This helps to absorb the topic better. The instructor, in turn, thanks to non-verbal signals, can assess whether the topic is clear or if something should be explained in greater detail.
Hands-on experience. The traditional classroom provides opportunities for the practical aspects of a topic, which are essential in natural science and some soft skills training, such as public speaking.
Disadvantages of traditional learning
Despite the fact that we all have fond memories of face-to-face classes at university or school, the spread of online learning has made us all realise where traditional instruction misses the mark:
No flexibility. Students and trainers are tied to a fixed schedule. There's no opportunity to create a personal calendar to combine learning with other activities. They're also limited by geographical boundaries and have to plan their daily tasks based on class attendance.
No individual pace. Traditional learning follows a somewhat generic approach — it's hard for a teacher or instructor to customise classes to fit the needs of each individual in the group.
Expense. Face-to-face instruction comes with additional costs for both companies and institutions. Companies have a venue, logistics, external instructor, and travel expenses, while schools spend a lot of money on didactic materials, textbooks, paper, stationery, and other equipment related to the classroom process.
What Is Online Learning?
Online learning, or eLearning, is any form of training delivered via the Internet. Students take online courses and attend virtual classes via web conferencing tools.
eLearning expands training opportunities. You can live in Asia and take virtual classes at American schools, for instance. With the plethora of courses available on the Web, you can learn whatever you wish.
Benefits of online learning
Without exaggeration, online learning is deservedly considered the way of the future. There are reasons for this:
Flexibility. eLearning overcomes all barriers of location and time. There's no need to give up classes if your teacher moved to another country or you lack time to travel to school on the other side of the city. As for online courses, you can take them anywhere and anytime — even on mobile devices. So, it's easy to combine study with work and other daily activities.
Cost-effectiveness. Instructors don't need to spend money on printing, paper, travel, etc. For example, IBM saved approximately $200 million after switching to eLearning. Moreover, online training is easy to scale. You can reach more learners at a time, and you don't have to create new training content every time. It is sufficient to develop an online course once and then update the content as needed.
Self-paced learning. Online education is much more student-centred. The main source of knowledge is often not the instructor but the actual training materials: courses, video tutorials, podcasts, long reads, assignments, etc. Thus, learners can study at their own pace without overtaking or slowing down others.
Disadvantages of online learning
Despite all these benefits, not everyone is happy about online learning. Let's take a look at the most common arguments that its opponents make:
Lack of discipline. Not everyone can study as effectively online as they do in the classroom. There is no strict teacher to supervise and prevent distractions. Online learning offers more freedom, which can be considered both an advantage and a drawback. You need to be very organised and disciplined to administer your productivity and not procrastinate.
Dependence on technology. Online classes aren't dependent on weather conditions, distance, or other factors, but are extremely dependent on a stable Internet connection. Besides, you need to have the necessary equipment, most often a laptop or a tablet. You also need to have basic computer skills to take online courses.
Lack of face-to-face interaction. Online training involves chatting, emailing, and video meetings, but there is really no face-to-face interaction. In a traditional classroom, learners speak their minds, give presentations, and communicate before and after class. They work in groups and deal with all types of people with differing viewpoints. In an online environment, learners have fewer opportunities to network and socialise, so their level of engagement might be lower.
How to Get the Most out of Online Learning
Transitioning into online training may seem a bit daunting at first. Here are some tips that will help you make online learning as effective as possible.
Use a learning management system
A learning management system (LMS) is a platform that helps manage the entire learning process: create, deliver, and track online training in a single place. LMSs are widely used by colleges and universities, as well as SMBs and enterprises.
With iSpring Learn LMS, for example, you can easily streamline and automate the learning process. The LMS takes on many routine tasks: it reminds students of deadlines, checks tests, provides detailed reports, and performs many other tasks — so you don't have to.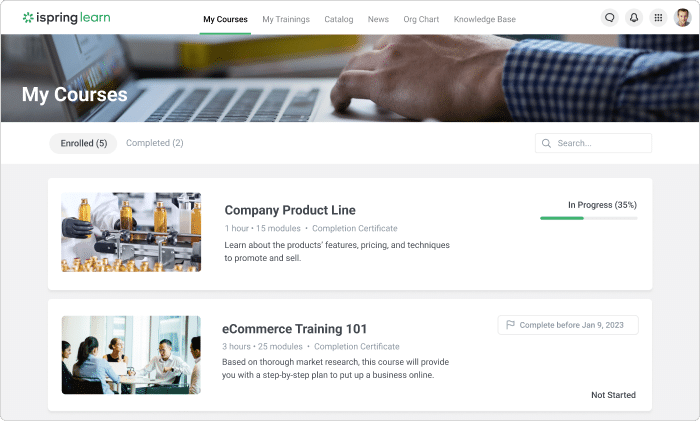 Adopt blended learning
If you're not ready to go completely online to meet your learning goals yet, try a blended format.
For example, if you want your students to come to the lesson already prepared, you can record a video or build a course on a topic and upload it to the LMS, so your students can view it at their convenience before the face-to-face lesson. Or you can move tests and quizzes to the platform and trust knowledge assessment to your LMS. This will save valuable classroom time for really useful discussions.
Take advantage of mobile learning
In today's frantic pace of life, it's not easy to find an hour or two to take a course in front of the laptop. So, let your learners do this on their mobile devices whenever and wherever they want to. Many LMSs, including iSpring Learn, come with a mobile app that allows learners to take courses even when offline.
Build online courses
Buying off-the-shelf courses is often expensive. It is much easier to create them yourself, using an authoring tool. For example, the iSpring Suite authoring toolkit is so simple that anyone can master it.
Convert PowerPoint presentations into interactive courses, make quizzes and video lectures, and build role-play simulations to boost your learners' communication skills. The software comes with ready-made slide templates, characters, and backgrounds, so you don't need to have design skills or even look for visuals on the Internet.
Use gamification
Regardless of your subject, game elements make learning exciting and entertaining. This doesn't mean that you need to turn the educational process into unbridled fun, but the game effect really drives human motivation and engagement.
You can give points for completing tasks and badges to outstanding learners, and use leaderboards to enhance the competitive spirit. Many LMSs have built-in gamification, which is actively used by companies in corporate training. A gamified workspace makes employees happier and more productive at work.
To Sum Up
We covered the most commonly discussed benefits and drawbacks of traditional classes and online learning. Each of them offers something that the other cannot.
Traditional learning has stood the test of time. It not only creates a sense of immersion in the topic but also helps to develop interpersonal and teamwork skills.
As well, online learning is extremely flexible. It offers ample opportunities for the use of multimedia and interactivities and serves to automate many processes, saving you time for important tasks.
If you're planning to switch to online learning, we hope these tips will help you do so easily and efficiently.