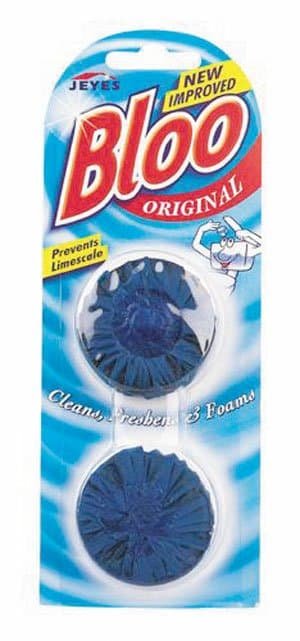 Advertising is a tricky business. Successful advertisers are those who, over the long term, make the fewest mistakes. No matter how well an advertisement is produced, there is no way of guaranteeing that an advertising campaign will be successful. What looked like a good idea when conceived and trialled may, with hindsight, turn out to have been not so good after all.
As a creative promotional tool, advertising has one major advantage. Millions watch TV and read newspapers, and advertising has a potentially low cost when measured per person reached. However, adverts are inflexible; the same TV commercial goes into every home. This gives advertisers a targeting problem. An advert that 'works' with one age group eg young homeowners may offend another eg the over 60s. So, a poorly constructed, ill-considered advert may do more harm than good. Creating an advertisement involves several stages:
1. Decide on the message to be conveyed.
2. Decide on the media for carrying the message eg TV, radio, newspaper.
3. Decide on the 'vehicle' or format eg a cartoon approach, or using a celebrity.
4. Form a good idea and develop it creatively in a way that matches the qualities of the product with the needs and requirements of targeted consumers.
Advertising toilet products is not easy. For most people, wash basins, WCs, kitchen sinks, U-bends etc lack the appeal of, say, pistes or pizzas. In the past, advertising for toilet products has tended to be functional and factual, but not much fun. Jeyes decided to do rather better. This case study illustrates how, by developing a creative character for the Jeyes Bloo product range, the company provided positive messages that transformed its fortunes in the in-cistern sector of the toilet products market.
Jeyes
Jeyes has a long and distinguished history. The company began in 1877 with 'Jeyes Fluid' and ever since then has been a market leader in disinfectants, a category of product that Jeyes created and developed. Today the Jeyes company is part of IWP International plc, a Dublin based household and personal care group. The wide range of Jeyes' products is found in 66 countries worldwide. They are used in all parts of the home and outside too. The company supplies own label products to major retailers, supplies technology for leading multi-national marketing and distribution companies and also has its own well known brands eg Parozone, Kleenoff, Bloo, Quickies, Wet Ones and Jeyes Fluid.
This case study concentrates on one of those brands, Bloo, in the UK market and shows how Jeyes has been successful in giving it new life.
A mature market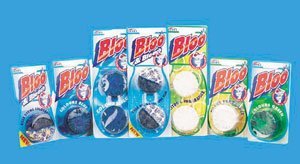 The in-cistern sector was established in the 1960s. Then it was seen as an easy way to create an on-going sense of toilet cleanliness. Simply by placing a special block inside the toilet cistern, every flush would yield a dose of (usually) blue water that became the symbol of a clean toilet. One of the brands operating in this sector was Jeyes Bloo. By 1981, Jeyes Bloo had a market share of almost 40%.
However, by the end of the 1990s, Bloo was starting to look rather tired. While it remained brand leader within the in-cistern sector, it was now delivering fewer sales than own-label brands. Worse still, the in-cistern sector was in gradual decline. In the late 1990s, competition emerged with the arrival of new liquid rim products. These delivered a fragrance from a plastic cage clipped against a toilet rim. They had two advantages. They appeared more modern to consumers and they were positively associated with fresh, contemporary fragrances.

Bloo seemed dowdy in comparison. The link to odourless blue water now seemed old-fashioned and while a number of variants had been introduced to help the brand, they seemed unable to drive forward either Bloo or the in-cistern sector.
Developing trading initiatives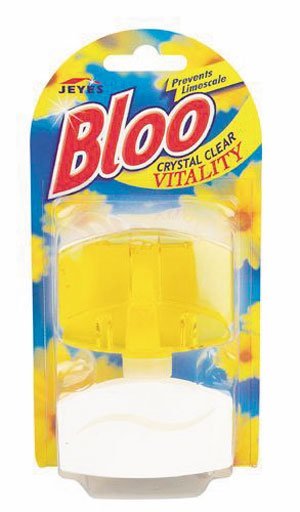 In Summer 1999 Bloo did rather better. Sales rose by 27% over the previous year and its share of the sector increased from 23.7% to 25.2%. Some of this growth resulted from the launch of a brand extension, Bloo & Bleach, but was mainly due to lower prices and to sales promotions.

In early 1999, twin packs for both the original Bloo and Citrus Bloo products had been launched. This move accounted for many new sales, but reduced the profit margin. In Summer 1999, a '3 for 2' sales promotion produced a further 15p price reduction. It was the lower prices that accounted for most of Bloo's increased sales.
Clearly, these kinds of trading initiatives were not in Jeyes' long term interests. Retailers, rather than the brand, were dictating changing trends in the market and the overall value of Bloo, as well as the product's margins, were being undermined.
The challenge for Bloo
Early in 2000, qualitative research confirmed what Jeyes already suspected. For many younger consumers in particular, Bloo's water colouring properties were seen as dated. They did not see it as competing with newer, fragranced products as a deliverer of freshness. Only older, more traditionally-minded housewives were staying loyal to Bloo and the signs were that even this group was being drawn to own-label equivalents. The brand appeared to be failing on two counts:
it was not fostering loyalty
it was not connecting with newer potential consumers.
The research also indicated that:
there was a need to communicate a new sense of life and vigour behind the Bloo brand
the message needed to be delivered through a variety of means
For example:
the creation of new product lines that were easily identifiable
appealing, innovative TV advertising that added warmth and interest to the products.
Faced with a range of updated competitive products, the challenge for Bloo was daunting.
Creative advertising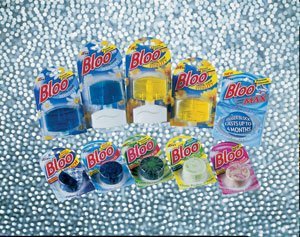 Since 1981, Bloo had been supported sporadically through a series of television campaigns that centred on the character of a 'talking loo'. Not all TV regions had carried these campaigns. Research showed that although consumers had only faint memories of the campaign (it had not been active for 5 years) many remembered the creative loo character. Jeyes felt that this could be the starting point for developing a new campaign.
Genuinely creative TV advertisements can attract attention and have great impact. They also have the advantage of demonstrating to a huge audience the product actually in use. Better still, the growth of specialist cable and satellite channels has created specific
audiences that can be targeted. Faced with this promising prospect, a creative team developed the 'talking loo' character. He was given a camp and slightly 'affected' approach; Julian Clary supplied the voice-over. Most important, the character was developed in a way that encouraged humour and wit. Significantly, the team decided against 'toilet humour'. This decision enhanced the appeal of the advertising.
The camp male person of the toilet allowed the attributes of the products to be set out in a witty, cheeky, entertaining fashion. This approach was seen to connect with housewives in particular. More importantly, however, the advertising brought the Bloo brand up-to-date. The kind of language employed in the script had moved on from the 'Carry-On' tone of previous commercials to reflect a more modern version of camp humour.
Advertising strategy
Two 20-second commercials were created, each of which featured one of the latest Bloo products. The proposition for each of the commercials was rooted in the benefits that each of the variants delivered: 'continuous cleaning' for Bloo 'N' Bleach and 'clean citrus aroma' for Citrus Bloo.
However, the advert had to do more than describe how well the products performed. It needed also to convey the idea that freshness is the essence of the Bloo brand. This notion of freshness held together both the rational and emotional aspects of Bloo. On the one hand, freshness is what the product actually delivers to the toilet environment. At the same time, a series of modern, colourful, animated, amusing adverts brought a freshness of their own.
Advertising effectiveness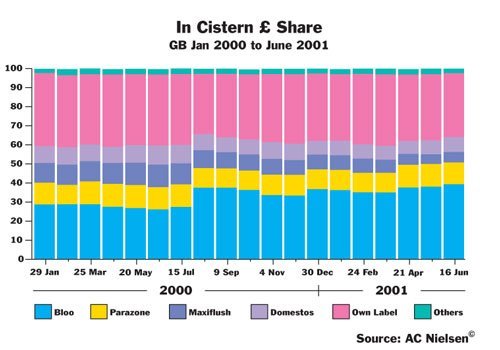 The advertising was an expensive undertaking, so it was important to analyse its effectiveness. This was done using the DAGMAR approach: Defining Advertising Goals for Measured Advertising Results. Jeyes was looking to increase sales, market share and household penetration. The effectiveness of the campaign could be measured through analysing each of these areas. In the three months following the campaign, total sales of all in-cistern products increased by 24%. This was entirely accounted for by the increase in sales of Bloo, which rose by 67% whilst sales of other brands remained virtually static. As a result, Bloo's share of the sector rose from 27.4% in July 2000 to 37.5% in August. This position was sustained for several months afterwards.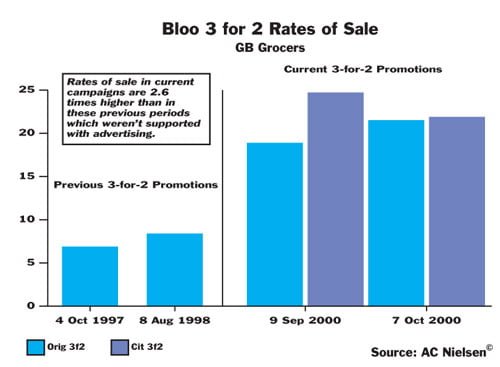 The increase in sales and market share was driven by new purchasers of Bloo. A year later, in Summer 2001, the benefits were still being felt. Sales remained considerably ahead of a year earlier, with market share steady at 38%, close to its 1981 peak level. This showed that many of the new purchasers of Bloo continued to buy the brand long after the advertising had finished.
Isolating theadvertising effect
The campaign's sales and market share objectives were exceeded and the prime aims of reviving Bloo and positioning it as a modern solution to toilet care had been achieved. Nevertheless, it was important to assess just how much of this success was due to the advertising alone.
During Summer 2000, two new Bloo variants (Bloo Max and Bloo Summer Breeze) had been introduced to the trade, but neither achieved significant distribution by the end of the period. During August 2000, the introduction of '3 for 2' original Bloo and Citrus Bloo packs accounted for almost 45% of Bloo sales. However, '3 for 2' packs had been used to promote Bloo on two previous occasions, but never with such a pronounced effect. Indeed, the rate of sale for the Summer 2000 '3 for 2' offer was 2.6 times greater than for previous campaigns. This effect could have only one cause: the advertising campaign.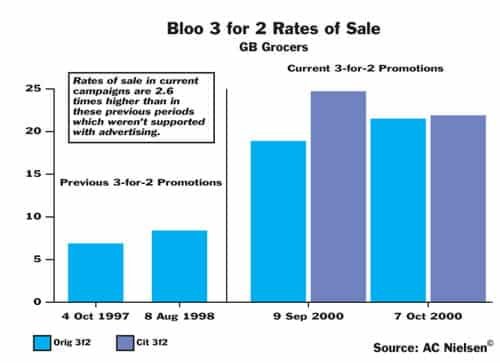 The most telling statistic was the dramatic rise in household penetration. In previous periods that had included:
new product launches
price changes
sales promotions
Household penetration had increased only marginally. By contrast, during the summer of 2000, following the campaign, household penetration almost doubled.
Conclusion
This case study illustrates the effective way in which creative advertising can inject new life into a maturing brand. The campaign not only encouraged new buyers to purchase Bloo products, it was also instrumental in changing their buying habits, as many of these consumers have continued to buy Bloo long after the campaign ended. With penetration and sales today remaining well above pre-campaign levels, Jeyes knows that Bloo is well and truly back.