The soft drinks category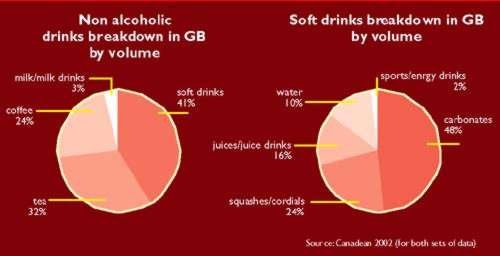 Coca-Cola GBoperates in the non-alcoholic beverage market. How these beverages are supplied to consumers varies enormously, from vending machines that supply single units to supermarket multipacks. In soft drinks alone, Coca-Cola GB has a broad range of over 80 products.
Building the range
A business can enlarge its product range in two ways:
internally, through new product development based on market research
externally, by acquiring related companies, and if appropriate, building on their existing range.
For example, in 1999 The Coca-Cola Company purchased, in various countries, soft drinks brands from Cadbury Schweppes plc, including Dr Pepper, Oasis, Kia-Ora and Malvern.
The acquisition of Schweppes provided the opportunity to complement the range and to accelerate growth through new product development.
Coca-Cola GB's approach to new product development is uncomplicated. It innovates to meet consumer demands; the consumer has a central role in the research and development process.
Organising around the consumer
This case study focuses on the activities of Coca-Cola GB, an organisation focused solely on meeting consumers' needs in line with the Company's mission statement.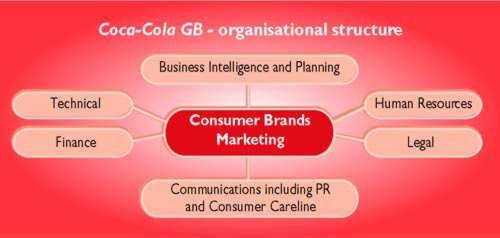 At the centre of Coca-Cola GB is its marketing department. Its primary purpose is to discover what consumers want and ensure the organisation delivers this.
Placing marketing at the heart of the organisation enables Coca-Cola GB to grow the product range in ways that best meet consumer requirements through developing:
new drink categories e.g. sports drinks
new products within an existing category e.g. Winnie the Pooh Roo Juice
new variants of existing products (brand line extensions/pack innovations) e.g. Fanta Icy Lemon.
Category segmentation

By dividing a category into segments, businesses can identify different groups of consumer wants. It is then possible to design products to meet those requirements.
Each segment within the overall range of Coca-Cola meets specific consumer wants. Coca-Cola GB carries out extensive market research to identify consumer wants in every segment of category in which it operates. For example, market research analysis of the demographics of consumers in Great Britain revealed a growth in smaller households. The appropriate product response was to produce 1.25 litre share-size bottles.
A study of occasions when people drink sports drinks showed the importance of making it available in leisure centres. Other research showed that the famous original Coca-Cola glass bottle is best targeted at restaurants and special party occasions.
Market research into where specific products are consumed influences the design of pack types e.g. a 2 litre bottle for family consumption at home and a smaller 500ml bottle for consumption 'on the move'.
Market research

Market research means systematically gathering, recording and analysing market data. Primary research involves going 'into the field' (e.g. house-to-house or street surveys). Secondary research involves using existing sources of information to research the market such as published reports or articles, or searching the Internet.
There are two main approaches to 'primary' market research:
quantitative research: collecting information from a broad population sample e.g. by conducting extensive surveys, used when Coca Cola GB wants to gauge appeal across a wide audience
qualitative research: working with small 'focus' groups. This involves far more detailed investigations, e.g. gathering a small group of 'typical' consumers to taste test products or to talk about their preferences and experiences of using different products. Qualitative research, whilst not representative of the views of the general population, provides greater insight into 'why' people think what they think.
Coca-Cola GB'sresearch process has five stages:
1. Identify opportunity
Does it fit into an existing or new product category?
Who are the target consumers? What do they want?
Method: Desk research.
2. Explore solution
What is the best solution?
a new product?
a product extension?
a new packaging concept?
a new design?
Method: Qualitative research using focus groups and in-depth interviews one-to-one.
3. Measure suitability/effectiveness
Evaluate the relative appeal of alternative solutions in terms of meeting consumer requirements.
Method: Quantitative research through face-to-face, telephone/internet interviews
4. Test Market
As it is very expensive for a company to launch a new product, before going for a full market launch it often pays to try out new product ideas in a 'test' market. This may be launching the product in just one region of Great Britain, with just one retailer or conducting a 'Simulated Test Market'.
Method: Quantitative research from participants in a test sample of consumers who physically live with the test product for a period of days. There are three stages:
1. concept research - to determine whether consumers like the 'concept' of the new product
2. product attributes - to determine whether the actual 'product' offering matches the 'concept'
3. volume assessment - to determine whether consumers will actually buy the new product and what, if any, existing products it will replace.
5. Track market performance
This involves tracking the product's success once it has been launched e.g. by recording sales figures, numbers of people familiar with the product, etc.
Method: Quantified continuous rolling study with consumers and/or analysis of Electronic Point of Sale data (sales information gathered via retailers' tills).
Product development
Ansoff's matrix is a useful tool for examining a company's product range. This compares the alternatives of developing new products and new markets. There are four main options:
Market penetration: selling more of the same types of product to the same types of people.
Product development: building on existing relationships with consumers and on a creative ability to develop new products suited to consumer wants.
Market development: developing an existing product to cater for emerging markets.
Diversification: developing new products for new markets.

Coca-Cola Great Britain | Using market research to develop a product range
Developing the range

The company's Business Intelligence and Planning Department is responsible for collecting the research and presenting it to the Consumer Marketing Department. The following examples illustrate ways in which Coca-Cola GB has developed its product range.
1. Coca-Cola Vanilla
There had not been flavour innovation involving Coca-Cola since 1986 when Coca-Cola Cherry was launched. However, recently Coca-Cola Vanilla had a successful launch in the USA, so it was decided to test its potential in Great Britain.
Product evaluation involved carrying out taste testing to identify the best formula/flavour for consumers' palates in Great Britain. At the same time, considerable effort was put into graphic development. It was important for the pack design to incorporate the Coca-Cola trade mark, thus remaining true to the Coca-Cola family, but also to differentiate the new flavour. Consumer focus groups were used to identify the preferred design.
In addition a simulated test market was carried out. On the basis of the background market research it was possible to forecast likely sales volumes. This calculation was based on the type and level of support the brand flavour launch would receive (e.g. advertising, sampling, promotions, price and distribution), consumer perceptions and claimed behaviour (what the consumers said they would do). The results were favourable and supported the launch of this flavour in Great Britain.
2. Fanta Icy Lemon
The development of this new flavour stemmed from listening directly to consumers who called the Company's careline to enquire about the availability of a lemon Fanta based on their experience on holidays abroad.
As a result, the Company undertook a series of quantified product taste tests and once the preferred flavour was identified, Fanta Icy Lemon was launched in 2001. The launch was a great success and the brand has subsequently been complemented by a range of other flavours.
3. Coca-Cola Share Size 1.25 litre Bottle
Desk research showed a growth in the number of smaller households, plus a change in the way we shop. The research identified a need for a bottle size that was ideal for top-up shoppers or 1-2 person households to share over dinner.
This was followed up by qualitative research to confirm consumer appeal in relation to alternative pack formats. Quantitative in-store test marketing was also carried out to measure rates of sale. This was supported by the scrutiny of retailer loyalty card data to identify types of households purchasing the new bottle size.
4. Powerade
Desk research identified an opportunity for a new brand within the sports drink segment. Research was used to identify target consumers and desirable product positioning.
Qualitative research using focus groups was carried out to assess the 'Powerade' proposition and the most suitable creative advertising. Quantitative product taste testing was also carried out to make comparisons with other products, already in the market place.
Launch evaluation
For any new product launch, Coca-Cola GB evaluates its success, looking specifically at the various elements of the launch activity, including distribution, advertising, packaging and product taste.

Data is collected from leading marketing research organisations, the company's consumer careline, Coca-Cola bottlers, and a consumer tracker report that measures consumers' brand awareness.
Conclusion

Coca-Cola GB seeks to develop intelligently its product range in order to 'benefit and refresh everyone'.
Building the range involves developing existing and new products in existing and new markets. The key to maximising consumer satisfaction lies in doing the market research properly and getting the range right.
Coca-Cola Great Britain | Using market research to develop a product range