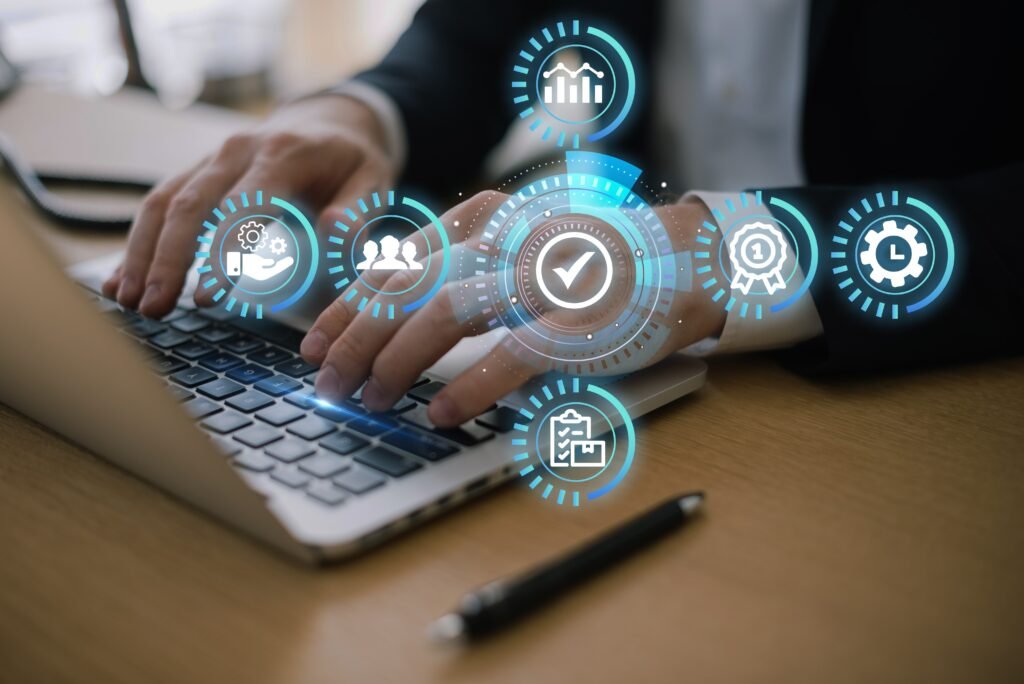 Is the project plan working as intended? Does your team have a smooth run? Perhaps no. Approvals, confusion, and chaos are an inevitable part of any business. And yours is no exception. However, technical advancement can ensure you sail it through quickly. Workflow automation can ascertain a smooth ride besides improving accountability and efficiency.
So, what is workflow automation?
Workflow automation is a technological advancement that employs rule-based logic for automating manual work. With these preset rules, the tasks get automated automatically.
The software is becoming increasingly popular. Let's find out what adds to the popularity quotient.
#1. Reduces errors
Manual workflows have been the norm for decades. Workflow automation does not take away the human role but successfully eliminates errors made by humans. For instance, one could always inadvertently miss writing a step with documented workflows, but in workflow automation, one cannot step ahead until all the necessary steps are complete.
In addition, you receive error messages indicating the area where the problem lies so that you can rectify them instantly. Here is another example. One of your employees forgets to put a large purchase under an appropriate category. This delays approval from the proper authority. An error message will tell you that a step has been omitted.
#2. Saves time
Missing out on any important dates can derail your team's goals. However, sending manual reminders for each deadline can also become overwhelming to keep you away from more critical tasks. The good news is you can send out as many reminders as necessary with workflow automation.
Marina Martin, former CTO of the United States Department of Veterans Affairs, once said that inefficiencies in business processes lead to a loss of 20-30% of annual revenues globally. Think of it; your employees are working 40 hours a week. To make up for a loss of 20-30% of revenue loss, how many more hours are you willing to make them work and pay? Logically, it isn't feasible for anyone.
#3. Reduces redundancies
Nothing costs a business more than redundancies. Multinational research by Unit4, a software company, proves this point. Their study found that as much as $5 trillion is lost in productivity worldwide every year due to repetitive tasks. Workflow automation promises to be the light of hope at the end of the tunnel.
Workflow automation, when implemented correctly, helps in spotting redundant activities that eat up time and affect productivity. Take a cue. Integrate all the data entries into one automated workflow system. This will reduce the number of times the information requires to be entered again, eventually minimizing labour costs.
#4. Saves cost
Yet another reason workflow management is in demand is its ability to save on labour costs. And we are not saying it. About one-third of business leaders worldwide think that automating business tasks can cut back on labor costs. How? Automation is good at reducing administration costs and, as discussed earlier, brings down all the repetitive tasks.
In addition, it is also found that digitizing leads to a boost in productivity, implying quality work is produced in a lesser amount of time. Further, automating routing takes away the extra time taken away in delivering paperwork or waiting for approvals. When you consider all these pointers, you know fewer people can do more work, thus saving more on the recruitment budget.
#5. Better Customer experience
No customers, no business. However, once gained, keeping them satisfied is no easy feat. Automation helps the sales team to record all their inbound sales leads. This, in turn, implies that no opportunities are missed out, and your scalability efforts are still higher and promising. Also, workflow automation ensures fewer delays and errors in making deliveries on time and without any delay.
There are tonnes of activities possible using workflow automation. This includes automating the customer check-in emails and keeping them personal, using bots and automated help desks to settle issues immediately, designing email workflows with valuable and customized content, automating feedback and employee survey forms to identify the areas that need improvement, and more.
#6. Make better decisions
Whenever a businessman needs to make a quick decision about an investment or a strategy, workflow automation comes in handy. They can navigate quickly and find the required data. And to leverage this, no coding skills are required. Anyone can locate it like a pro data engineer. This, in turn, improves coordination between the key stakeholders in the decision-making process.
Not only are data-backed decisions well-informed, but they are also more efficient. Also, they hold high credibility than non-data-backed decisions. This will also help save time and effort. Applying decision automation to an organization's daily functioning is the best bet. Decision automation employs rules to mitigate manual work from the decision process.
A slightly useful variation to rule-based systems is Robotic Process Automation (RPA). It can be understood as a software robot that mimics humans. It does not need modification but uses the same interface that a human would interact with systems and applications.
Wrapping up
These are a few of the most potent reasons that make workflow automation a popular technology among the business fraternity. However, once you begin automating, you will come across many more.  It is the buzz in the business world. So, make them part of your operations, experience the many advantages, and thank us later!