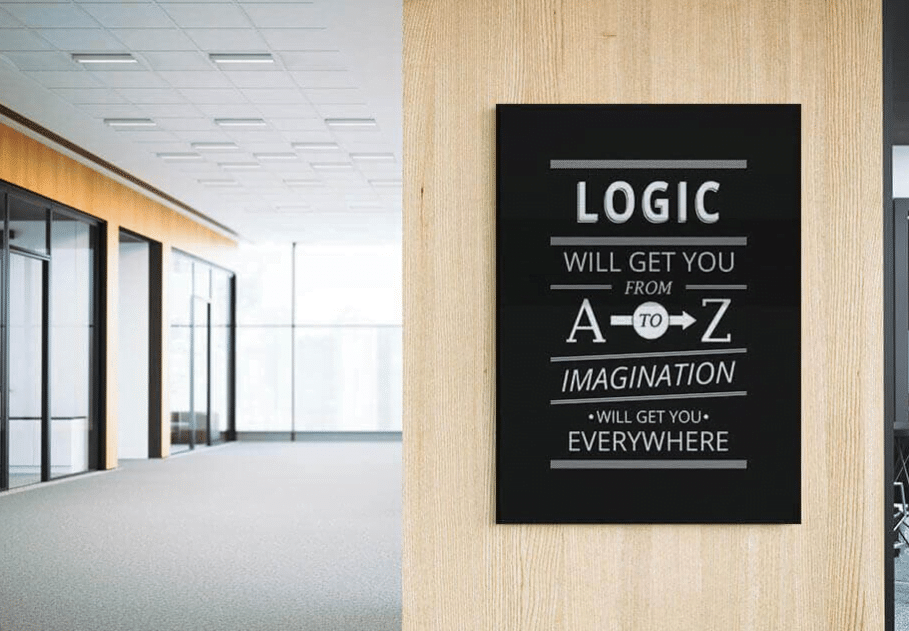 Wondering how to improve your office design? Hanging wall art in your workplace is a great idea if you want to bring in a new aesthetic and boost productivity, concentration, and creativity.
There's more and more scientific evidence that art positively affects brain function and the nervous system – and can raise serotonin levels too. Art has the power to alter a person's perspective and view of the world. So read on for more about how hanging wall art in the office can benefit your employees!
1. Art Reduces Stress
Looking at paintings has been proven to reduce stress and anxiety. Pablo Picasso once said: "Art washes away from the soul the dust of everyday life" – and just looking at art is enough to get some of this therapeutic effect. Stress is a widespread problem in today's world, making us miserable and stopping us from getting things done.
So instead of self-medicating or dwelling on your problems, why not benefit from the restorative effects of art in the workplace? Think of the images that make you feel calm – scenes from nature, abstract art, or serene landscapes – and you've already got a good idea of what kind of art will work as a stress-buster in the office.
2. Art Enhances Brain Function
The more time you spend analysing a work of art, the more you stimulate unconscious and conscious brain function. This can improve your analytical and problem-solving abilities in everyday life. So why not use your office walls as a platform for a bit of daily art analysis?
You don't need to spend a fortune on original paintings. Just choose some classic artworks and turn them into personalized poster prints – cheap, creative, and incredibly versatile.
A printed poster is a timeless wall art solution that will show off your favourite images to their full potential. Photo posters are also very light and easy to hang – with their simple design and deluxe quality, they'll work on any office wall. And prices for poster prints are very wallet-friendly too, so you can easily replace your poster with a new one if you want a fresh look.

3. Art Stimulates Productivity in the Workplace
Displaying innovative art can inspire creative ideas. Because our brains are wired to react positively to beautiful images, your employees will feel motivated and inspired if they're working in an office where creative, innovative works of art are part of the daily environment.
4. Art Develops Creative Thinking
Understanding how to look at art lets helps to keep your brain active and involved. There are a few things you can do to analyse a work of art. First, think about what the piece represents and what it says about the artist.
Then discuss the piece with others and compare it to other works as well as your own life experiences. When you're able to think creatively, it can open you up to finding new solutions in your working life that you wouldn't otherwise have thought of. 
5. Art Can Make Your Company Image
A picture is worth a thousand words, and art can speak volumes about your company or brand. So if you have an office that receives visitors, you might want to consider installing some art to make their visit more rewarding.
It's one of the simplest ways to impress your clients while also promoting your company's image. A canvas or poster print of a calming landscape can do a lot to get your clients feeling more relaxed and positive.
Don't underestimate the impact of art in the workplace. Not only can art bring a fresh aesthetic to your office, it can also have a positive effect on your employees. So if you're looking for an excellent provider to make your personalized wall art, we highly recommend My-Picture.co.uk.
They specialize in high-quality custom wall decor and lifestyle accessories – poster prints, photo canvases, framed photos, star maps, photo blankets, and many more. Their affordable print solutions are perfectly suited to works of art that will grace any workspace!