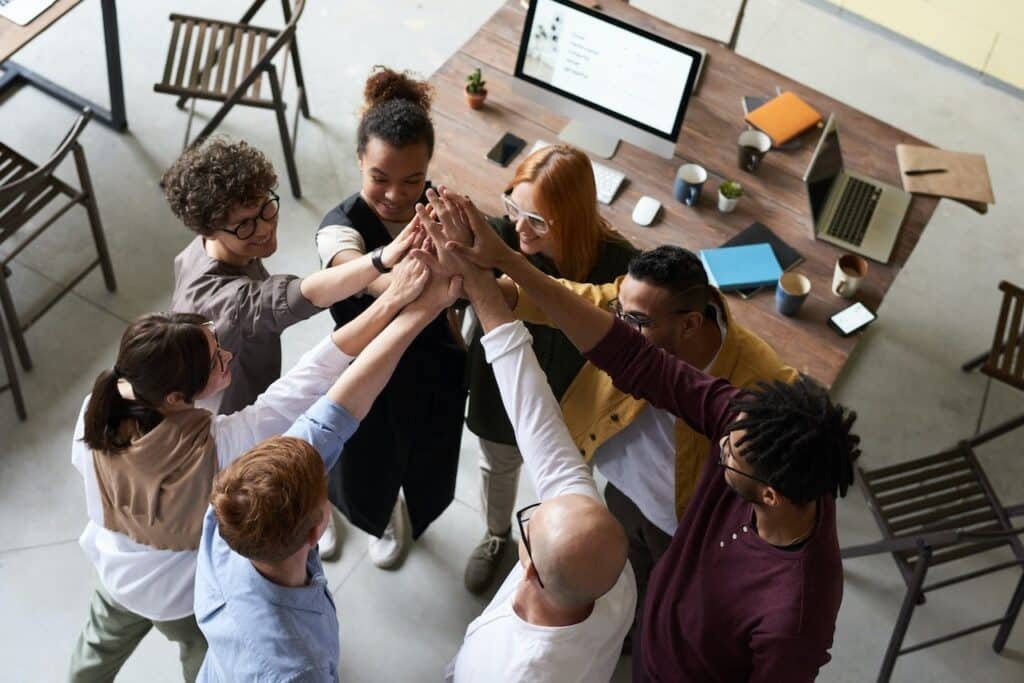 A business with impressive teamwork can prove to increase productivity, morale, and motivation, which all contribute to overall organisational success. Collaboration then is an important aspect of any business, and businesses should aim to foster a collaborative work environment that benefits both the business and employees. So how can businesses encourage collaboration on an organisational and global level?
Adopting a collaborative mindset
Employees must first have a collaborative mindset with the determination to work cooperatively with their colleagues. One study discovered that companies promoting collaborative work were actually 5 times likely to be high performing, showing that collaboration truly boosts business performance.
In order to cultivate this mindset on an organisation-wide scale, you as the employer must encourage collaboration. This could be through implementing collaborative practices (which will be elaborated on further later) or even offering incentives and rewarding collaborative employee behaviour and engagement. The latter in particular can help push employees to seek help and eagerly collaborate with others.
Nevertheless, it appears that a work culture that highlights collaboration is key to encouraging joint participation in businesses. A fun way to do this is to plan team-building activities or team projects that can help build relationships and trust between employees, which in turn contributes to the nurturing of a safe and collaborative space for employees to share ideas within the workplace.
Effective business telephony
Another way to boost collaboration is to have an excellent business telephone system. Collaborative telephony solutions such as Microsoft Teams operator connect can help to improve team working through features such as internal phone extensions which can help employees connect with other employees easily. This internal phone directory allows for instant communication between departments, even with employees who work remotely in another area of the world.
The mobility of this type of telephony allows employees to communicate with other employees faster and on a reliable system, on various compatible devices. Additionally, employees now have the ability to communicate as a team with call conferencing functionality that enables calls for more than two people.
Utilising digital collaborative tools
Collaboration cannot thrive in a business without the right tools to facilitate it. In today's age where technology is constantly evolving and advancing, of course, businesses should utilise digital collaborative tools that help drive teamwork. The post-pandemic business world knows this best since such tools helped preserve workflows and empowered employees to persevere during the COVID-19 pandemic. There has actually been a 44% increase in collaboration tools usage in workplaces from 2019 (55%) to 2021 (79%), indicating that these tools are here to stay.
The tools in question can include, but are not limited to:
Instant messaging apps
Screen sharing
Real-time document editing
Shared/centralised drive
Workflow management apps
Call and video conferencing
All of the tools above are useful in assisting collaborative work to happen in workplaces, and since they are digital, they can easily be used by any employee working from home or even in a different country from the rest of the employees. As a result, businesses wanting to expand globally may benefit from implementing these tools to champion collaboration and thus lead to business success.