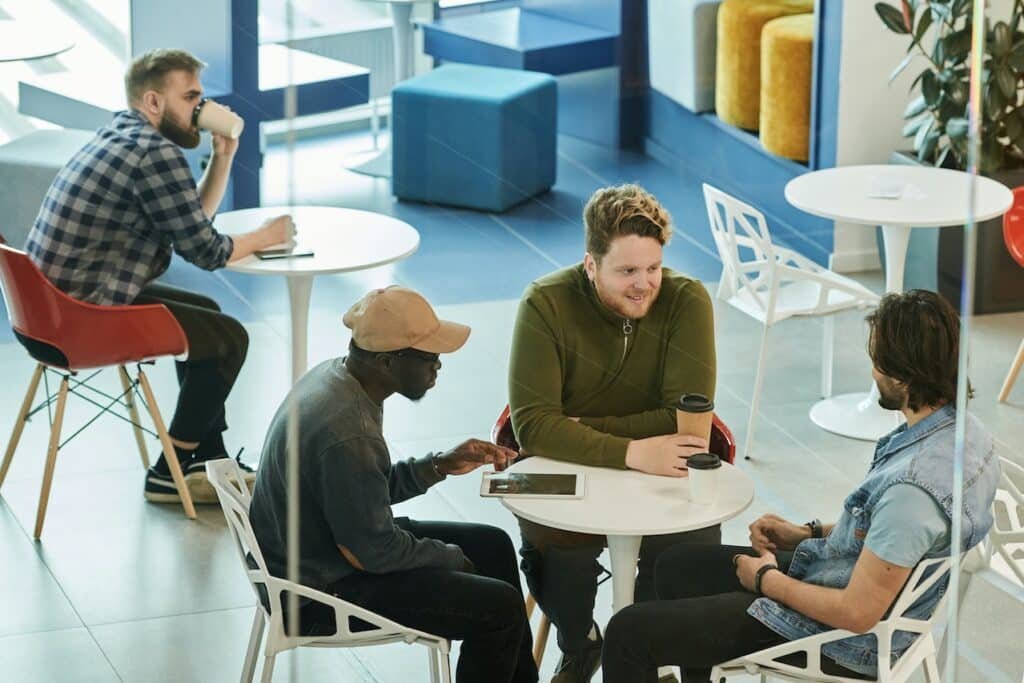 Create a better work canteen with these great tips.
Below are some ways of having an amazing workplace canteen
Providing enough space for mobility
You should make sure the space in the canteen area is big enough so that employees and staff have room to move around. If the area has a lot of furniture and appliances, it doesn't work because it beats the purpose.
A smart layout is an important thing when designing a canteen.
Getting appropriate furniture
You need to have enough tables and chairs to accommodate as many employees as possible but keep in mind the above point. It is a good idea to get furniture that is flexible and can be easily moved around. Check out these chairs from VidaXL for inspiration or these really good options for kitchen dining room tables.
You can also provide your employees with a sofa where they can sit as they drink a beverage or a cup of coffee. You can also have a piece of unconventional furniture like bean bags at a dedicated corner.
Having a spacious service area
It is important to have a well-organized and spacious service area because that is where food is served. This area should have enough space so people can easily move around with their food.
When the space is crowded, it affects the ease of service and the employees can easily become disgruntled.
Providing Adequate Appliances
A canteen area needs to have appropriate appliances before it is considered to be a good one. A microwave for heating or cooking food, a fridge for storing food, a water dispenser, and coffee makers. You should invest in kitchen appliances that are going to make things better in the canteen.
Have a TV there to provide staff entertainment. You can also have soft music playing in the background because it can relax people inside.
Another important thing you need is power outlets so that employees can charge their devices like phones and laptops.
The goal is to take care of all of the needs that come up when employees are there.
Focusing on the Colors and Lighting
A comfortable spot where employees can relax can do wonders when it comes to refreshing their mood.
Colour can be used to make a space more relaxing and exciting. The employees will be happy when they are at a chill place where they can just relax.
Try designing it with bright walls, beautiful indoor plants, interesting artwork, and some vintage furniture. All this will make the canteen a chilled-out and lively space.
You shouldn't make the décor of the canteen an extension of the rest of the office space. You need to make it a little different.
This is going to allow your employees to easily disconnect from their workspace, which will refresh their minds. You still need to be careful so you don't overdo things. Try looking for décor ideas that work best with that space.
It is best to go with natural light. Strategic lighting can be used in defining the different uses of space. You can use bright lights on the communal tables because they can energize, while softer lighting creates a more relaxing mood and that is why it is commonly used in the lounge areas. Views of plants whether outside or indoors are good because it taps into the human desire to connect with living things.
Flooring is important
You should use easy-to-maintain and slip-resistant flooring for the canteen. A slippery and untidy floor is not good for your employees. Make sure you look for a flooring option that is easy to clean and also resists dirt accumulation.
Encourage them to Get Air
Having a canteen that backs onto an outdoor area can be a good idea and can help employees gain some time and space in the outdoors, helping them to relax and chill out.
Adding an Entertainment Room
When creating the canteen area, you should also have some elements of fun that employees can use to relieve their stress. They should have the chance to unwind for some time.
Have a game table or provide space for activities that don't have anything to do with their jobs.
This creates a relaxed office environment where employees can interact with each other at a more personal level. This is going to help in building stronger relationships.