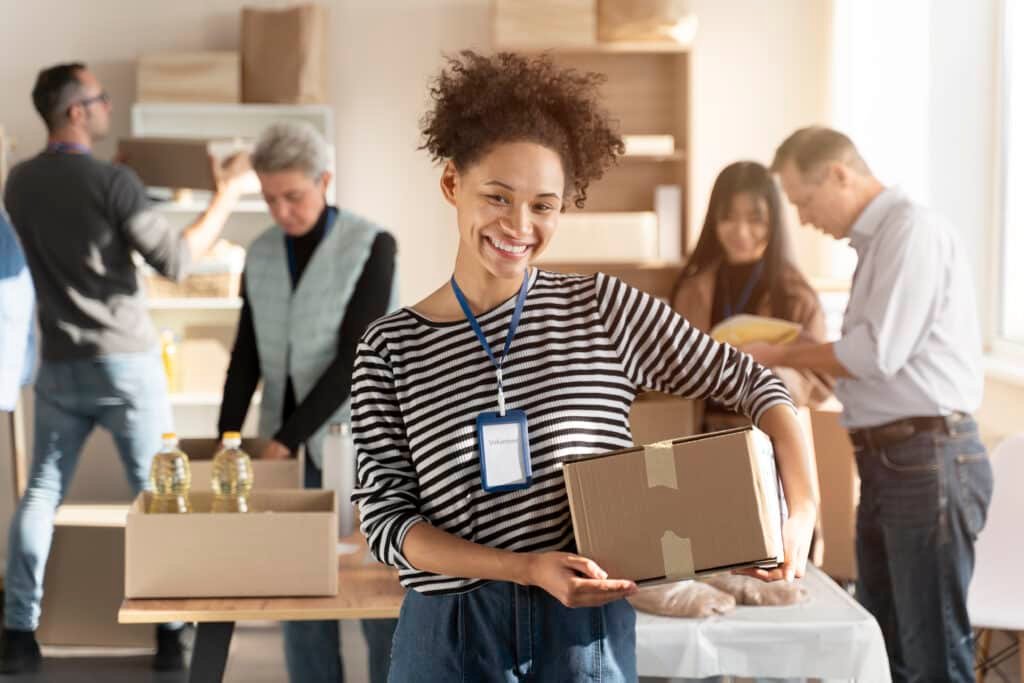 We all know the key to employee retention is making your company a desirable place to work. After all, why would anyone leave if they were happy in their job? But being able to create that desirable workplace is a little harder than simply understanding its importance. And the answer does not need to be too complicated. In fact, by examining the role of corporate merchandise, we can glean some insightful tips which will help to create that all-important positive work culture. Once you have that under wraps, you will notice the direct impact this has on your employee well-being as well as their motivation and productivity.
1. Show your employees they are valued
Offering your workforce high-quality, custom merchandise featuring your company logo
serves a variety of important purposes. Firstly, it shows thought. Everyone loves to receive a gift, and when it comes from an employer it is a demonstration of care for your staff's well-being. Fill your employees with a warm glow and show them how much they are valued and appreciated. What's more, a gift of custom merchandise generates a feeling of belonging as well as fostering that fundamental sense of workplace community.
Never underestimate the power of boosting morale; it instils well-being, creates inclusion and nurtures motivation. These will all impact your company's ability to retain talented employees. However, boosting staff morale requires a connection. Putting in the time to build a positive relationship with your employees pays dividends in the long run. Corporate merchandise is one simple tool that can help foster that all-important manager-personnel relationship and remind your staff that they are valued.
2. Welcome new members on onboard
We've seen the importance of raising that community spirit but it needn't take years to develop. Welcome new recruits to your company with corporate merchandise, and instantly generate a sense of inclusion. Consider something they can wear perhaps a jacket or a hat – so new team members can wear their welcome gift with pride. This company has an impressive range of customisable clothing, as well as water bottles, pens and bags. Which would lend themselves to creating a 'welcome pack' of promotional products. What a great way to show your appreciation to new employees from the off!
3. Develop employee loyalty
Once you have created a positive and inclusive environment in the workplace. You can start to reap the rewards of your employee loyalty. Showing your workforce that you are a caring, reputable employer will build a connection of trust and loyalty. This allows your corporate merchandise to work in further ways. Since your staff feel a sense of pride and allegiance towards you, they are also likely to use customised items outside of the workplace, too, functioning as a positive brand ambassador. By creating a company with a positive workplace and culture, staff will feel proud and loyal to the brand. Both in and out of the workplace. Of course, this will also make them proud to use and wear their merchandise bearing the company logo. Which in turn acts as an endorsement of your business! It's a win-win situation.
4. Show your professionalism
The role of corporate merchandise cannot be underestimated when it comes to creating a smart, professional and distinguished image. As well as its positive impact on your workforce, this positive image radiates out and leaves your customers with a sense of confidence and trust in your brand. Show off your positive image by investing in promotional products that will have your loyal customers acting as brand ambassadors, too! These products needn't cost the earth; a free pen or pencil can still leave a warm glow and make a positive impression, and what's more, anything functional is more likely to be used often, serving as a useful reminder of your company's positive and professional ethos well into the future!
5. Tailor your products
Just as with any gift, thinking about the recipient is key. You wouldn't give your music-loving, fashion-conscious teenage daughter a set of golf clubs for their birthday, just because you happened to have some spare, would you? So, by the same token, spending a little time thinking about your employees and what kind of product might appeal to them most, is always time well spent. Someone who needs to take lots of notes for their role might appreciate a branded, high-quality notebook or pen, for example. Whereas an employee who has to brave the elements often would welcome a cosy fleece, or umbrella sporting your company logo.
As well as showing your staff that you care, you are also demonstrating thoughtfulness – something that is often sadly lacking in the corporate world. The benefits of displaying this quality cannot be underestimated, though, and it contributes directly to a positive work culture as well as promoting the well-being of your staff. If you want your employees to go above and beyond for you, then well-thought-out gifts like these show them that you are willing to go above and beyond for them, too.
6. Recognise and reward good work
Sometimes we expect a lot from our team, and sometimes going that extra mile deserves special recognition. A personalised gift shows gratitude, feeding directly into creating a positive work culture. While a simple word of thanks or a well-worded email can still summon that warm glow inside, a specially selected piece of custom merchandise provides a future talking point. And, the more you recognise the 'above and beyond' efforts and attitude of your employees, the more inclined they will feel to go that extra mile next time. This article reveals more about the psychology behind the importance of showing appreciation. Custom merchandise provides the perfect reward, too it shows gratitude, recognises excellence, promotes positivity in the workplace, and offers the potential for additional marketing. Perfect!
We all know the value of a positive work culture. The benefits are far-reaching and extend well beyond the office walls. Word soon spreads if a company is credible, generous, professional and ethical. But finding the best and most efficient way of getting there can be baffling and sometimes seem impossible. Luckily, there are some simple answers, and investing in corporate merchandise can provide simple, cost-effective and powerful tools to fostering a happy, motivated workforce who feel loyal to your company. What's not to love?