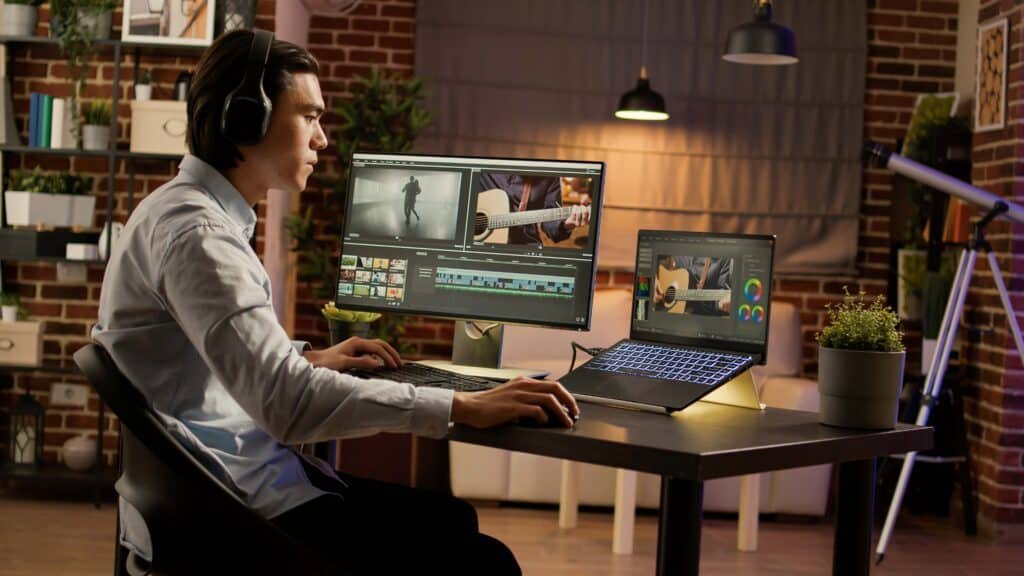 In today's digital age, video content has become an indispensable part of our lives. From social media platforms to online streaming services. Video content has captured our attention and revolutionized the way we perceive information and entertainment. No wonder the demand for easy-to-use and efficient video editing software has also grown exponentially.
The process of video editing has traditionally been a time-consuming and labour-intensive task. It required specialized skills, expensive software, and a lot of patience to create polished and professional-looking content. However, with the advent of artificial intelligence (AI), the video editing process has significantly been simplified.
AI-powered video editing software has made it easier than ever for users to create stunning and engaging videos, while AI video editor APIs have facilitated the lives of numerous developers craving to build their own video editing apps.  By using machine learning algorithms and deep learning techniques, these software programs can analyze video footage and automatically edit it to enhance its visual appeal.
Here are the top 5 innovative and exciting AI video editing software worth checking out right now.
1. Banuba Video Editor SDK
Banuba Video Editor SDK is a comprehensive software development kit for mobile devices that enables developers to incorporate AI-enhanced video editing capabilities into their own applications. It provides a broad spectrum of functionalities such as facial recognition, object tracking, and gesture identification, empowering users to craft entertaining and compelling videos with just a few taps. Regardless of whether you're a programmer aspiring to develop the next innovative video editing application or a video enthusiast who wants to elevate your video masterpieces to new heights, Banuba Video Editor SDK is the ultimate solution for you. Its cutting-edge AI-powered capabilities, user-friendly interface, and simple integration process make its opportunities limitless. With it, developers can unlock a new realm of creative possibilities and elevate their video editing apps to unprecedented heights. So, go ahead, and express your imagination. Produce videos that are truly out of this world with the Banuba Video Editor SDK!
2. Adobe Premiere Pro
Revolutionizing the film and video industry. Adobe Premiere Pro is a pioneering video editing software that offers an all-encompassing solution from basic editing to advanced post-production techniques. Setting it apart from other video editing software is its seamless integration with Adobe Sensei technology. Which imbues it with AI-powered features that streamline the editing process and make it more efficient and accurate. One of the standout features of Adobe Premiere Pro is its automated colour correction tools. With the power of Adobe Sensei, this remarkable software can analyze and adjust colours automatically, enabling editors to achieve their desired look and feel with ease. This exceptional feature not only saves time and effort but also ensures that the colour remains consistent throughout the footage, resulting in a more polished and professional-looking final product.
3. Magisto
Magisto is a revolutionary video editing tool powered by AI, designed to help users create high-grade videos quickly and effortlessly. It employs computer vision and machine learning algorithms to recognize the most captivating segments of your footage and seamlessly combines them into a polished and eye-pleasing video. With its user-friendly interface and advanced editing capabilities, Magisto is the ideal solution for individuals who strive to produce professional-looking videos without investing all their time and effort into the editing process.
4. Filmora
Filmora is the ultimate video editing solution that utilizes the power of artificial intelligence to streamline the video editing process for both novices and experts. Its user-friendly interface offers a plethora of advanced features such as colour grading, sound editing, motion graphics, and much more. Furthermore, this cutting-edge software employs AI algorithms to automatically recognize. And eliminate unwanted background noise from audio recordings and make necessary adjustments to ensure optimal sound quality. Whether you are an amateur or professional filmmaker, Filmora's budget-friendly pricing and AI-driven technology make it the go-to choice for creating high-quality videos.
5. Clipchamp
Empowering users to create stunning videos without any prior editing experience. Clipchamp is a cutting-edge, web-based video editing platform that harnesses the power of AI to streamline the editing process. Boasting an intuitive interface and robust editing tools. Clipchamp makes it effortless for users to produce high-quality videos that capture their vision. Additionally, Clipchamp offers advanced video optimization tools that are AI-powered, such as automatic video cropping and resizing, allowing users to create videos tailored for different social media platforms and screen sizes. With Clipchamp, video creation is a breeze!
Summing Up
The era of video editing has taken a quantum leap with the introduction of AI-powered video editing software. The 5 software examples mentioned above are revolutionizing the way we approach video editing. By offering automated tools and user-focused interfaces that enable users to create stunning videos with ease. They are transforming our vision of video content drastically. So, whether you're a trendsetting social media influencer, a visionary entrepreneur, or an avid videographer, AI-powered video editing software always has something exciting in store to offer you and meet your needs and preferences.