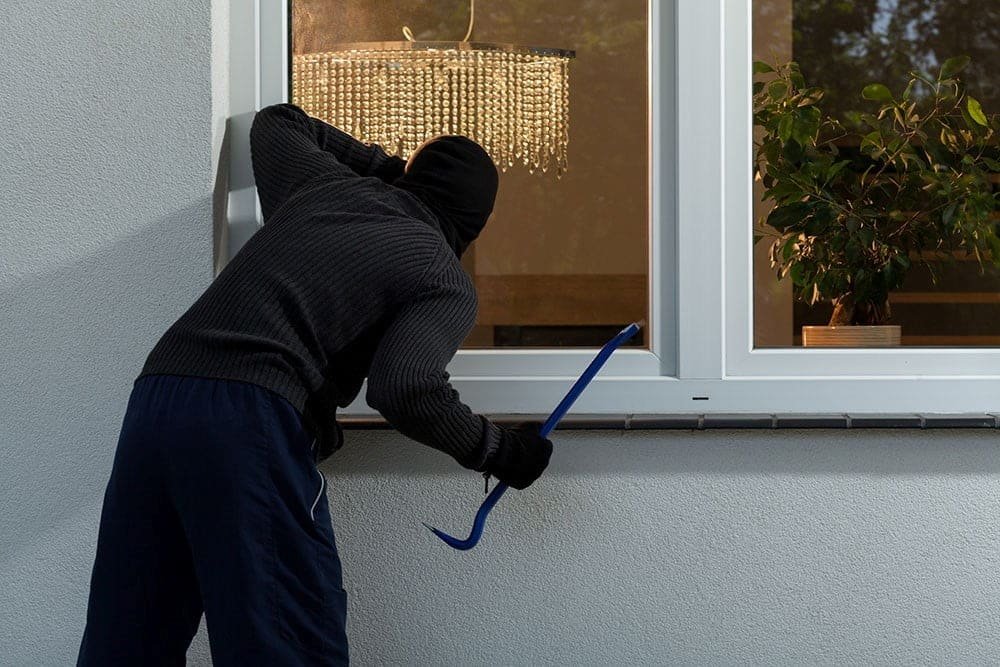 Imagine this: one night you go out and leave the sanctity of your home, the safe zone for you and your kids. It's the place you've spent years calling your own. It's the center of everything. It's love, security and protection, but tonight someone has violated all that by breaking in and stealing your precious belongings. They even vandalized the house with spray paint they found laying around. You can't imagine why they chose your house. Now, "coming home" has taken on whole a new meaning. The peace you once enjoyed has been marred by thoughts of people rummaging through your personal belongings – and the idea that they could return lurks in your mind.
According to the Florida Crime Statistics and Rates Report for 2019, Florida property crime, which includes theft and vandalism, is 9.63% higher on average than the national property crime rate. For many property owners in South Florida who have already fallen victim to such violations, these crimes are far too common as homes are burglarized, possessions stolen, and properties, including motor vehicles, vandalized.
The only thing left after the emotional trauma is the simple fact that you have paid your homeowner's insurance on time for your years and can make a claim to replace some of the stolen and damaged items.
Unfortunately, your insurance company has something else in mind. They may decide to shortchange you and not give you the full value of your losses or repairs. This has become an all-too-common practice among insurance carriers. In fact, they will use certain conditions to deny your claim completely.
In fact, contrary to most people's belief, insurance companies do not work for you or in your favor. Their goal is to save money by not paying claims. They have teams of lawyers and lobbyists fighting state legislators to draft laws in their favor. For the average person, fighting for their claim is an uphill battle.
If you're a victim of a theft or vandalism and have been faithfully paying your insurance premiums, you are entitled to payment without being lowballed. This is your money, and you have a right to compensation. If your insurance company is denying your claim or attempting to underpay you, contact Louis Law Group, a Theft and Vandalism Claims Lawyer in Florida, for assistance. Our team of attorneys is experienced in the complexities of filing vandalism and theft claims. We will show you the compassion you deserve while making the claim-filing process a smooth as possible.
Many policyholders feel they didn't receive the right payment from their claim, but this feeling can be avoided if you know what to expect in advance.
The reason for this is because policyholders often don't know the coverage limits in their insurance policy.
A special limit states the maximum amount of payment that will be paid for out certain items.
1. You might have cash saved up for a rainy day under your mattress, but if thieves get hold of it, you'll only be covered up to the limit that you've agreed upon, so be sure to check your limits.
2. There are limits on the maximum payments for jewelry. If you have valuable jewelry, look for an insurance company that specializes in jewelry.
3. Firearms and firearm-related equipment will be limited to a maximum amount.
4. Gold and silverware, when lost by theft, have limits.
5. Property which you use for your business. These limits are very important for anyone who works from home. When you cannot work from home because your computer has been stolen, you'll experience higher losses than most limits cover. Make sure you discuss this with your insurance company if you have any income derived from working from home.
6. An insurance policy might also have low limits on mobile devices, tablets, computers, gaming devices, software, and sporting equipment. Be aware of your limits if you any of these valuable items.
If your property has been stolen or vandalized, follow these steps to assist in the claims process:
Find someplace safe to gather your thoughts.
Immediately call the police and file a police report.
Report the incident to your insurance company.
Take photos of the crime scene.
Make a list and document all things stolen and/or vandalized.
Gather receipts of any stolen items, if available.
Contact Louis Law Group for a free case evaluation if you feel that your insurance company has failed you. We will make you our priority and work to get you the compensation you deserve.