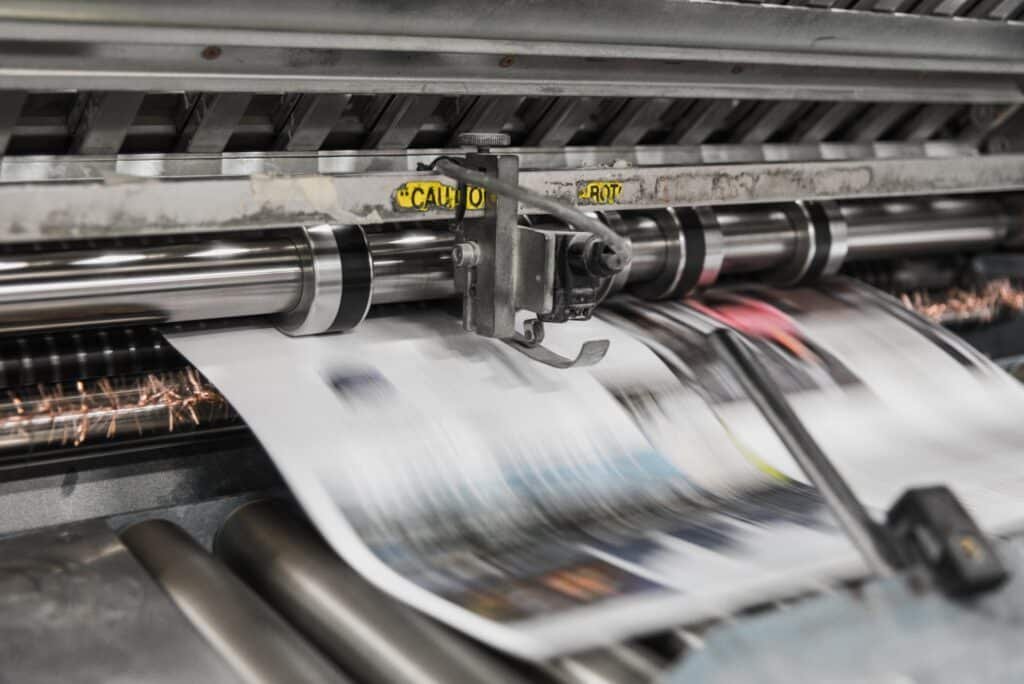 The large-format printing space continues to change and progress as new technologies get to the market. The increased demand for large prints has also contributed significantly to the growth of the industry.
It takes time for aspiring entrepreneurs in large print space to understand the ever-changing market, but fortunately, the internet now has a lot of useful information about different types of large-format printers.
Large formats can include any computer-controlled printer or printing machine that can print a roll ranging from 18 to 100 inches. However, printers that can print a roll with capacities over 100 inches are referred to as grand or super printers.
You can use them for printing posters, wallpapers, vehicle image wraps, construction plans, circuit schematics, and trade show graphics.
Wide format printers, however, employ some toners or variants of inkjet-based technologies to print large images. Wide format printers seem more economical than other types of printers such as screen printing when it comes to printing low-quantity or short-run print projects, but this depends on the type of print medium or substrate, the number of prints per roll, and print size.
Large format printing machines are designed for printing on print media sheets that feed incrementally instead of onto individual rolls. These are seven commonly used wide format printers. You can also read more about the 5 best 11×17 printers.
Solvent
Solvent inkjet printers are an ideal option for producing exterior graphics. They are long-life and versatile and offer durability without a hitch. However, experts refer to these printers as hazardous due to the ink fumes that they produce and require the installation of a special venting.
Mild eco-solvent inkjet printers are available in the market. Due to the fume hazard, solvent inkjet printers aren't suited for office use, but for plant installation instead. One advantage of these printers over aqueous inkjet printers, however, is that they are less expensive.
Solvent inkjet printers also use less expensive media for printing, and that's why the signage industry has continued to invest in them. Suppliers of large format solvent-based inkjet printers such as Charlotte Printing continue to fine-tune their technologies to try to improve their large format printing equipment.
Aqueous Inkjet Printers
These are the most common wide format printers on the market. As the name suggests, water is the carrier component of ink used in aqueous inkjet printing machines. Recent research indicates that digital graphics printing markets and trends in the technical document will continue to drive the growth of the market for aqueous inkjet printers.
Wide format printers use the highest resolution to provide the fastest output. These printers are ideal for printing both outdoor and indoor materials, and with lamination, advertisers can increase the longevity of their posters according to their needs.
Aqueous printers rule the market in fine art, photographic printing, graphic design, trade show printing, and prepress proofing as well. The ease of use is the only advantage of aqueous printers.
UV–Based Flatbed Printers
UV-curable flatbed printers are the other emerging large format printing technology. The drying mechanism for the ink in UV-based flatbed printers seems different from that used in solvent-based inkjet printing.
These printers use ultraviolet rays to heat the curable ink to form a solid on the print paper or sheet. Some features of UV-based flatbed printers are almost similar to those of solvent inkjet printers, but their inks are less expensive than those used in aqueous inkjet printers.
With UV-based flatbed printers, advertisers can print durable outdoor images even without lamination.
Dye Sublimation Printers
These printers use a printing process that allows the transfer of dye onto the print roll or sheet, fabrics, plastic, coloured perspex or cards. The only advantage of dye-sublimation printers is that prints dry as soon as printing takes place.
It is a digital printing technology that uses any colour artwork that is compatible with polymer products and polyester-coated substrates. Dye sublimation printers are used for printing banners, signs decorating apparel, tea mugs, plaques, and cell phone covers as well.
These printers use the science of sublimation, where pressure and heat are applied to ink in a solid state through a reaction that doesn't pass through the liquid phase.
Latex Printers
These printers are ideal for creating durable outdoor and indoor printing applications. Latex printers use resin-based inks and latex inks, which are the latest ink advancements in the large format printing space.
However, the water-based formulation of resin-based and latex inks decreases the environmental impact of printing. Extra ventilation isn't a requirement because latex inks are water-based. Graphics printed with latex printers are durable and high quality compared to images printed with solvent inkjet printers.
Latex printers can print onto almost all materials that solvent inkjet printers can print. Their cost is competitive as well, but it continues to fall as advertisers, and other industries embrace this new printing format.
Plotter or Pen Printing
It involves the use of pens or a pen to draw on the print substrate. Pen printing technology is mostly used for CAD drawings production. However, digital printing technologies including UV, aqueous, and solvent printing supersede pen printing by far.
Plotters can produce line drawings of a higher quality and much faster than traditional printers and were; therefore, used for printing computer-aided designs.
Though plotters retained a niche for large drawings production for many years, they have now been replaced by digital printing technologies, which are quicker and produce high quality prints than them.
Large Interior Printing
It refers to all printing categories done on posters. However, the requirements for strength and water resistance of products used in large interior printing are low. However, advertisers interested in using their large interior printers for periodic transportation and long periods should pay attention to the materials of the substrates and their protection.
Large format printing technology is now firmly affirmed in the digital era. It is difficult for an advertiser to imagine outdoor interior designs and exterior ads without large format printing. Advertisers now have to take time to learn about the different types of printers in the market before purchasing a wide format printer.