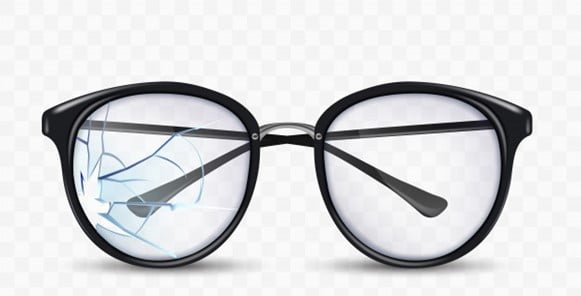 What would you do if your prescription glasses break just a day before your exam? Not just any exam, your semester exams with your degrees on the line. You need to clear your exams and join the workforce as soon as possible. Be a responsible citizen and pay your student's debt diligently.
But your broken glasses get in the way. You can not see clearly without your glasses. And giving exams without your glasses when you cannot even peep into your friend's answer sheet, it's a big gamble. (It's not that I cheat from my friend's paper. It's just to feel assured that he is also as knee-deep as I am.)
So, what would you do? Obviously, go to a glasses store or buy glasses online and plead with them to get your glasses made as fast as possible. You might as well carry your textbook along to revise for your exam.
Even after pleading and shedding tears, you might not be able to get your glasses as fast as to get them before your important exam. You might as well wish for a genie.
Here comes the Specs Genie
A similar incident happened to a Manchester University student Sid Sethi. Just before his important semester exam, his glasses broke. If you are a glasses wearer, you will understand the inconvenience of that. It might seem funny to others, but it is not like that for the glasses wearers.
Sid went from shop after shop that could make him glasses fast. But before that, he was astonished by the high prices of eyeglasses. There were not a single good quality glasses that could fit into his budget. As a student, he didn't have much allowance, and there are better things to buy than some glasses.
And when his glasses broke, he kept looking for frames that will not strain his pockets and also give him a good vision. Plus, he cannot afford to look geeky. You know, that look is uncool.
Obviously, he didn't find any. He gave his exams without his glasses. Well, he cleared his exam. But that struggle gave him inspiration for this Specs Genie – Specscart.
Why is Specscart not like any other eyewear business?
Specscart is a Manchester-born eyewear startup started by the endeavours of Manchester University students in 2017. Since its inception, Specscart is delivering what most students like Sid ever wanted – cheap, fashionable and fast.
Specscart is focused on what the consumer wants and delivers it to the best of their possibility. It's evident from the 5-star ratings on Trustpilot and Google reviews.
1. Glasses frames are affordable plus trendy
Four years ago, Sid scoured the high streets of Manchester for an affordable glasses frame. Many people look for offers and vouchers and hop into store after store to get what they want at the price they can afford.
Specscart brings out fashionable glasses every season and also make sure they are affordable. If you don't believe it check them out. You can find many trendy transparent glasses frames or retro John Lennon glasses at prices that your pocket will not cry.
2. The anti-glare coating comes for free
We don't buy frames, we buy glasses that helps in seeing. And with the addition of coatings that make our glasses last long and vision comfortable, the prices are raised sky-high. Our cheap glasses break often because they are not shatter-proof. Even if we buy an expensive pair of glasses, they will break as well. No one can be as careful as a mother with her child.
The shatter-proof coating should not be an additional layer, it should be mandatory. And Sid, as a glasses wearer himself, understands this need. So, the shatter-proof coating comes on every lens for free. Along with it, the comfortable anti-glare coating and the necessary anti-UV coating are layered on each lens for free.
3. Lenses are high quality plus affordable
Glasses are meant to correct vision. And lenses with good quality don't usually come with a better price tag. Specscart tries to reduce this cost. How do they manage it?
They do it by cutting all the intermediaries in the way. Specscart provides glasses directly from the glasses maker to the customer. No outsourcing frames from another country and making frames in another. Glasses are made in-house and sent to the customer.
4. Fast Service and fast delivery
When glasses are made in-house, you do not need to wait too long. If you require glasses the other day, you will get them the next day. Specscart processes each order fastly and with utmost precision. Each product is triple checked for quality and then delivered to the customer with the fastest delivery system.
5. See before you buy
Before you buy, you can check the quality of the product too. Specscart provides a free trial at home. Not just the glasses frames but the lenses as well. You can check the quality of the sample lenses for blue light glasses, transition glasses and standard anti-glare glasses. Check the quality by using the little blue laser torch provided in the box and see for yourself if the lenses work or not.
Now, Specscart is on a fast wagon to expand to other parts of the world and not just in the Bury town of Manchester. It delivers its high quality but affordable products to as far as the Falk islands.