Art is the ultimate escape resource. It is one of those ingenious outlets that can express creative flows and radiate energy simultaneously. This expression of energy can resonate with positive vibes and negative ones too.
COVID has hit each one of us differently.  We can quote 2020 as a blessing for some and a bane for many. The death of loved ones, whose vacant places are now irreplaceable, is a great tragic loss.
For countless, it has been the most terrible of all times with financial setbacks that don't seem to relax with every passing day. There is no straw to clutch on to with a lingering risk of existence vs. bereavement; this whole year has been a roller coaster ride.
As mentioned earlier, people have turned to various art forms to express their loss while looking helplessly for solace amidst all the chaos present.
One such form of art is diamond painting. We've all heard of different sorts of paintings; acrylic paintings, oil paintings, pastel paintings, watercolour paintings, and many more. There's one such form that none of us has heard of before; Diamond Painting.
If you go by the name you'll assume that it needs some brushes and lots of paints to do, but contrary to your assumptions, it has nothing to do with paints and stains on clothes and hands.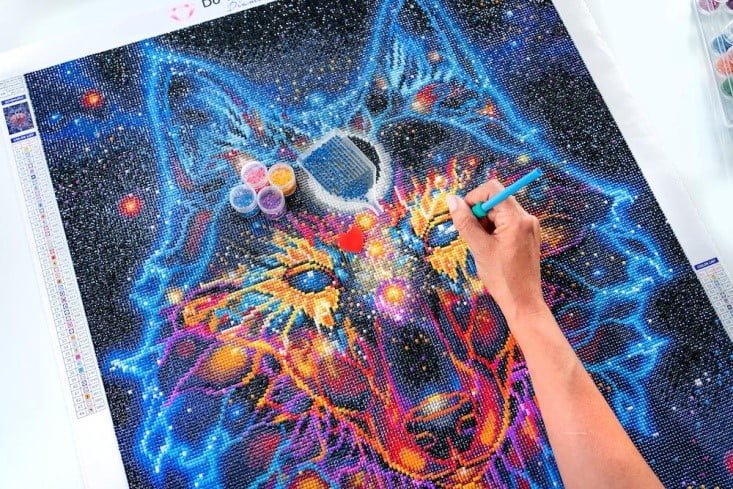 What Is A Diamond Painting?
Diamond painting is a new craft hobby that was created in the last decade and is trending worldwide since then. It is a fantastic breed of painting and beading using tiny resin-like stones (rhinestones) that are stuck on a pre adhesive canvas. The result is a colorful and vibrant mosaic pattern that is shiny and shimmery as well.
How To Do Diamond Painting?
Now that you know what diamond painting is, you'll naturally want to know the process involved. The process is fairly uncomplicated and is done with much ease by children as well as adults.
Follow the steps mentioned below and you will be surprised by how quickly you have grasped the concept and finished your painting like a pro.
CAUTION: The entire process is highly addictive.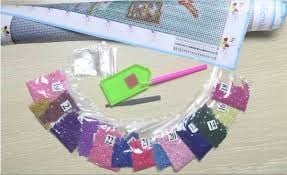 Step # 1. Unpack your canvas, tools, and diamonds. Every kit comes with all the tools that are required for creating your diamond painting.
Step #2. Unroll your canvas on a flat, smooth, clean, and dry surface. If your canvas has a crease that cannot be flattened, try placing it under your mattress overnight and allow your body's weight to flatten the crease. Likewise, you can place the canvas under heavy books which will act as a heavy body weight. If both these tips don't seem to work for you, take a sharp-pointed needle and pop the air bubbles that are causing the canvas to crease.
Step #3. Pour all your diamonds into the grooved tray that comes with your tool kit. Shake the tray slightly so all the diamonds fall in the grooves. If after finishing your diamond painting, you have diamonds left over; store them in an empty egg tray. This is an economical and practical way to store your diamonds.
Step # 4. Apply a teeny weenie bit of wax from the wax applicator pad onto your wax pen. This will let you pick the diamonds from the tray.
Step# 5. Press the wax applicator on the diamond resins and match them to their related equivalent.
Step #6. Carefully peel the sticky sheet that is covering your canvas and apply the diamonds on the corresponding symbols.
Step #7. Repeat the process till your painting is complete.
Step #8. Sometimes your canvas will become less sticky while you're trying to finish it or you will notice the hair or some dust polluting the surface. The easiest way is to wipe it with a wet wipe which will replenish the stickiness and also remove the accumulated dust and grime.
What Do You Do After You Finish Your Diamond Painting?
After you're done with the painting, you'll surely feel bored and empty since you were hooked entirely to it. Once you start, you can't stop, such is the addiction to the diamond painting canvas.
After completing nth paintings, you can get them framed and use them for décor purposes, or gift them to your near and dear ones. They will be taken in by your creative gesture.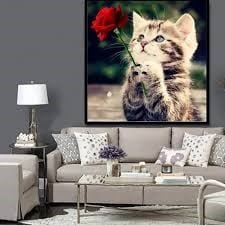 Should You Seal Your Diamond Painting?
Yes, you should. You must use a sealant to seal your diamond paintings because if you intend to frame them, the stickiness of the canvas and wax will lessen over time causing your diamonds to shed which will make your painting empty. The potential risk can be reduced by using a sealant.
Positive Reviews by Diamond Painters.
Art is therapeutic and a wonderful technique to lessen grief caused by any trauma. It has a very positive effect on the painter's mental health and relaxation and is stress-free. It's just you and your rhinestones for the next couple of hours or whatever you take to complete the canvas.
After reading several reviews, it is concluded that the majority of the users are adults. Several people have sworn by the therapeutic properties of diamond paintings.
One user went to the extent that she was immersed in depression for three years after the loss of her child just days before his birth and she found immense pleasure in diamond painting which has helped her overcome her grief.
Another satisfied painter also expressed gratification and wanted to reorder the kit because it helped her overcome anxiety and despair.
Not just overcoming mental health issues, painters have also shared that they have felt a boost in their creativity after diamond painting.
Who Should Try Diamond Painting?
Initially, the art was picked up by crafters but since then it has helped many. If you're looking for a new hobby or want to occupy your spare time by putting your creative self to use, this is just the thing for you. There is no age restriction but as we have mentioned above, adults are benefitting more from the effects of diamond paintings as compared to kids.