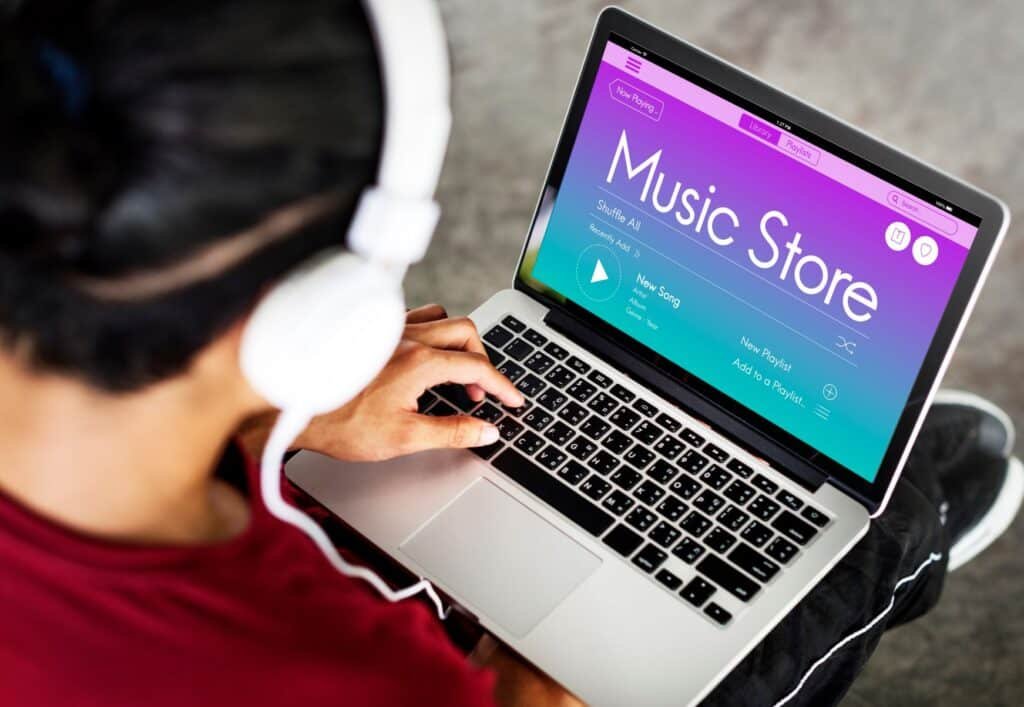 Brick-and-Mortar Music Store
In many retail industries, including fashion, music and home decor, businesses are discovering the importance of online sales. Even grocery store chains have emphasized e-commerce to boost their revenue. For music businesses, seeking customers online makes great sense. How can you take advantage of the benefits of e-commerce for your business? This guide can walk you through the process.
What Is Your Goal With Online Music Store Sales?
First, it's important to correct a common misconception about e-commerce. Some business owners automatically assume that taking a business online means closing down brick-and-mortar music store operations. In reality, e-commerce should complement physical store sales, not replace them.
Of course, the specifics depend on your target audience, market and business goals. That said, many people still prefer shopping in a brick-and-mortar music store. In the U.S., e-commerce sales only represent around 10-15% of total retail sales, meaning the vast majority of sales still happen in physical store locations.
How Can You Integrate E-Commerce and Store Sales?
Look at physical and online storefronts as two sides of the same record. Your brand needs to have the same reputation for customer service and friendliness regardless of where customers shop. Follow these steps to deliver a great user experience.
Use a High-Tech Point-of-Sale System
Modern POS systems are made for integrating storefronts. They can help your physical business stay effective while empowering your e-commerce at the same time:
Software for mobile-friendly shopping
A large variety of payment processing options
Unified inventory management
In-store and online purchase tracking
Marketing options that help you rank better in searches
With music store POS software, you can keep track of your clients, their purchases and their preferences. People who visit your store — whether online or in person — are no longer just faces in the crowd. You can discover what they're interested in and tailor shopping to deliver a better experience.
Know Your Customers
There are reasons why some people prefer buying music online and others like to shop in a store. Both avenues have benefits.
When it comes to buying music online, modern customers often like convenience. They can purchase individual tracks, download them to a device and enjoy them instantly and on the go.
For audiophiles and other audiences, there's no substitute for high-quality physical media when listening to tunes. Collectors seek out vinyl records, CDs and other classic formats.
The better you understand the motivations and feelings of your customers, the better positioned you are to make the sale. That way, you provide the best experience possible for different audiences.
Deliver the Best Possible Shopping Experience
Once you know what drives your main customers online and in-store, look for ways to enhance every aspect of the experience. Online, this means providing helpful content, such as buying guides, pro tips and up-to-date articles on industry trends. In a store, you can focus on hiring friendly, knowledgeable staff members that treat clients like a part of your brand's community.
Take musicians as an example. Many musicians do research online, but they often purchase instruments in person. There's a big difference between reading about a guitar's specs and feeling it, playing it and hearing it in person.
Before deciding where to buy a set of drums, musicians check stores online to get a feel for quality and reputation. Including video guides on your website instead of text only can make a huge difference. In your store, a cool vibe can create a place where musicians like to hang out. Some store owners partner with coffee shops while others feature local bands periodically.
Be Social
Don't ignore the power of social media for customers of all ages. Depending on how long you've been in the music industry, you may not feel that "hip."
The question isn't how comfortable you feel on social media, though; it's how important these apps are for your target customers. Social media can provide an excellent opportunity to build the online and offline community your business needs.
Remember that there are marketing businesses that can help you manage your social media account effectively. You just need to take the first step.
Why Integrate Online Sales?
Your goal with e-commerce is to gain access to a valuable audience. You want to capture the attention of people looking for music online and convince them that your store is the answer. You can stand out in many ways, giving music and instrument sales your unique spin.