Development of broadband markets
Companies like BT that build communication networks must also develop their markets in order to earn a return on their investment. BT is a business which must generate revenue and make a profit in order to satisfy the shareholders. The same principle applies to other public limited companies.
Initially broadband was developed for business customers. Businesses need to communicate vast quantities of information quickly and will often pay a premium for superior service thus encouraging technological developments. However, it became obvious that these advantages could also benefit consumer markets assuming the price was affordable. As more business users experienced the benefits of broadband they demanded similar services in the home market.

Adapting telephone exchanges for broadband is costly. Therefore the early development was in centres with a high concentration of web usage. The business model applied is based on consumer demand. This is assessed through BT Wholesale's broadband registration scheme. A threshold for demand is set based on the cost of providing ADSL broadband at individual exchanges. Once sufficient interest is registered the exchanges are upgraded. This scheme drives BT's roll out programme by matching supply to demand.
The consumer market for broadband is a growing one driven by:
The availability of more affordable computers with better specifications.
More affordable broadband access (average price only £20 - £30 per month).
Government investment of £400 million in creating web awareness through a national network of UK Online Centres - where individuals can learn to access and use the Internet.
The development of more interactive websites that require faster connections, such as downloads of music and gaming.
Today, over half of UK homes (around 12.5 million) have Internet access. In February 2004, there were 2 million wholesale broadband connections, providing a massive opportunity for growth. As Government and other organisations use the Internet to provide services and up-to-date information online, individuals increasingly feel they need to have fast reliable Internet access from home.
Through government initiatives it is now possible to complete a wide variety of tasks online e.g. UCAS forms for university application, access to Connexions cards, Income Tax forms and benefits applications. Many sports' governing bodies use websites to disseminate up-to-date information accurately and cheaply. The Internet has become, for many, the first point of reference for research, information (e.g. travel timetables, cinema times) and shopping - all this content is 'bandwidth hungry'.
Segmentation
It is important to recognise that an overall market will usually consist of discrete segments made up of consumers with different needs. Two obvious segments for broadband are business and household. Both can be broken down into sub-components where relevant.
Household customers can be defined by age or income in addition to the sort of use they make of the web:
educational - research for homework
communication - email, instant messaging
sport - navigating pages about football
music - downloading tracks
online gaming.
BT identified that customers with a gaming interest had a high propensity to adopt broadband technology. Two tiers of online gamers have been identified.
Tier 1 consists mainly of males aged 16 - 35.
Tier 2 consists of family users i.e. parents whose children are potential online users.
Research showed that customers are passionate about gaming and that they enjoy using new technology with the latest games and up-to-date consoles. Customer research showed that the social aspect of gaming is important - users enjoy playing against their friends.
Competition and growth
The figures below show the forecast growth of broadband and associated factors in the UK gaming market:

It is clear from the chart that there will be a substantial growth in the use of online consoles (1,300%), and this will attract many competitors to the market. The UK is the most competitive broadband market in the world. There are more than 150 ADSL providers - and cable companies have about a 40% market share. ADSL providers purchase access to the broadband network from BT Wholesale - the business-to-business division of BT. The other division is BT Retail which sells Broadband from BT, competing against the other ISPs, to consumers. Both are part of BT Group plc.

This provides BT Group with a tremendous opportunity to grow its business. Currently, voice calls using landlines is a mature market - it has reached a plateau. In order to maintain profitability BT needed to consider another area of growth.
For BT Wholesale, broadband is an opportunity to grow its market based on the existing copper wire network (an infrastructure originally created in the 1960s). Upgrading an exchange to handle ADSL technology is cheaper than building a completely new network but it still involves considerable investment. The upgrade route was chosen because it used existing infrastructure, and was less risky and quicker to bring to market. This was important for BT to find a solution to compete with the demands of innovative technologies such as cable.
For BT Retail the opportunity is to expand its presence in the growing broadband market. This is intensely competitive. The key to success therefore lies in providing a better product supported by better communication i.e. the most appropriate marketing mix.
Marketing Mix
When marketing products, firms need to create a successful mix of:
the right product
sold at the right price
in the right place
using the most suitable promotion.
Seizing the opportunity of broadband has involved BT blending these four elements effectively.
Product
Online console gaming is a new phenomenon which is set for huge growth in the UK market. The mass market take-up of broadband has led to the development and launch of online console gaming - as it is broadband which makes it possible.
Microsoft Xbox® Live was launched in March 2003
Sony Network Gaming was launched in June 2003.
When these products were launched the main users were techies - building their own solutions from components they assembled themselves.
However in October 2003 BT launched a broadband solution which offered a one-stop shop for consumers who want to take their consoles online. The offering enables customers to get the most from their broadband connection by using a router modem, allowing them to connect their console and PC to the broadband line at the same time.
Promotion
Because Tier 1 (see section 3) was a new audience for BT, alternative methods were required for promotional activity. The campaign objective was to ensure consumers tried online gaming. The optimum timing was in the pre-Christmas 2003 period when there is the biggest demand for new consoles and games. It was essential for BT to work closely with its partners - console manufacturers and games publishers.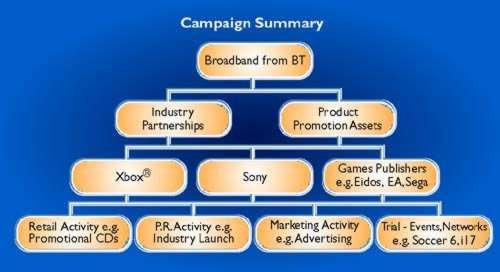 Television advertising played an important part. Xbox® and BT each made TV adverts. Xbox® promoted its new game Project Gotham Racing 2 whilst BT promoted its broadband products. These two different adverts were strategically scheduled to run back to back to clearly link the brands in consumers' minds.
The PR campaign focused on generating awareness in two specific areas, the marketing media plus the specialist gaming and technology media. A launch event was held in partnership with Sony, Xbox® and key games publishers at the BT Tower, London in October 2003. To support this BT implemented a promotional campaign with these key partners and with Game, the leading games retailer. This ensured that key journalists had opportunities to try out the games online.
Events were organised so that people could try out the new broadband gaming service giving customers a hands-on experience. Broadband enabled consoles were available at every event. These included Soccer 6, Party in the Park, the World Broadband Forum, the Sony PlayStation Experience and Max Power.There was also a presence at a number of Freshers' Week events as first year students familiarised themselves with their chosen university and its facilities.

BT produced 500,000 promotional CDs (offering 30% discounts). BT branding appeared on outer packaging and leaflets within the boxes. Games with the most online appeal were chosen and the CDs were distributed in stores such as 'Game'.
Place
BT Wholesale aims to have broadband technology available to 90% of homes and businesses by 2005.
BT Retail sells broadband gaming services online and via telesales, prompted through promotional material.
Price
Broadband from BT offers a spectrum of prices to suit different needs. For consumers, the range goes from a basic high speed access product with no additional services up to a 1MB connection with content and services such as email and Internet security fully integrated.
Conclusion
BT Group quickly identified broadband as an exciting new opportunity. BT Wholesale addressed the network infrastructure requirements whilst BT Retail has identified segments of the consumer market which are key to driving broadband sales. The speed at which broadband operates provides lots of new benefits and applications.
By tailoring the marketing mix to appeal to different consumer lifestyles, such as online gaming, a holistic communications campaign was launched to help BT deliver the desired business revenue and profit.