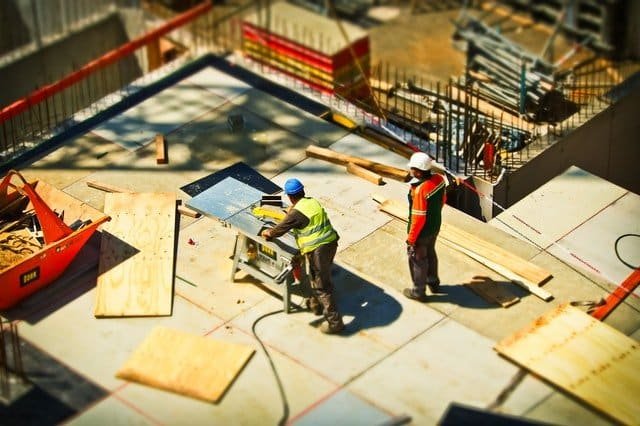 MSite is a leading management platform for the construction industry. One of their products is a site access control and attendance solution, helping to improve attendance and safety in the workplace.
This system has many functions and benefits for both the business and employees, including productivity, hygiene and management efficiency. 
Find out more about MSite's site access management system.
What are access and attendance
Msite's site access control and attendance solution are highly effective within the construction industry. Construction sites can be a dangerous places to be at times, so it's important that authorised personnel only should be allowed onsite.
With the risk of falling materials and harmful tools, only people with the correct safety equipment should be granted access to a building site.
As well as a control access system managing safety, it also prevents vandalism and theft as the management team knows exactly who is on site at all times.
Msite's solution uses biometric technology to control who is coming in and out of a building site. Whether or not the area has a set perimeter, the use of turnstiles can be put in place, to keep specific areas secure.
Incorporated into the turnstile PODs is leading access control technology. This unique software captures the data of a workforce, offering contactless access options for staff members.
Using either an app on a phone or facial or fingerprint recognition technology, access can be recorded, along with attendance and how long someone has been on site for. O
nly if a person has access to a specific area will the system allow them entry, if not then the door or turnstile will not open.
Functionality
Msite's access and attendance system provides effective functions. Functions include:
MSite API: data from the access and attendance solution can be linked through an application programming interface to other systems like HR and payroll
Site security: management can manage access to the site
Data syncs: in real time, supervisors can see who is on site
Alerting: alerts can become automatic based on attendance
Fire alarm: fire alarms can be integrated with the system
Biometric verification: fingerprint and facial recognition is used
Contactless: access can be granted through no touch options
Benefits
MSite's solution provides many benefits for both employers and employees alike, whether they are sub-contractors or work for a company full time. These include:
Safety
Safety is a huge benefit, and although it should be paramount on a construction site already, an access control solution increases it even more so.
This is because no intruders will be allowed on site. Boosting confidence in both the management team and builders that everyone has been verified to work there.
Utilising a biometric hardware system means that only the verified person will be allowed on site, also deterring people from causing trouble.
Productivity
With a simple and effective attendance system, it's easy to see exactly how long people have worked. Understanding exactly how long it takes to complete tasks in a group and individually, it is a great way to drive productivity.
It helps to delegate tasks more effectively, ensure the right supervisor ratios and know when to train underperformers. Overall it allows a business to make better decisions, thus boosting productivity and performance.  
Management efficiency
Management is made much more simple with MSite's solution, site data is easily monitored and tracked. Providing full key performance indicators and all attendance records helps with reporting purposes.
As well as this, if the system is used on more than one site then the head office can access all of the data, efficiently managing all sites and retrieving data from one place. 
Validity
Providing cutting edge technology through biometric technology means that everyone's presence will always be efficiently registered on site. The system keeps a record of attendance and time logged, so there is little dispute on pay and the length of time an employee has worked for.
This is beneficial for the sub-contractor, employee and management. An employee can not claim that they have worked more than they actually have and also management can not claim that an employee has worked less than stated.
Germ free
Through the use of facial recognition technology and contact-free fingerprints with a person's own phone, contact with the control system can be limited.
This is a great way to reduce the spread of germs and ensure the best hygiene practices. Rather than hundreds of workers typing in a pin or tapping a card on a scanner, they can be granted access to a site with zero contact; helping to reduce the spread of illnesses and minimise workers being off sick.
Through the use of MSite's leading biometric technology, a business will reap many benefits for both management and contractors. Installing one of these systems will help a company boost productivity and safety within the construction industry.