Polished Concrete is considered a popular flooring option for businesses, restaurants, industries, warehouses, and even homes. Despite its growing popularity, people are still amazed if it's worth the price.
However, concrete floor polishing is the best answer to damage caused to industrial floors. The floor can be damaged due to many reasons such as the heavy traffic of machinery and people and some negative environmental influences. These negative activities create scratches, stains, and holes. In this way, the untreated concrete surface becomes brittle and rough. Moreover, it will also cause a cloud of fine dust to appear that spreads everywhere.
It is essential to know that the damaged concrete surface increases the risk of many accidents. The damaged surface also makes daily cleaning difficult. In industries, oil, grease, and other chemicals leak and penetrate the concrete core. Furthermore, the repair and renovation of a damaged concrete floor also cost more.
But now there is no need to worry anymore because the best solution to prevent these problems is the BECOSAN industrial polished concrete floor finishing.
BECOSAN is a unique and patented concrete sealer system for industrial floor treatment that effectively improves and protects polished concrete floors.
How BECOSAN system works?
BECOSAN consists of two powerful components, BECOSAN Densifier and BECOSAN protective sealer. BECOSAN Densifier is hard that penetrates deep into the core. It reacts with the concrete at a molecular level and creates a very hard surface. It allows you to get extremely resistant to abrasion. On the other hand, BECOSAN concrete sealer is a sealant that protects the hard surface against the penetration of oil, water, oil, and chemicals, especially in industries.
BECOSAN penetrates deeply into the concrete core and allows chemical bonding to lime particles. These lime particles increase the strength of the floor. In this way, you can get an improved surface that is ready for the daily traffic of heavy vehicles.
Dust proofing concrete floors
It is fascinating to know that the unique technology allows you to remove the microscopic top-layer roughness on the concrete floor. The technology uses a patented grinding and polishing method. Furthermore, BECOSAN Densifier is an environmentally friendly dust proofing liquid that can penetrate deeply into the concrete surface
The technology is beneficial for all types of industries with high requirements for cleaning and food processing. Furthermore, finishing also includes HACCP certification.
Reduced absorption of liquids
The hardened and sealed pavement of the floor absorbs less liquid. It is one of the best advantages when it comes to cleaning and maintenance.
The BECOSAN system protects your floor from grease, aggressive chemicals, oils, tire marks, scratches, and dirt. In this way, it will also save you money. Once the floor has been treated, the technology outlasts the lifecycle of the building with up to 70% of saving.
Light reflective and sustainable
It is fascinating to know that the polished concrete floor is sustainable because it can rejuvenate with your previous floor. The floor is considered a very sustainable alternative fir coating, painting, and replacement.
Furthermore, the high-gloss finish reflects light that makes the space brighter and reduces the need for artificial light. In this way, you can save money on electricity bills and also shrink your carbon footprint.
As we are moving toward a greener future, this technique will become an increasingly essential factor in decision-making.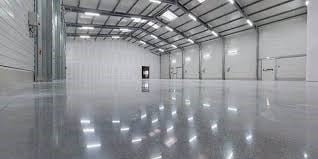 Levels of Finishing
BECOSAN offers three levels of finishing, from matt to mirror. Each level of finishing makes your floor dust-proof, durable and easy to clean.
Matt
Microscopic roughness removed
10-year dust-proof guarantee
BECOSAN Protective Sealer
BECOSAN Densifier
Minimal light reflection
Matt finish
Semi-Gloss
Microscopic roughness removed
BECOSAN Protective Sealer
BECOSAN Densifier
Noticeable light reflection
10-year dust-proof guarantee
Semi-gloss finish
High-Gloss
Microscopic roughness removed
BECOSAN Protective Sealer
Two additional grinding and polishing steps
BECOSAN Densifier
10-year dust-proof guarantee
Maximum light reflection
High-gloss finish