Irrespective of the profession you are in, the end-game of a resume is to get you an interview. However, a basic run-of-the-mill resume might not work for creative professionals. As your virtual publicist, your resume should be a reflection of your personality and your creativity, not just a means to communicate your skills and professional experience.
Thus, a resume for creative professionals should not only be well written, but should be bold and creative, vibrant and thoughtful. It should wow the recruiters and get them to say 'yes' to your job application.
Does this seem too complicated? Don't worry about it.
Here's a list of the 7 tricks you should follow to craft an effective resume for creative professionals:
1. Create a portfolio:
You can talk all you want about your projects and accomplishments in your resume but unless you have proof of the same, the job will slide from you like sand from a fist.
Be smart. Do more than just curate an effective resume.
Create a portfolio that is not only well thought out and organized, but one that tells the recruiter a compelling story of your creative accomplishments and the projects you have done.
2. Organize your resume:
When it comes to presenting information, you should never underestimate the power of an effectively organized resume. For easy readability, group your information under relevant resume sections as the ones we have mentioned below:
* Header
* Personal Information
* Profile Title
* Summary/Objective
* Key Skills
* Professional Experience
* Education
* Certifications (if any)
* Awards & Recognition (if any)
* Additional Information (if any)
Doing this makes it easy for a recruiter to identify information as your resume becomes neat and concise. The way you present information in your resume also makes it super easy for the recruiter to identify what you are trying to communicate through your resume.
How is this helpful for a creative professional?
The answer is simple. Your task is to optimize your resume to create maximum impact on the recruiter. You cannot attain this if your resume is poorly structured to begin with!
So, do yourself a favor and use resume sections to organize your information.
3. Make most of the professional experience section:
If we haven't said this before, we might as well say it now.
Your chance at landing a shortlist depends on how you manipulate your roles & responsibilities in your resume. Be it your professional affiliations, the duration of your work, or the capacity you have worked in; the professional experience section says it all!
This is why you should make the most of this section. It's that simple.
When it comes to impressing the recruiter, it doesn't matter how talented or skilled you are if you're not able to demonstrate your competence on-paper too.
For example, as a creative professional, what are the skills that make you unique?
Let's say you're a musician, what will determine your brand value in the music industry?
Think of these and talk about them in this section. And while you're at it, get into the depth of your achievements.
For example, structure your roles & responsibilities into crisp and effective one-liner points. Use performance figures wherever possible.
Does this sound too complicated?
Take a look at the resume sample below to get a better idea of what we are talking about.
This is a snapshot of the professional experience section of a music resume that we have curated using our Online Resume Builder: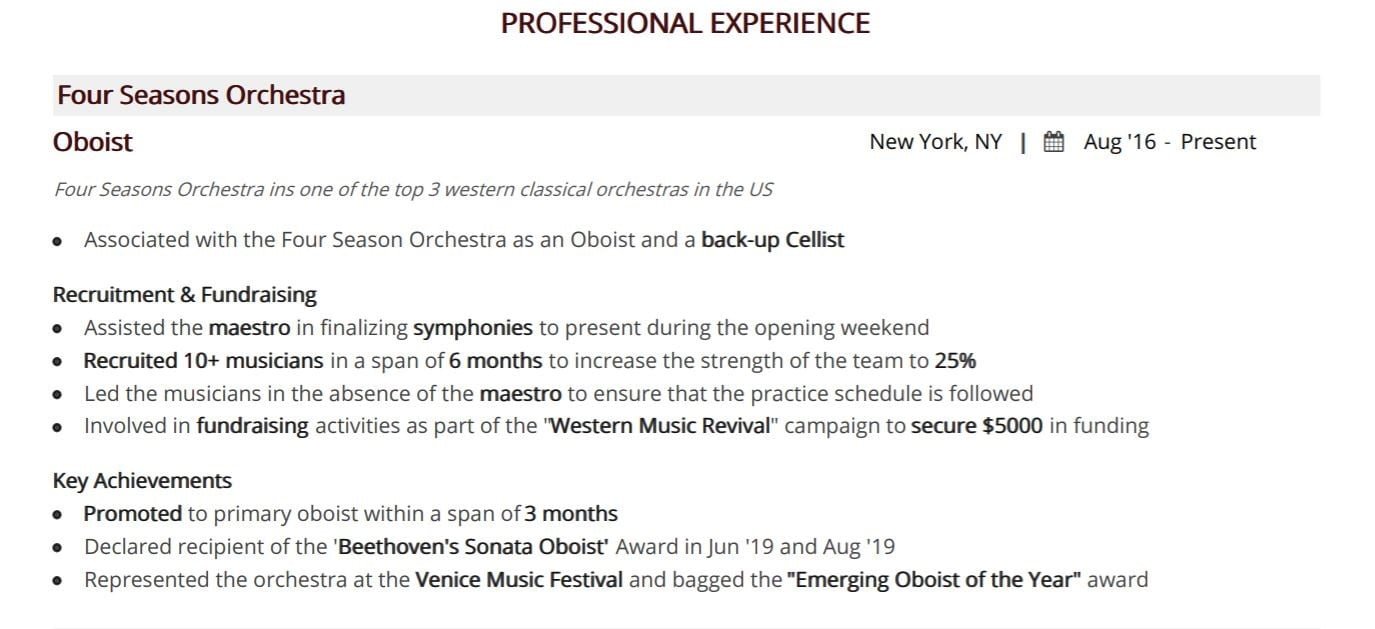 4. Brag about your skills: Make them stand out!
Artists who have become exceptionally skilled at his craft and has extensive experience in conducting workshops, curating art, conducting exhibitions, and selling their art are professionals who have obviously attained some kind of distinguished achievement in their field of work.
These professionals are likely to have more skill-sets than those artists who are just beginning to test the waters with their artistry.
These artists are also more likely to get a position in a leading museum as an art director vis-à-vis struggling artists who are still figuring things out.
As a creative professional, the skills that you have accumulated over the years are your pathways to success, given you use them wisely.
Thus, as a rule of thumb, your goal as a creative professional is to capitalize on your skills. There is no point if you have skill-sets of a thousand suns but don't endorse them in your resume.
So, do yourself a favor and make a separate skills section in your resume to make your skills more visible to a recruiter.
5. Choose the right format:
The resume format best suitable for you will depend on what stage of your career you are at presently.
If you are just starting out, have employment gaps, or are notorious for switching jobs too often, a functional resume format might work best for you as it focuses on your skills rather than highlighting the timeline of your work experience.
The reverse chronological format and the combination format which is an amalgamation of both the reverse-chronological and functional format is best-suited for highly-experienced professionals who have been in the workforce for over 10 years.
6. Stick to a one-page resume:
A bulky resume can turn off the interest of most recruiters and can lead to rejection as it is highly likely that your resume will not even get evaluated by a recruiter. So, you have to find that sweet spot between keeping it short and simple but long enough so that you come out looking like a competent professional with enough experience to make you a desirable candidate.
The ideal length of a resume is one page. However, if you have been working for over 10 years and have gathered numerous skills, a two-page resume will be suitable for you.
Find a nice resume template, optimize the formatting, font size, and alignments. Give appropriate line spacing if your resume is unnecessarily spilling over to more than one page by a few lines (if you have less than 10 years of work experience).
7. Incorporate keywords:
Keep the Applicant Tracking System in mind while writing your resume. This system is used by most companies today to weed out candidates. To achieve that much-coveted shortlist, you have to get past these gatekeepers.
The easiest way to achieve this is by including keywords. Comb through the job description of the job you are applying to and identify the skills that the recruiter wants to see in a potential employee. Sprinkle these throughout your resume but remember to only include those keywords that your professional experience justifies.
As a creative professional, the first and foremost thing you have to work on is your portfolio as this is the testament of your ability, experience, and talent. Further, you have to optimize your resume by ensuring that your resume hits the sweet spot between being neither too long nor too short! Final word? Don't leave an achievement out. Talk all about in your resume and you'll see your resume transform into a shortlist magnet in no time.
Author Bio: On a quest to help professionals across the world land their dream jobs, Aditya lives and breathes Hiration — an online resume building platform to help job-seekers find their way in the treacherous job market — where he's a Co-Founder and the unofficial CPO (Chief Problem-solving Officer).