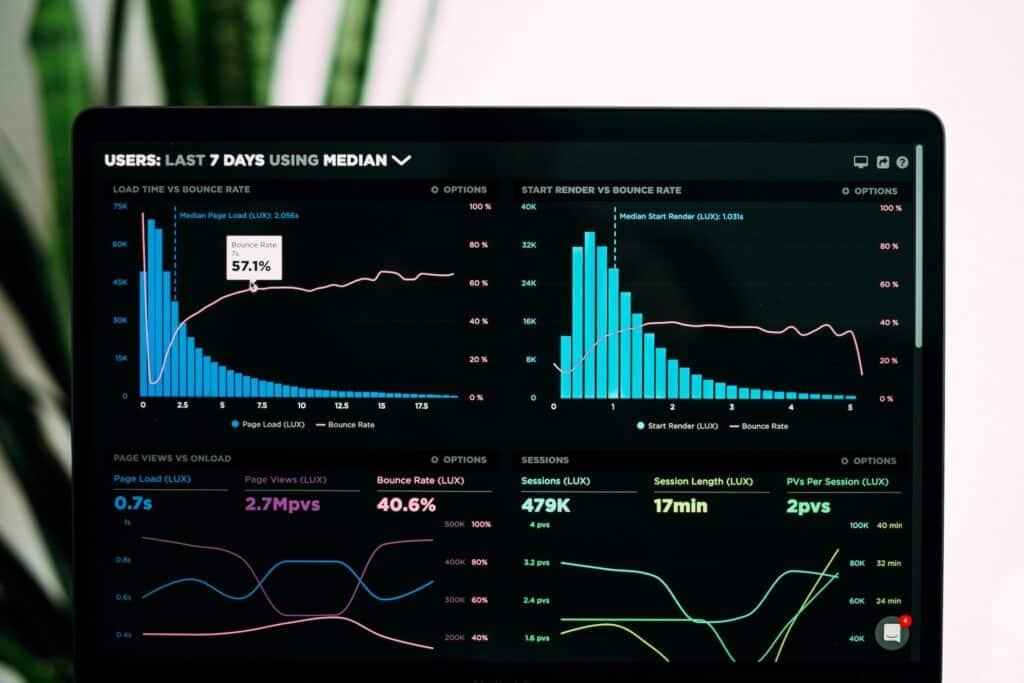 Data is fueling retail these days, adding a new dimension to understanding and anticipating customer needs. To maintain sales volumes and a competitive edge, traditional brick-and-mortar operators should start creating customer experiences that extend beyond the physical space. Let's see how dedicated retail BI solutions are used to harness business analytics and drive sales. 
4 BI use cases in retail
BI tools capture all consumer activities, track sales and inventory metrics, and reveal insights about buyers, sales, and inventory. These insights can then support strategic and tactical retail decisions.
As input, BI solutions use information from CRMs, databases, emailing systems, beacons, and other sources. As output, they not only generate reports on the current state of business but also enrich them with advanced analytics, NLP queries, and machine learning algorithms. 
Proper use of BI insights can bring many improvements:
Knowledgeable, customer-centric staff. BI systems provide frontline staff with in-depth customer knowledge, which helps them personalize in-store service and increase the shopping basket's value.
Immersive customer experiences. Using insights from business intelligence, retailers can craft unique experiences at every stage of the customer journey and enable self-service.
Targeted marketing campaigns. BI gives retailers the power to build strategies around unique information such as buyer pain points, purchasing patterns, modes of brand interaction, and others.
Efficient inventory planning. Finally, retailers can use BI insights to get better inventory control by minimizing stock-outs, reducing product misplacement, and preventing inventory build-up.
Let's now look into each retail BI application in more detail.
1. Empower shop floor staff
Retail BI solutions help sales teams increase the store's performance and build customer loyalty. By exploring customer histories captured through PoS and CRM and aggregated within a BI database, employees can gauge shoppers' behavioural patterns and preferences. This way, sales associates can better understand customers' interests, purchase history, and shopping habits and offer them personalized recommendations. 
2. Create immersive customer experiences
Personalized shopping journeys and customer service is no longer a nice-to-have but an essential requirement for retailers aiming to grow continuously. Thus, the ability to aggregate structured and unstructured data has become invaluable for understanding and envisioning customer needs.
BI tools enable a fine-grained funnel analysis that allows retail owners to review and improve customer engagement during every interaction. The access to customers' preferences and purchase histories enables retailers to offer expected tailored experiences.
3. Optimize marketing campaigns
Business intelligence solutions help brands ask the right questions and define the most relevant KPIs:
· What products are selling well?
· What are the shoppers' demographics?
· Which stores are selling the most of a given product?
· What are the trends in the sales of specific products?
Businesses equipped with BI can better understand their audiences and tailor their marketing messages granularly. While actual sales happen in a physical space, traditional retailers can reinforce their brick-and-mortar revenue with online marketing activities. By collecting and analyzing information from social media, web browsers, user forums, or email campaigns, retail analytics helps predict purchasing trends and optimize in-store marketing activities.
4. Understand inventory dynamics
Smart BI tools provide a central repository for all inventory and customer data pooled from multiple systems, such as PoS, warehouse management, and ERPs, and can analyze it, uncovering weaknesses and opportunities.
Retail BI and operational intelligence help business owners refine inventory by:
· Optimizing supply to reduce the risk of stock-outs
· Improving inventory allocation across stores
· Determining the most cost-effective way to get rid of low-selling SKUs
· Creating accurate inventory forecasts using stock and sales data
Retail business intelligence guidelines for success
When analyzing the BI market, one can see that there's no shortage of vendors and platforms to choose from. To find the solution for their needs, retailers should first conduct an in-depth assessment of their requirements. 
1. Establish clear objectives for your business intelligence use case
2. Prioritize solutions developed for retail
3. Implement a change management plan
4. Ensure you have the right competencies to implement the solution or seek aid from external IT specialists
5. Look for the vendor to provide strategic and technical support throughout your solution's development lifecycle
6. Develop BI governance and data quality policies
BI makes retail smart
The pressure on traditional retail from online stores and marketplaces is great, so brick-and-mortar companies need to upgrade their analytics. BI can process real-time insights about retail operations and deliver insights to support business decisions, promote customer loyalty, and increase business profitability. Non-adopters will continue to struggle, while those ready to embrace the BI approach will be well-positioned to thrive.