Mission and market
A mission statement sets out why an organisation exists. Having a mission statement helps to clarify what the business is trying to achieve; internally it sets out what is important to the company and influences how resources are allocated and how people behave. The Polestar Group's mission is: 'To be Europe's most innovative, profitable and customer-focused printing company'.
This means that the company actively looks for ways of improving its service to its customers. This focus on customer needs is particularly important given the high degree of competition in the printing market and the high level of capacity in the industry relative to demand.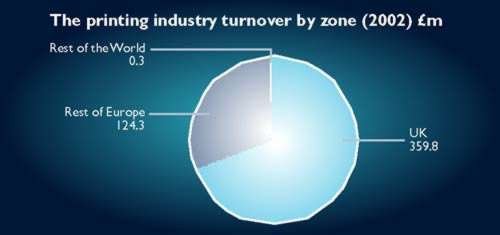 The printing market is characterised by large numbers of relatively small printers (90% of companies have less than 20 employees). Large companies such as Polestar are therefore unusual. In total there are over 12,000 printing companies in a market that was worth over £14 billion in the UK in 2001. Despite being the second largest industry in Europe, printing has a low profile. Competition is particularly intense given the fact that entry into the market has become easier with developments in technology. Inefficient companies are likely to struggle and be replaced by new entrants.
The high level of competition means that many companies fight it out on price - they try to undercut each other to win sales. Given the excess capacity, buyers know they have many options and so are in a strong bargaining position. Polestar, however, focuses on a differentiation strategy. The danger with price competition is that it squeezes companies' profit margins and turns the product offered into a commodity. Polestar sets out to provide a service that is genuinely different from the competition by being more reliable, more flexible and by providing unique printing with additional related services.
By tailoring the service offered Polestar enables its clients to achieve their own objectives more effectively thus making this service more valuable. By adding value for its customers, Polestar aims to differentiate its service from its competitors. This passion to understand its customers enables Polestar to stand out from the competition.
Traditionally, the printing industry has been product-orientated. Companies have invested in production equipment and then tried to find businesses to fill the capacity available. They have offered a basic service to customers whereas Polestar looks to innovate to find new ways of helping its clients be more successful. Polestar believes it is essential to be market oriented - thinking about the needs of its customers and providing a service to match.
Strategy
A company's strategy is its long term plan to achieve its objectives. A strategy needs to take account of the competitive environment in which the company is operating and the market opportunities that exist. Polestar's strategy aims to focus on having the best people and the best machinery and on achieving consistent high quality by:
meeting delivery schedules
ensuring the quality of product
providing high levels of service
being innovative
understanding customers' needs.

Polestar's strategy is to focus on a few specialist markets that offer higher returns rather than trying to compete head on with the many other companies in the mass market. For example, Polestar has targeted the direct mail segment that has experienced 30% growth between 1997 and 2002, and is continually developing new ways to add value for its clients.
Polestar has invested heavily in equipment (over £35 million between 2000 and 2003) allowing it to provide special services such as stitching free gifts inside magazines or putting gifts such as CDs on the front cover. Polestar believes that with quality employees, specialised equipment and an innovative, quality approach it can offer companies a service that can enhance their business.
The marketing mix
The combination of factors that influence a customer's decision to buy a product is known as the marketing mix or 4Ps:
Price - What does the product cost? What are the terms of payment? Is credit offered?
Product - What benefit does the product provide? What particular features and specifications does it have? How does it compare to competitors' products?
Promotion - The way in which a company communicates about its products e.g. through advertising, sales promotion or public relations.
Place - The way that ownership of a product passes from the manufacturer to the consumer (distribution).
Above and below the line promotion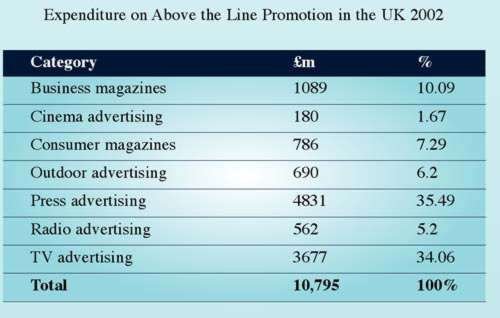 Promotional techniques aim to communicate with the customer. They include above the line and below the line techniques. Above the line promotion involves spending on mainstream advertising such as television, radio and cinemas. The total amount of spending on above the line advertising in the UK in 2002 was nearly £11 billion; television and press advertising accounted for nearly 70% of this.
Polestar must keep aware of the trends within above the line promotion because some of its clients - such as the magazine and supplement publishers - rely on press advertising revenue for their income. If, for example, magazine advertising proves more effective for every pound spent, then advertisers will demand more pages, thus increasing Polestar's order value. This is another reason why it is important for Polestar to be innovative so that it can help its customers provide their clients with a more effective means of promotion.
The Polestar Group is also involved in below the line promotion. These promotional methods do not involve mainstream advertising (i.e. are not above the line!). This includes:
direct mail
sales promotion
catalogues.
The Polestar Group's services help its customers improve their marketing mix by enabling them to promote more effectively. Polestar recognises that its customers and advertisers have limited marketing budgets and so every pound counts. Helping its customers to increase the effectiveness of their spending increases the appeal of Polestar service. Polestar can help its different customers to add value in the following ways.
Magazine publishers
The publishers of magazines are naturally eager to make their publications stand out especially when there are lots of competitors on the shelves. As customers browse in the shop Polestar can help its clients' products attract their attention by printing unusual covers such as barn door covers.
Magazines also raise revenue through their advertising and Polestar can help here by making these advertisements more effective. If advertisers get a better response rate they will be willing to pay more to advertise in a particular magazine. Examples of Polestar's creativity include the introduction of Post-it? notes inside a magazine with messages attached about particular goods or services. These have proved highly effective at drawing people's attention to advertising increasing the response rate from 1% to 3%. This is a huge increase in absolute terms given the large number of magazines that are actually published.
Direct mail
Polestar helps its customers increase their direct mail response rate by enabling them to use a personalised approach with their target market. The brochure, card or letter can be personally addressed. This can encourage recipients to read the information that has been sent. Once again such flexibility requires specialised equipment and skills. Polestar helps companies to reduce wasted mail by assisting its clients to clean up their data lists thus avoiding unnecessary duplications.
This one stop shop approach helps direct mailing companies save money because they can avoid sending the same thing twice to a household unintentionally and improve their success rate by getting more people to read whatever has been sent rather than just destroying it.
Catalogues
One of the most important aspects of catalogues is the way in which the products are displayed. Good photographs and accurate reproduction (e.g. matching colours correctly) can make a major difference to the rate of orders and level of returns. Polestar's specialist skills and technology help ensure this happens.
Publishing solutions software

Another of Polestar's strengths is its ability to use client's databases as part of the printing process, e.g. the company works with Tesco to send out information to its 10 million Clubcard holders. It organises the mailing to these loyalty card holders four times a year and using the information from Tesco, it provides information on the points earned and includes personalised vouchers and coupons.
The success to which Polestar adds value can be measured in terms of its impact on its customers' sales, revenue and brand awareness relative to the additional costs involved.
Conclusion

The Polestar Group's customers need to spend their marketing budgets effectively to achieve their desired results - for example more sales of magazines or a higher response rate to a mailshot.
To achieve their goals companies are looking for innovative methods of promotion such as writing personally to customers, including free gifts or having an unusually designed cover. To do this they need specialist printers, which is where Polestar comes in.
Polestar does not seek to be like other printers - it aims to differentiate its service. Its strategy seems to work: in a market full of small printers it stands out with the scale of its operations and it is now one of the largest printing companies in the world.