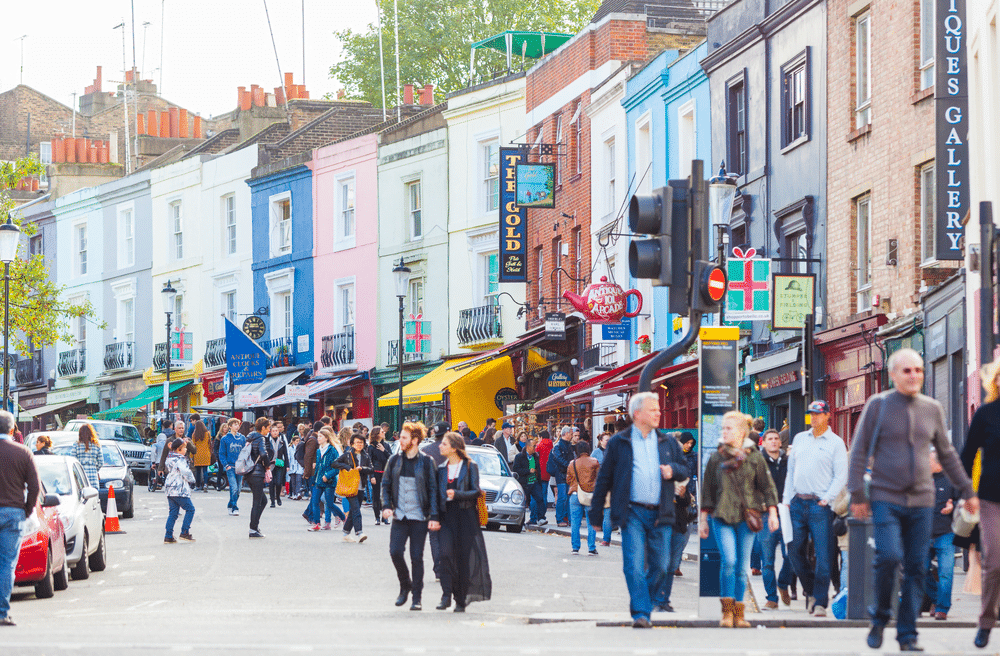 There is no better way to spend a Sunday morning in London than walking the lively street markets of the capital, picking up cool crafts or antique finds, and squeezing in delicious street food.
City's markets are world-famous, and they're only getting better with a renewed enthusiasm for local shopping. The town has a vast array of stalls to cater to every shopper, from the early bird looking to snatch a retro gem to the midday adventurer seeking some top street food. Across the city, there are several fantastic markets open on a Sunday, which are the perfect place to go out for a day out. Markets are a great way to explore London, as you get to see so many different city sides. Such markets are specialized in everything from flowers to food, and each has its unique bid.

Best Sunday markets

Maltby street market – Located in busy Bermondsey, Maltby Street Market serves truly gourmet street food. It's a new addition to the market scene, which opened under the striking railway arches of the region in 2010. Maltby Street Market is rather small due to the nature of its location. However, it still manages to fit into mouthwatering classics such as The Cheese Truck's melted cheese toasts, glorious Waffle On sweet treats, and many more so go with an empty stomach – and an empty shopping bag. One can store their heavy suitcases at the Vertoe luggage store in London safely without any hesitation.
Camden Market – Camden Market consists of two marketplaces–The Stables and The Lock, situated right in the heart of Camden Town. Drop in to pick up unique handmade jewelry and artwork, retro styles, souvenirs, and more from the clustered stalls and shops inside. Then drop in at one of the food stalls for an alternative Sunday lunch.
Flea at the flat iron square – Visiting a flea market on a Sunday is a rite of passage for any tourist or resident of the capital, and one of the best is Flea at Flat Iron Square. There are about 30 stalls that attend Flea at Flat Iron Square regularly, ensuring there is ample variety without being daunting at all. The stalls focus heavily on retro and vintage items-mostly clothes, jewelry, and records, with a few exceptions (such as cameras and home decoration) thrown in for good measure. Live music adds to the atmosphere of fun and fellowship.
Old Spitalfield market – Old Spitalfields Market was built in 1876 and is one of the finest surviving Victorian Market Halls in London. But it's kept up with the times and still draws the crowds on Sunday, who come for pieces from up-and-coming designers, trendy shoes, fresh fashions, and exclusive furnishings. A broad mix of restaurants, beauty shops, and specialty stores surround the stalls, selling everything from delicious cheeses to wine.
Greenwich market – If in the middle of historic Greenwich you can't hear this brazen and busy hotspot, then you'll undoubtedly see the huge metal sign. Greenwich Market is one of the attractions of Greenwich's historic town, home to the Royal Observatory and Planetarium, National Maritime Museum and Greenwich Mean Time as well. The market is packed with stalls that sell quirky gifts, arts and crafts, fashion items, and one-off designs.
Covent garden markets – Why settle for a single market if you can enjoy 3 in one? At Covent Garden, that is what you will find. First, there's the Apple Market that, given its name, mostly sells jewelry and artworks. In contrast, the East Colonnade Market sells anything from magician hats to children's clothes and everything in between. Finally, the Jubilee Market, which focuses on arts and crafts. There is plenty to see on the Covent Garden market.
Brick lane markets – If you're looking to spend a full day visiting some of London's best open markets on Sunday, without going too far, Brick Lane is a great choice. There are a total of five outstanding markets in the area, each with its theme: Sunday Upmarket or Vintage Fashion Market, Backyard Art Market and Tea Rooms for Vintage Furniture. Then you've got the Boiler House Hall, which offers over 30 delicious multicultural food stalls.
Columbia road flower market – One of the most lively and visually appealing markets, every Sunday Columbia Road overflows with bucketfuls of flowers. You will find seeds, vegetables, shrubs, and plants for bedding. You'll also see a host of small galleries and shops selling items like pottery and perfume alongside the Sunday market. Get in for the latest, freshest blooms there early.
Alexandra palace farmers' Market – Alexandra Palace Farmers Market is one of the best farmers markets, with a mouthwatering range of fresh fruit, small products, and deli pieces. It's a taste of an authentic farmers market in the country but with a twist of London. You will find a lot of multicultural products like Mediterranean olives as well as new and local fresh fruit and vegetables.
Some things to know before you head out.

Although many traders have started taking card payments, some are still cash only – bring some cash with you in the event.
Getting to a market using public transport is always easier than driving, as parking can be scarce and expensive.
Before you head off to explore the multitude of London's Sunday markets, drop off your luggage at luggage storage of any left luggage service near Victoria station or any other area you might be staying in. So you're free to explore unencumbered.
Not content with just popping up to browse a market? Why not take a tour around the market? From traditional British food tasting to exploring Camden Market, there are plenty of cool market tours that allow you to see a different side of London's markets.