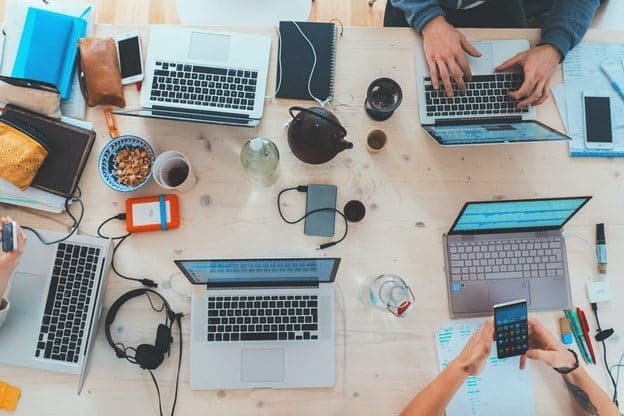 As we emerge from the haze of an unprecedented global pandemic, businesses are looking at the lay of the land to see how they can take advantage of the return to normality.
The Covid-19 crisis has been world-changing and has the potential to affect how we do things far into the future. Your business is going to need to stay with the times or risk losing out to better-informed competitors.
Today, we are going to look at the top 3 technologies that will help your business past covid-19.
1. Video conferencing
In the pre-covid era, the idea of working from home was pie in the sky for many businesses. The technology was there and had been around for some time but it took the push of Covid for businesses to take the plunge.
The Technology itself is video conferencing or video calls using programs such as Zoom or Skype to hold multi-person calls. The ability for teams to talk to each other despite not being physically present has allowed for numerous benefits for businesses.
The benefits become even clearer in this piece by IBM which outlines how this shift has been precipitated by an overall need to reduce costs on rent, office space, and other costs associated with staff being on-site.
"The COVID-19 pandemic has accelerated digital transformation at 59 percent of organizations we surveyed, and 66 percent say they have been able to complete initiatives that previously encountered resistance. This culture shift is in part defensive: reducing costs is the top benefit attributed to transformation initiatives."
2. Cloud-based storage solutions
The Covid-19 move from a physical space to a virtual space has pushed many companies to overhaul their electronic services and platforms. When most of your staff are working from home then it becomes a necessity rather than a possibility.
The advent of clouds for storing all kinds of work-based files and services has provided a number of benefits to businesses which Marconet does a great job explaining here. The most notable benefits are:
1. Cost advantage – with the infrastructure distributed across many businesses.
2. Convenience – when all you need to work is a computer and an internet connection.
3. Security – all storage is housed in a secure data center rather than an office
4. Mobility opportunities – with staff being able to work wherever they are.
5. Scalable service – you only pay for how much you need and use.
With all these advantages, it's clear why so many businesses are making the switch to cloud-based for their storage needs.
3. The gig economy
Technology has been transforming industries for decades now, yet it has taken a strong push in the last few years thanks to companies offering services in what has become known as the "gig economy".
Peter, the MD at https://scvehiclehire.co.uk/, has spoken to us about the benefits offered to businesses that are looking for temporary niche services for a specific problem. For example, a business that needs a hire car can use its business to quickly and easily get a solution to their issue.
The most notable and visible examples of this are in the taxi space from companies like Uber or Lyft and also in the food delivery vertical with Deliveroo or DoorDash. The use of smartphone apps to coordinate drivers and deliveries with customers has revolutionized how we call a taxi or order food, making things far easier for the consumer as well as providing convenient jobs.